KETO LOW-CARB HAMBURGER BUNS (HEART HEALTHY)
ALL RECIPES
,
Keto Almond Flour Recipes
,
Keto Bread Recipes
,
Keto Heart Healthy Dinner Recipes
,
Keto Heart Healthy Lunch Recipes
,
KETO HEART HEALTHY RECIPES
,
Keto Heart Healthy Snack Recipes
,
Keto Low-Carb Dinner Recipes
,
Keto Low-Carb Lunch Recipes
,
KETO LOW-CARB RECIPES
,
Keto Low-Carb Side Dish Recipes
As an Amazon Associate I earn from qualifying purchases.
It's true…you can purchase Keto Low-Carb hamburger Buns at all kinds of food shops. Already-made buns tend to be expensive. Making buns at home is easy, using ingredients you should already have access to in your kitchen.
HOW MANY KETO LOW-CARB HAMBURGER BUNS DOES THIS RECIPE MAKE?
This Keto Low-Carb hamburger Buns recipe creates buns that are soft and dense. With this recipe, you can make 4 medium-sized buns or 6 slider buns. If you double the recipe, you can make 6 larger buns, about the same size as regular hamburger buns made with wheat. The choice is yours.
WHY ADD YEAST?
I love adding yeast to the bun recipe. While the yeast doesn't help the dough to rise (the baking powder does that), it adds that yeasty flavour and texture to the buns. 
HOW DO THE KETO LOW-CARB HAMBURGER BUNS TASTE?
These Keto Low-Carb hamburger Buns are yeasty, fluffy, chewy, and dense. You can use this dough to make other buns like ciabatta.  
A FEW RECIPE TIPS:
With this particular recipe, it's best to use room-temperature eggs.
They just work best with the yeast.  
Let the buns cool before slicing them. Otherwise, they may fall apart.  
WHAT IS THE NUTRITIONAL VALUE OF KETO LOW-CARB HAMBURGER BUNS?
These Keto Low-Carb Hamburger Buns contain psyllium husk powder.  I use psyllium husk powder often. Incorporating psyllium hunk powder in your cooking and diet helps…
Alleviates constipation and cleanses the colon: Psyllium as fiber helps to soften stools. 
Helps with weight loss: Mixing a tablespoon of psyllium husks with water and drinking it in the morning helps your stomach feel full, causing you to eat less.
Keeps the heart healthy: Adding psyllium to your diet can help bring down triglyceride levels, thus lessening the chance of artery blockages. 
Help keep your skin looking healthy.  Psyllium husks contain antibacterial compounds that may help eliminate several skin conditions and improve the appearance of your skin by alleviating toxins. 
Helps with indigestion: A daily glass of psyllium mixed in water enhances your natural digestive process, improving bowel operations.
Helps to lower bad cholesterol: Psyllium husks can help maintain reduced LDL-cholesterol concentrations.
WHAT IS THE TASTE PROFILE OF KETO LOW-CARB HAMBURGER BUNS?
Simply said, these Keto Low-Carb Hamburger Buns are crispy on the outside and moist and crumbly on the inside. They have a "bread-like" flavour from the yeast.
WHAT WINE HARMONIZES WITH KETO LOW-CARB HAMBURGER BUNS?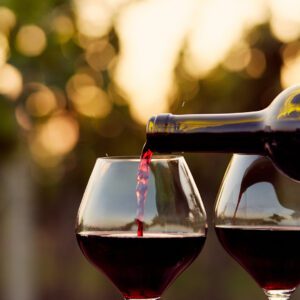 Choose the wine according to the other foods you intend to include with the Keto Low-Carb Hamburger Buns. If you are making hamburgers, then focus on the weight, taste sensations, and flavor sensations of the beef.  The beef's fattiness and umami are the predominant taste sensations in the hamburger. In this case you might choose a full-bodied red, such as Cabernet Sauvignon, Zinfandel, Shiraz, Cabernet Franc. The wine's weight (viscosity) occurs on the palate as fattiness, thus complementing the fattiness of beef.
*Wine Tips: To support your Keto diet or low-carb lifestyle, choose low-carb, low-sugar, and low-alcohol wines that are free of additives and artificial coloring.  Include your wine carb macros as part of your meal.  Remember, your liver will process alcohol before nutrients, pausing ketone creation and slowing the ketosis process. Your body will also metabolize alcohol as fuel before using food. This can slow fat burning and may cause your body to store carbs, fat, and protein as excess body fat.  Alcohol consumption also stimulates the appetite.  So, drink low-sugar, low-carb, and low alcohol wines in moderation.
WHAT OTHER KETO LOW-CARB HEALTHY HEART RECIPES CAN I ENJOY?
Keto Low-Carb BLT Tart (Heart Healthy)
Keto Low-Carb Cajun Salmon (Heart Healthy)
Keto Low-Carb Mama Meatloaf (Heart Healthy)
Keto Low-Carb Steak Marinade (Heart Healthy)
Keto Low-Carb Cinnamon Marmalade Chicken (Heart Healthy)
WHAT IS SHARI MAC'S PRODUCT RECOMMENDATION FOR YOUR KETO LOW-CARB DIET?
OMG, the Ninja NC301 CREAMi Ice Cream Maker is the BEST appliance I've bought for myself to support my Keto diet. I stand behind this product 100%. I eat healthy high protein, sugar-free ice cream every night. I experiment with different ingredient combinations all the time. I purchased 5 additional containers so that I can make a week's worth of ice cream at one time. I've made ice cream with cottage cheese and almond milk with protein powder; tofu with almond milk and protein powder; fat-free plain yogurt with almond milk and sugar-free jello and more! The machine shaves frozen pints perfectly with its one-touch programs.. You can prepare ice cream, sorbet, gelato, milkshake, smoothie bowl, lite ice cream and more.  Prep your base, freeze overnight, process, and enjoy!
Sometimes it takes more than one spin to get your desired texture. Select the re-spin function if, after processing, you want your processed treat softer and creamier. This unit is ONLY compatible with the Ninja CREAMi NC299 and NC300 pint accessories. It will NOT fit the NC100, NC200 or NC500 Series pints.
With the Ninja Creami you can enjoy healthy treats that taste just as good as regular ice cream loaded in bad saturated fat, sugar, and preservatives.
HOW DO YOU PREPARE THE RECIPE FOR KETO LOW-CARB HAMBURGER BUNS?
Print
KETO LOW-CARB HAMBURGER BUNS
---
Description
You can enjoy this delicious Keto Low-Carb comfort food called Hamburger Buns! You can use these buns to make a classic hamburger or enjoy them as a side dish to enjoy other Keto Low-Carb meals like bacon and eggs.  Do you enjoy Eggs Benedict?  Well, use these buns in the recipe!  The buns can be served through all seasons and for all occasions and meals, such as breakfast, lunch, brunch, and dinner.  Crispy on the outside and moist and crumbly on the inside.  The ingredients include dry yeast, raw honey (for proofing).  The sugar in honey gets eaten by the yeast during fermentation so no worries.  Other ingredients include almond flour, coconut flavour, psyllium husk powder, baking powder, eggs, and apple cider vinegar.  You can add sesame seeds to the top if you like. Delicious.  Check out the recipe!
---
Proof Yeast:
1 teaspoon dry active yeast
1 teaspoon raw honey or maple syrup
1/4 cup warm water
Dry Ingredients:
1 cup almond flour
1/2 cup coconut flour
2 tablespoon psyllium husk powder
2 teaspoon gluten-free baking powder
Wet Ingredients:
6 large egg whites (important at room temperature)
2 large egg, (important at room temperature
2 teaspoon apple cider vinegar
Sesame seeds (as needed, optional)
---
Instructions
Place dry ingredients in food processor.  Add the egg whites, egg, and yeast mixture.  Mix until well-incorporated.  Remove from mixer.  Using your hands make a ball.  Divide the dough into 6 equal portions.  I set the balls on the parchment first to make sure they are all the same size, sometimes taking from one to add to another to even them all out.  Gently press down the balls a little to make them more of a disk shape.  Let sit and rise until double the size.  Sprinkle with seeds, if desired.  Set in oven and bake for 25 minutes until golden.  Remove from oven.  Let cool before slicing.
Notes
The recipe is based on the keto version and is approximate only.  One serving has 7 grams of net carbs.
(Note: The nutritional information provided is a courtesy and is approximate only.  We cannot guarantee the nutritional accuracy of any recipe on this site.  We cannot know what brands you use or how accurately you follow the recipe or what you like to add creatively to the dish. Use the information as a general guideline only.) 
Prep Time:

10

Cook Time:

25

Category:

KETO LOW-CARB

Method:

BAKING

Cuisine:

BREAKFAST, LUNCH, BRUNCH, DINNER
Nutrition
Serving Size:

1

Calories:

216

Sugar:

1.3

Sodium:

325

Fat:

11.6

Saturated Fat:

1.9

Carbohydrates:

16.8

Fiber:

9.8

Protein:

11.3

Cholesterol:

62
Keywords: keto hamburger buns, keto hamburger buns recipe, keto recipes, gluten free, gluten free recipes, gluten free dinner, gluten free recipes for dinner, anti-inflammatory diet, anti-inflammatory recipes, grain free, grain free diet, grain free recipes, grain free dinner, paleo and wine, gluten free and wine, dairy free diet, dairy free recipes, dairy free dinner,
FREE e-cookbook called OODLES OF LOW CARB NOODLES
Join our family to get your FREE e-cookbook OODKES OF LOW CARB NOODLES + new recipes in your inbox.
Latest posts by Shari MAC
(see all)