KETO LOW-CARB MAMA MEATLOAF (HEART HEALTHY)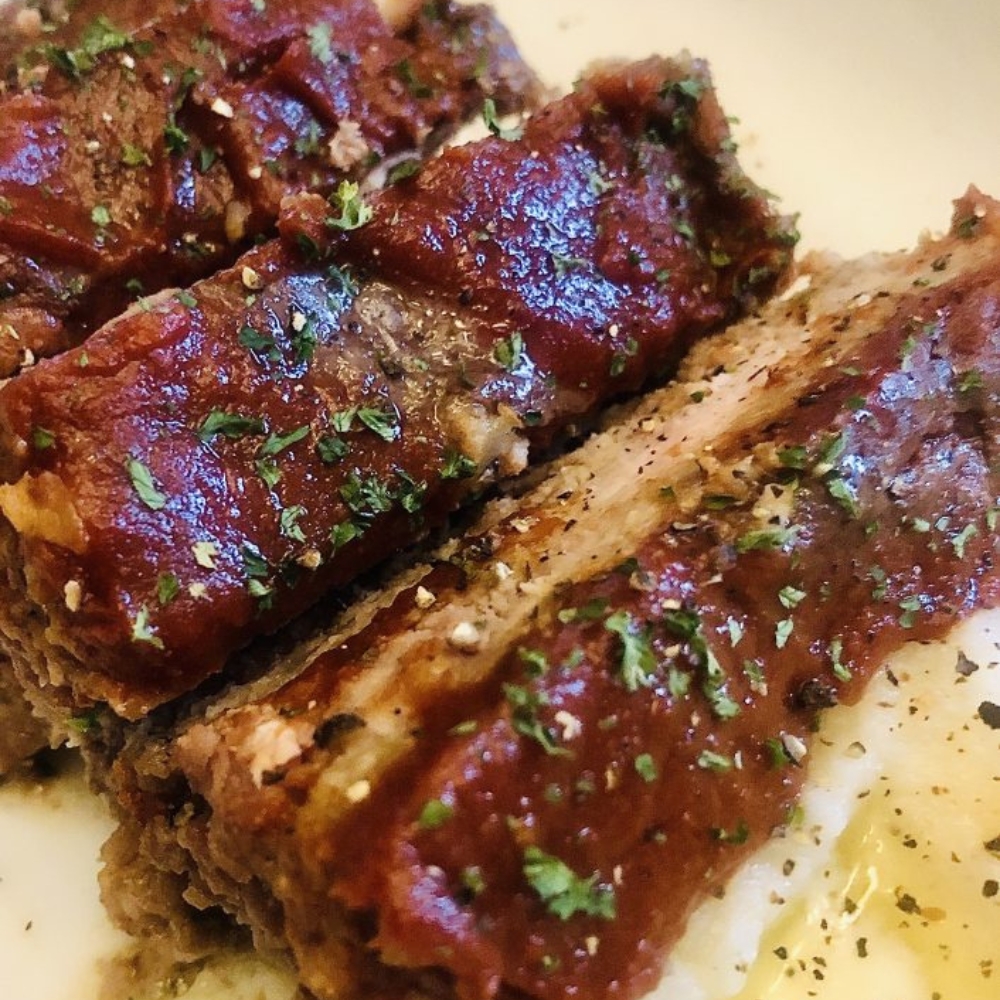 As an Amazon Associate I earn from qualifying purchases.
This Keto Low-Carb Mama Meatloaf is absolutely delicious.  This recipe makes meatloaf with beef and pork for that Italian meatball flavor.
The meatloaf is moist and offers lots of juicy flavor.  It's a Keto Low-Carb compliant comfort food!  This meatloaf recipe uses almond flour-based bread crumbs high in protein, preferably grass fed lean ground beef, eggs, spices, and homemade ketchup.  My Keto Low-Carb compliant homemade ketchup is sweetened with date paste.
There are countless meatloaf variations that will add variety to your Keto Low-Carb lifestyle.  Here are just a few combinations worth trying:
Turkey Meatloaf smothered in spicy tomato jam (rather than ketchup)
Mini Meatloaf's Wrapped in Bacon: (Make in a muffin tin)
Meatloaf Stuffed with Mashed Cauliflower
Meat Lover's Meatloaf: (Stuffed with sausage and topped with compliant bacon
Turkey Meatloaf Florentine: (Prepare with sauteed spinach, onions, fresh thyme)
Meatloaf Zucchini: (stuffed with zucchini rather than breadcrumbs)
Philly Cheese steak Meatloaf stuffed with and coated with mozzarella.
Bacon Cheeseburger Meatloaf Stuffed with Bacon and Mozzarella.
Greek Meatloaf with Mint, Oregano, Parsley, and Baked Vegan Feta:  
WHAT IS THE NUTRITIONAL VALUE OF KETO LOW-CARB MAMA MEATLOAF?
Pork is a good source of high-quality protein, which is essential for building and repairing muscle tissue. It is also a good source of vitamins and minerals, including thiamine, niacin, phosphorus, selenium, zinc, and vitamin B12. However, pork can also be high in saturated fat, which can increase cholesterol levels and the risk of heart disease if consumed in excess. It is important to choose lean cuts of pork and to prepare it in a healthy way, such as by grilling or roasting, to minimize the amount of saturated fat consumed. Overall, when consumed in moderation, pork can be a nutritious part of a healthy and balanced diet.
Beef is a great source of several essential nutrients that our body needs to function properly. It is a great source of protein, iron, zinc and vitamin B12. A 3-ounce serving of beef provides around 25 grams of protein, which is essential for building and repairing muscles. Iron helps in the formation of red blood cells, which carry oxygen to all parts of the body. Zinc plays a vital role in strengthening the immune system, while vitamin B12 is important for healthy nerve function.
However, it is important to note that the nutritional value of beef depends on the cut and preparation method. Lean cuts of beef, such as sirloin, tenderloin and round, are lower in fat and calories and higher in protein. On the other hand, fatty cuts of beef, such as rib-eye and T-bone, are higher in calories and saturated fat. Therefore, it is important to choose lean cuts of beef and prepare them in a healthy way, such as grilling, broiling or roasting, to maximize their nutritional value.
WHAT IS THE TASTE PROFILE OF KETO LOW-CARB MAMA MEATLOAF? 
The predominant taste sensation of this Keto Low-Carb Mama Meatloaf is umami, due to the slow-roasted meatloaf and homemade ketchup.  This meatloaf also has some fattiness and a hint of saltiness.
WHAT WINE HARMONIZES WITH KETO LOW-CARB MAMA MEATLOAF?
What wine works with Keto Low-Carb Mama Meatloaf?  Beef primarily works better with red wine.  Choose a red with a smooth texture and not too much tannin.  Why?  Because sugar-free ketchup has some sweetness.  That sweetness will clash with tannin, bringing bitterness to the palate.  A smooth red with fruitiness and light tannin is a better match.  Make sure the wine has enough weight to stand up to the meatloaf.  The ketchup has a little sweetness, but the savory nature of this dish complements a dry red wine.  Think Merlot, Cabernet.
*Wine Tips: To support your Keto diet or low-carb lifestyle, choose low-carb, low-sugar, and low-alcohol wines that are free of additives and artificial coloring.  Include your wine carb macros as part of your meal.  Remember, your liver will process alcohol before nutrients, pausing ketone creation and slowing the ketosis process. Your body will also metabolize alcohol as fuel before using food. This can slow fat burning and may cause your body to store carbs, fat, and protein as excess body fat.  Alcohol consumption also stimulates the appetite.  So, drink low-sugar, low-carb, and low alcohol wines in moderation.
WHAT KETO LOW-CARB RECIPES CAN I ENJOY?
Keto Low-Carb Zucchini Tapas (Heart Healthy)
Keto Low-Carb Cold Pasta Salad (Heart Healthy)
Keto Low-Carb Smoked Salmon Rolls (Heart Healthy)
Keto Low-Carb Pulled Pork (Heart Healthy)
Keto Low-Carb Mayonnaise (Heart Healthy)
WHAT IS SHARI MAC'S PRODUCT RECOMMENDATION FOR YOUR KETO LOW-CARB DIET?
I wanted to share with you the BEST thing you can do for yourself to support your Keto Low-Carb diet.  Invest in a Vitamix Blender!  I stand behind this product 100%.  This Vitamix is a long-term investment worth every dollar! I use this Vitamix for almost daily all of my Keto diet needs – smoothies, ice cream blends, hot soups (made right in the Vitamix), sauces, and more!  Every other blender I purchased before my Vitamix failed within a couple of years.  This blender is a work horse. My best-friend has had her Vitamix for over 20 years with NO issues!  I just got my Vitamix this past year and LOVE IT!
HOW DO YOU PREPARE KETO LOW-CARB MAMA MEATLOAF?
Print
KETO LOW-CARB MAMA MEATLOAF (HEART HEALTHY)
---
Author:

Shari MAC

Total Time:

1 HOUR

Yield:

6

1

x

Diet:

Gluten Free
Description
Keto Low-Carb Meatloaf can be enjoyed all year and even cooked on the BBQ!  This meatloaf hits that comfort food craving spot!  The recipe is made with Sugar-free ketchup, onion, garlic, ground beef, ground pork, egg, and Keto breadcrumbs.
---
3/4 cup sugar-free ketchup
1 onion
3 cloves garlic
1 tablespoon olive oil
1–pound grass-fed ground beef (grass-fed for Keto Healthy Heart)
1/2–pound ground pork (extra lean for Keto Healthy Heart)
1 egg
1/2 cup Keto breadcrumbs (go to Keto Low-Carb Breadcrumbs)
1 teaspoon freshly ground black pepper
---
Instructions
To make meatloaf preheat oven to 350 F.   In a food processor or blender add onion, garlic, and olive oil.  Pulsate until finely chopped.  Measure all other ingredients and place in mixing bowl with onion/garlic mixture.  Mix all ingredients together, except for ketchup.  Spray a baking dish with avocado non-stick cooking spray.  Place meatloaf mixture into the baking dish.  Coat meatloaf with ketchup.  Bake until an instant-read thermometer registers 160 degrees F, about 45 to 55 minutes. Let meatloaf rest for about 10 minutes before slicing and serving.  Serve with mashed cauliflower with plant-based butter.
Notes
The recipe's nutritional value is based on using the Rebeko Zero Ketchup.  The recipe is based on the keto version and is approximate only.  One serving has 1.7 grams of net carbs.
(Note: The nutritional information provided is a courtesy and is approximate only.  We cannot guarantee the nutritional accuracy of any recipe on this site.  We cannot know what brands you use or how accurately you follow the recipe or what you like to add creatively to the dish. Use the information as a general guideline only.)
Prep Time:

15

Cook Time:

55

Category:

KETO LOW-CARB

Method:

BAKING

Cuisine:

DINNER
Nutrition
Serving Size:

1

Calories:

243

Sugar:

0

Sodium:

98.3

Fat:

9.1

Saturated Fat:

2.8

Unsaturated Fat:

NA

Trans Fat:

NA

Carbohydrates:

1.7

Fiber:

0

Protein:

33.9

Cholesterol:

122
Keywords: keto, keto-recipes, ketogenic-diet, ketogenic-recipes, low-carb, low-carb-recipes, lazy-keto, sugar-free, sugar-free-recipes, keto-and-wine, paleo, paleo-diet, paleo-recipes, lazy-paleo, , paleo-and-wine, primal-diet, primal-diet-recipes, caveman-diet, caveman-diet-recipes, gluten-free, gluten-free-recipes, gluten-free-with-wine, grain-free, grain-free-diet, grain-free-recipes, grain-free-recipes-with-wine, anti-inflammatory-diet, anti-inflammatory-recipes, dairy-free-diet, dairy-free-recipes, dairy-free-recipes-with-wine,
FREE e-cookbook called OODLES OF LOW CARB NOODLES
Join our family to get your FREE e-cookbook OODKES OF LOW CARB NOODLES + new recipes in your inbox.
Latest posts by Shari MAC
(see all)