KETO LOW-CARB MAYONNAISE (HEART HEALTHY)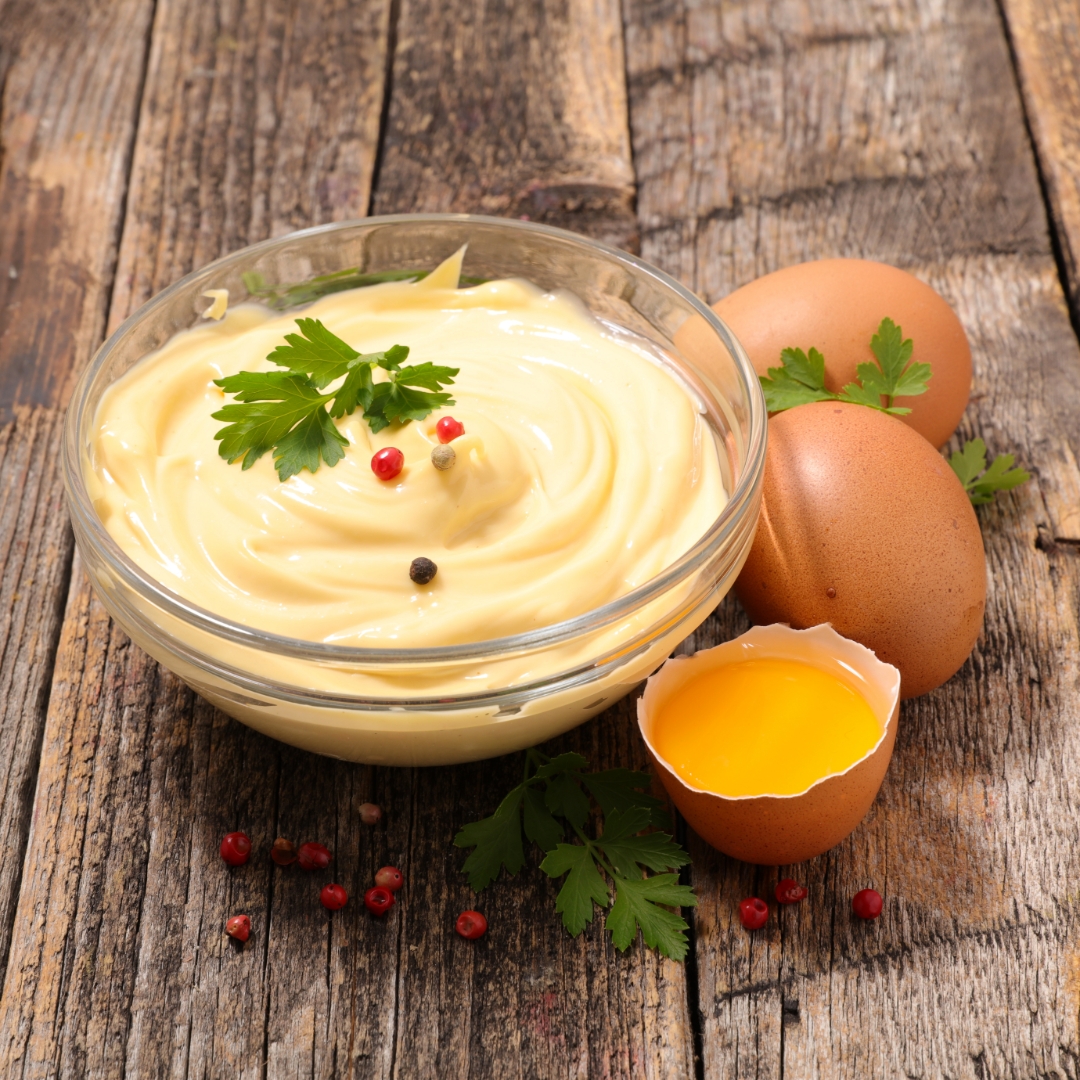 As an Amazon Associate I earn from qualifying purchases.
Love this Keto Low-Carb Mayonnaise!  It's heart healthy!  Commercial mayo is as authentic to real mayonnaise as instant coffee is to espresso!  But is it easy to make Keto Low-Carb compliant homemade mayo? The answer is YES!
As a columnist and cookbook author specializing in food and wine for over 2 decades, I have learned to make a few dishes in my time.  I love making cheese.  I like the challenge of learning new techniques.
Homemade mayo was, for me, one of the most difficult foods to master even though famous chefs touted about how easy it is.  Gordon Ramsey and Jamie Oliver make the technique look so simple.  That made me feel worse.  I would watch YouTube videos on how to make this condiment, but my version never turned out to be as thick and creamy.
The technique sounds so simple. You start by whisking the egg yolks.  Adding the mustard and lemon juice or vinegar. Then you pour in the oil in a thin stream as you continue to beat rapidly. If you pour in the oil too fast you will end up with a curdled, oily mixture.  Or you end up with a thinner sauce instead of a thick mayo.
After several tries and lots of reading, I learned a few secrets that make the process super simple.
Secret 1: Add all ingredients at the beginning: Before whisking, add the yolks, mustard, lemon juice, and pepper together in the bowl.  It makes the whole process a lot easier.  Once these ingredients are mixed, you can start to add drops of oil.
Secret 2: Use one egg yolk and one heaping tablespoon of mustard for every 1/2 cup of oil: If making a larger batch, use 2 egg yolks, 2 heaping tablespoons of mustard to one cup of oil.
Secret 3: Use a food processor, mixer, or hand mixer: Unless you are super strong, it's difficult to get the speed and strength required with a balloon whisk.  So use whatever utensil works for you.
Secret 4: Take heed of the 30-second rule: Know that the first 30 seconds of mayo making are crucial.  In this time it is important that the mixture is emulsified so as not to split.
Secret 5: Make sure eggs are at room temperature:  Take the eggs out of the refrigerator and let them sit for 15 minutes before you start.  It's important that the eggs are the same room temperature as the oil.
Secret 6: Make sure your eggs are fresh: This can be difficult since an expiry date is often not on the egg container.  But you can ensure freshness once your eggs are home.   Put the egg in a glass of water.  A fresh egg will lie on the bottom of a glass of water, while an older egg will start to rise up on one end and eventually float.
Secret 7: If the oil mayo splits: If your mayo remains a bit thin after the initial whisking, or if it's broken and separated, whisk in two teaspoons of boiling water. The hot water will help the yolks to set and re-emulsify with the oil, bonding the ingredients back together again
Secret 8: Be generous with the mustard: Be generous with the amount of mustard you use for flavor and thickness.
Secret 9: Make sure the oil is at room temperature: The eggs and the oil should be at the same temperature for better results.
Secret 10: Vinegar or lemon juice?  Acidity is required to aid as a preservative, so the mayo lasts longer in the refrigerator.  It also adds freshness to the mayo.  Therefore, I suggest fresh lemon juice.  For me, it makes the mayo taste more lively.
Secret 11: Choose Keto Low-Carb oils: Avocado and olive oils are Keto Low-Carb compliant.  Stay away from corn oil, grape seed, canola, rice bran oil, soybean oil, and peanut oil.  You might also like to add a couple of tablespoons of MCT oil!
Secret 12: Choose the oil according to the mayo use:  When making the mayo consider the reason.  If you are going to enjoy a plain mayo then olive oil is a good choice as it adds that light, olive oil flavor.  If you plan on adding seasonings to the mayo for a recipe purpose use a flavorless oil like avocado.  For example, if you're making a Thai inspired mayo, using olive oil would interfere with the Thai flavors.
WHAT IS THE TASTE PROFILE OF KETO LOW-CARB MAYONNAISE?
The predominant taste sensation of this mayo will depend on the type of oil you use.  If you use olive oil, the mayo will have a more olive oil taste.  The mustard and lemon juice adds some bite and tanginess.  This is a good choice for comfort food recipes like cold salads and salad sandwiches.  If you are making an ethnic-inspired mayo like Japanese or Thai, the predominant taste sensations will change.  Adding coconut aminos gives the mayo a saltier taste.   The most predominant flavor sensation is chemo-sensory.  Said in layperson terms, texture.  Homemade mayo is made mostly of oil and therefore has fattiness.
WHAT IS THE NUTRITIONAL VALUE OF KETO MAYONNAISE?
Keto Low-Carb Mayonnaise is preservative-free and can be made with a healthy fat like avocado oil high in Omega-3.  It is meant to be consumed within the first 5 days and so you can benefit from the nutrition of the raw eggs in the recipe.
Raw eggs are rich in choline, a heat-sensitive B vitamin that is critical to several biological functions.  Choline is also found in leafy greens and organ meats. I was pleased to learn that women who eat foods high in Choline are less likely to suffer from breast cancer.  (Choline deficiency is linked to liver disease, atherosclerosis as well as neurological disorders.
Olive oil and avocado oil are monounsaturated fats.  Scientific evidence shows that monounsaturated fats are super healthy for us.  They can support us in weight loss, reduce the risk of heart disease and decrease inflammation.
WHAT WINE HARMONIZES WITH KETO LOW-CARB MAYONNAISE?
As stated above, the most predominant flavor sensation in this Keto Low-Carb Mayonnaise is fattiness.   Adding homemade mayo to a recipe obviously adds that extra level of fattiness to the resulting dish.  So choose a wine with some weight to match.  Also make sure the wine also has some acidity to match the tanginess of the fresh lemon.  Examples include buttery Chardonnay (white) and light, fruity Pinot Noir (red).
*Wine Tips: To support your Keto diet or low-carb lifestyle, choose low-carb, low-sugar, and low-alcohol wines that are free of additives and artificial coloring.  Include your wine carb macros as part of your meal.  Remember, your liver will process alcohol before nutrients, pausing ketone creation and slowing the ketosis process. Your body will also metabolize alcohol as fuel before using food. This can slow fat burning and may cause your body to store carbs, fat, and protein as excess body fat.  Alcohol consumption also stimulates the appetite.  So, drink low-sugar, low-carb, and low alcohol wines in moderation.
WHAT KETO LOW-CARB RECIPES CAN I ENJOY?
Keto Low-Carb Zucchini Tapas (Heart Healthy)
Keto Low-Carb Cold Pasta Salad (Heart Healthy)
Keto Low-Carb Smoked Salmon Rolls (Heart Healthy)
Keto Low-Carb Pulled Pork (Heart Healthy)
WHAT IS SHARI MAC'S PRODUCT RECOMMENDATION FOR YOUR KETO LOW-CARB DIET?
I'm a huge fan of the Ninja products. In the past, I've gone through a counter-top convection oven every couple of years. This Ninja 1800-watt oven is a work horse! It is a must for me to support my Keto diet. Since buying this Ninja I have not turned on my oven in months! Amazing in the summer! No heat in the kitchen from the traditional oven. I use the air-fryer for all our proteins every day. All my air-fried favorites have less bad saturated fat and therefore fewer calories. I cut chicken breasts in half, horizontally, and air-fry them for 20 minutes. You can set the temperature and timer for all sorts of foods and walk away from the kitchen. The machine will shut off automatically at the right time. My proteins are crispy on the outside and super juicy
WHAT ARE THE HEALTH BENEFITS OF AVOCADO OIL?
You can prepare your homemade mayo from olive oil, avocado oil or a combination of both with some MCT oil. By using various healthy oils, will give your mayo a myriad of health benefits.
Avocado oil has become increasingly popular in recent years as more people have discovered its many benefits. One of the main advantages of avocado oil is that it is very rich in healthy monounsaturated fats, which can help to lower cholesterol levels, reduce inflammation, and improve heart health. In addition, avocado oil is also a good source of vitamin E, which is a powerful antioxidant that can help to protect the body from damage caused by free radicals.
Another benefit of avocado oil is that it is a great source of oleic acid, which is a type of fatty acid that is known to have anti-inflammatory properties. This means that consuming avocado oil on a regular basis may help to reduce the risk of developing conditions such as arthritis and other inflammatory diseases. Additionally, avocado oil is also good for the skin and hair, as it is very moisturizing and can help to reduce dryness and irritation. Consequently, avocado oil is a versatile and healthy oil that can be used for cooking, as a salad dressing, or as a natural beauty product.
HOW DO YOU PREPARE KETO MAYONNAISE?
Here is a video to show you how to make Keto, Low-Carb homemade mayo from scratch.
Print
KETO LOW-CARB MAYONNAISE (HEART HEALTHY)
---
Author:

Shari MAC

Total Time:

20

Yield:

1.5 cups

1

x

Diet:

Gluten Free
Description
Keto Low-Carb Mayonnaise has its own delicious taste profile, much different than store-bought processed versions.  You can use this mayo like you would any other.  If you use olive oil the mayo will have a light-yellow colour.
---
Yolks from 2 to 3 eggs
2 tablespoons Dijon mustard
1 tablespoon fresh lemon juice
1 tablespoon MCT oil
1 cup olive oil or avocado oil
---
Instructions
Make sure eggs and oil are at room temperature.   In the small bowl add yolks, mustard, lemon juice, and season with freshly ground black pepper.  Use an immersion blender or balloon whisk for 30 seconds until the yolks are thick.  Whisk or blend for another 20 seconds.  While whisking or blending, add tiny drops of the oils into the mixture.  Just drops.  Keep whisking or blending.  Do this until you've added 1/4 cup of the oil.  This is important for proper emulsification.  Otherwise, the oil will split from the other ingredients.  When the mixture begins to thicken and emulsify, continue to add the rest of the oil now at a steady pace in a stream.  When all of the oil has been added, scrape the bottom and sides of the bowl and process for an extra 10 seconds.  Cover and set in the refrigerator until needed.
Notes
The nutritional value of this recipe is based on the Keto version and is approximate.  One tablespoon (serving) of this Keto Low-Carb homemade mayo has 0.2 net carbs per serving.
Prep Time:

10

Cook Time:

10

Category:

KETO LOW-CARB

Method:

PREP

Cuisine:

ALL
Nutrition
Serving Size:

1 tablespoon

Calories:

85

Sugar:

0

Sodium:

16

Fat:

9.6

Saturated Fat:

2

Unsaturated Fat:

NA

Trans Fat:

NA

Carbohydrates:

0

Fiber:

0

Protein:

0

Cholesterol:

26
Keywords: keto mayonnaise, low-carb mayonnaise, mayonnaise, healthy mayonnaise, keto, keto-recipes, ketogenic-diet, ketogenic-recipes, low-carb, low-carb-recipes, lazy-keto, sugar-free, sugar-free-recipes, keto-and-wine, paleo, paleo-diet, paleo-recipes, lazy-paleo, , paleo-and-wine, primal-diet, primal-diet-recipes, caveman-diet, caveman-diet-recipes, gluten-free, gluten-free-recipes, gluten-free-with-wine, grain-free, grain-free-diet, grain-free-recipes, grain-free-recipes-with-wine, anti-inflammatory-diet, anti-inflammatory-recipes, dairy-free-diet, dairy-free-recipes, dairy-free-recipes-with-wine,
FREE e-cookbook called OODLES OF LOW CARB NOODLES
Join our family to get your FREE e-cookbook OODKES OF LOW CARB NOODLES + new recipes in your inbox.
Latest posts by Shari MAC
(see all)