KETO LOW-CARB CINNAMON MARMALADE CHICKEN (HEART HEALTHY)
As an Amazon Associate I earn from qualifying purchases.
I think you'll enjoy this Keto Low-Carb Cinnamon Marmalade Chicken.  I'm always looking for ways to enjoy chicken thighs and legs.  A package of legs is inexpensive, dark meat (which Shawn and I love most), and easy to prepare. Like most budget-friendly cuts of meat, chicken legs contain more fat than breasts.  But remember the old adage …"no fat; no flavour."  That's why we LOVE dark meat. 
Because the legs have more connective tissue they can be cooked in a wide range of ways.  The legs can be cooked on the stovetop, in the oven, in a pressure cooker, or on the BBQ grill.
The creation of this rub all started with pecans!  I spoke with my girlfriend Amy.  She shared with me a warm spinach salad with candied pecans recipe.  I started to salivate over candied pecans and wondered if I could use sugar-free jam or marmalade to candy the pecans.  As it turns out, I can!  I thought about spices that would work nicely on the pecans and came up with this spice combo (recipe below).  I then decided to try this rub on our chicken legs last night, without the pecans.  I spread the marmalade on the chicken and then sprinkled the marmalade with the spice rub.  The chicken tasted fantastic!  So, this chicken recipe would work without or with any salad recipe highlighting candied pecans!
WHAT IS THE NUTRITIONAL VALUE OF CINNAMON?
Let's look at the nutritional value of this Keto Low-Carb Cinnamon Marmalade Chicken. I decided to feature cinnamon for this part of the blog.  It's so super healthy and beneficial to our bodies.  Every morning my father puts cinnamon on a quarter slice of toast with peanut butter and eats it. Since undertaking this morning ritual, he says he no longer experiences angina when he walks. Cinnamon has many health benefits for the body and the brain, including anti-viral and antibacterial properties to help to heal irritable bowel syndrome, gastric cancers, and stomach flu, as well as colds, a sore throat, and cough.  It possesses two compounds called cinnamaldehyde and epicatechin that help prevent clumps of the tau protein from occurring in the brain and therefore is believed to help prevent Alzheimer's.  Cinnamon also helps to regulate insulin levels for diabetics. And for this reason, studies suggest that it may also contain anti-Alzheimer's properties.
WHAT IS THE TASTE PROFILE OF KETO LOW-CARB CINNAMON MARMALADE CHICKEN?
The predominant taste sensations of this Keto Low-Carb Cinnamon Marmalade Chicken is sweetness from the marmalade and spiciness from the dry rub. 
WHAT WINE HARMONIZES WITH KETO LOW-CARB CINNAMON MARMALADE CHICKEN?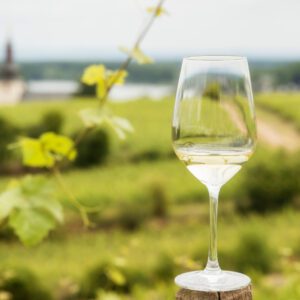 With the predominant taste sensations of this Keto Low-Carb Cinnamon Marmalade Chicken being sweetness and spiciness, you'll need to find a wine with sweetness to match the marmalade and offset the spiciness.  But in following a Keto diet or in living a low-carb lifestyle, we don't want to use up carbs on a glass of wine with carbs.  Why add the carbs when you can find wines with zero carbs!  So, you have a couple of options:
Drink whatever wine you like (as long as it's bone dry) and don't worry about pairing the wine to dish. Enjoy your wine the way you like it. 
If you like to create harmony between the wine and the food, you'll need some sweetness in the wine to offset the heat and spice.  Add a pinch of stevia or monk fruit to your glass of white wine.  Choose whites like Riesling or Gewurztraminer or a pink rose. These varieties taste great when bone dry or sweet.  So they will take well to the added sweetener.  The wine's sweetness will nicely offset the heat and spice.
*Wine Tips: To support your Keto diet or low-carb lifestyle, choose low-carb, low-sugar, and low-alcohol wines that are free of additives and artificial coloring.  Include your wine carb macros as part of your meal.  Remember, your liver will process alcohol before nutrients, pausing ketone creation and slowing the ketosis process. Your body will also metabolize alcohol as fuel before using food. This can slow fat burning and may cause your body to store carbs, fat, and protein as excess body fat.  Alcohol consumption also stimulates the appetite.  So, drink low-sugar, low-carb, and low alcohol wines in moderation.
WHAT OTHER KETO LOW-CARB HEALTHY HEART RECIPES CAN I ENJOY?
Keto Low-Carb Zoodle Caprese Salad
Keto Low-Carb Japanese Crab Noodle Salad
WHAT IS SHARI MAC'S PRODUCT RECOMMENDATION FOR YOUR KETO LOW-CARB DIET?
OMG, the Ninja NC301 CREAMi Ice Cream Maker is the BEST appliance I've bought for myself to support my Keto diet. I stand behind this product 100%. I eat healthy high protein, sugar-free ice cream every night. I experiment with different ingredient combinations all the time. I purchased 5 additional containers so that I can make a week's worth of ice cream at one time. I've made ice cream with cottage cheese and almond milk with protein powder; tofu with almond milk and protein powder; fat-free plain yogurt with almond milk and sugar-free jello and more! The machine shaves frozen pints perfectly with its one-touch programs.. You can prepare ice cream, sorbet, gelato, milkshake, smoothie bowl, lite ice cream and more.  Prep your base, freeze overnight, process, and enjoy!
Sometimes it takes more than one spin to get your desired texture. Select the re-spin function if, after processing, you want your processed treat softer and creamier. This unit is ONLY compatible with the Ninja CREAMi NC299 and NC300 pint accessories. It will NOT fit the NC100, NC200 or NC500 Series pints.
With the Ninja Creami you can enjoy healthy treats that taste just as good as regular ice cream loaded in bad saturated fat, sugar, and preservatives.
HOW IS KETO LOW-CARB CINNAMON MARMALADE CHICKEN PREPARED?
Print
KETO LOW-CARB CINNAMON MARMALADE CHICKEN
---
Description
Keto Low-Carb Marmalade Chicken is so scrumptious!  The sweetness nicely offsets the cinnamon spiciness.  A simple way to enjoy your protein.  The recipe uses chicken quarters, sugar-free marmalade, and cinnamon spice.   If you are hunting for a highly flavourful chicken quarter recipe paired with wine, check out this recipe!
---
4 chicken quarters (chicken breasts for Keto Heart Healthy)
1/4 cup sugar-free apricot jam
Cinnamon Spice Mix:
1 teaspoon of sea salt
1 teaspoon black pepper
1 teaspoon garlic powder
1 teaspoon onion powder
1 teaspoon cinnamon
1 teaspoon paprika
1/2 teaspoon chili flakes (more if you like hot and spicy)
---
Instructions
In a bowl combine all ingredients.  Mix well.  Preheat oven to 400 F. Spray ovenproof pan with avocado non-stick cooking spray.  Place chicken legs in the ovenproof pan.  Coat each leg with marmalade.  Sprinkle each leg with dry rub.  Bake at 350 degrees Fahrenheit for 45 minutes to an hour, until the skin is crisp and brown and the meat is ready to fall off the bones.
Notes
This recipe based on the Keto version and is only approximate. One serving has zero grams of sugar.  The carbohydrates are from the sweetener in the sugar-free jam.  Sweeteners like erythritol

have zero calories.  Erythritol is about 70 to 80% as sweet as sugar. It does have 4 grams of carbohydrate per teaspoon, but

zero net carbs

, so it doesn't count towards your daily carb allowance on Keto. 

That's because sweeteners have high carbs, but zero sugar. 

(Note: The nutritional information provided is a courtesy and is approximate only.  We cannot guarantee the nutritional accuracy of any recipe on this site.  We cannot now what brands you use or how accurately you follow the recipe or what you like to add creatively to the dish. Use the information as a general guideline only.  Net carbs are the total carbs minus the fiber.)
Prep Time:

10

Cook Time:

45

Category:

KETO LOW-CARB

Method:

BAKING

Cuisine:

DINNER
Nutrition
Serving Size:

1

Calories:

273

Sugar:

0

Sodium:

654

Fat:

13.1

Saturated Fat:

3.5

Carbohydrates:

20. 3

Fiber:

1.2

Protein:

19.5

Cholesterol:

84
Keywords: keto, keto chicken, keto chicken quarters, keto chicken quarters recipes, keto-recipes, ketogenic-diet, ketogenic-recipes, low-carb, low-carb-recipes, lazy-keto, sugar-free, sugar-free-recipes, keto-and-wine, paleo, paleo-diet, paleo-recipes, lazy-paleo, , paleo-and-wine, primal-diet, primal-diet-recipes, caveman-diet, caveman-diet-recipes, gluten-free, gluten-free-recipes, gluten-free-with-wine, grain-free, grain-free-diet, grain-free-recipes, grain-free-recipes-with-wine, anti-inflammatory-diet, anti-inflammatory-recipes, dairy-free-diet, dairy-free-recipes, dairy-free-recipes-with-wine,
FREE e-cookbook called OODLES OF LOW CARB NOODLES
Join our family to get your FREE e-cookbook OODKES OF LOW CARB NOODLES + new recipes in your inbox.
Latest posts by Shari MAC
(see all)