KETO LOW-CARB FRESH RICOTTA (HEART HEALTHY)
As an Amazon Associate I earn from qualifying purchases.
Love this Keto Low-Carb Fresh Ricotta recipe!  It's Keto Heart Healthy.
Years ago I taught fresh dairy cheese making classes.  Fresh ricotta made from our local milk was always one of the primary cheeses prepared for the class and enjoyed.  This fresh cheese has so many wonderful uses in recipes from savory to sweet.  This vegan version is just as delicious, although tastes different.  While classic ricotta is clumpy, this vegan version is creamy.  It's one of my favorite cheeses to use in dinner recipes.
WHAT IS THE NUTRITIONAL VALUE OF THIS KETO LOW-CARB FRESH RICOTTA?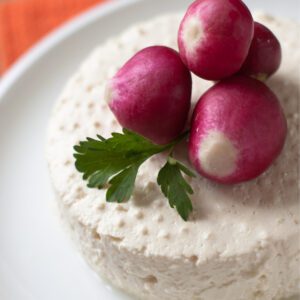 The base of this Keto Low-Carb ricotta is prepared with ground raw almonds (or raw cashews), which are nutrient-rich.  Let's talk almonds. Almonds are loaded with antioxidants, vitamin E,  magnesium, and help to control blood sugar.   If you are following a Keto path, you may consider this fresh cheese over the dairy version, especially when it is an added ingredient within a dish (meaning not served on its own.). Vegan ricotta contains healthy monounsaturated fat and is low in sodium. Nutritional yeast, an ingredient in this vegan cheese, is also super healthy.
Here is the overall comparison between dairy ricotta and vegan ricotta: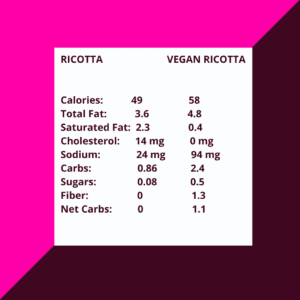 If you look at this chart you can see the benefits of both styles of cheese. For once ounce dairy ricotta has fewer calories than the vegan ricotta. The vegan ricotta is higher in fat, but that fat is super healthy, monounsaturated due to the nuts. The vegan version has 1 net carb more, but also more fiber and zero cholesterol. When making the vegan cheese you can leave out the salt altogether to lower the sodium to zero. So, in some ways the vegan ricotta is a healthier ingredient to incorporate into certain dishes.
WHAT IS THE TASTE PROFILE OF KETO LOW-CARB FRESH RICOTTA?
The predominant taste sensations of Keto Low-Carb Fresh ricotta slight tanginess from the lemon and roundness and depth of flavour from nutritional yeast. The roundness and depth of flavour are the sensations derived from the 5th taste sensation called umami. Nutritional yeast is high in umami!
WHAT WINE HARMONIZES WITH KETO LOW-CARB FRESH RICOTTA?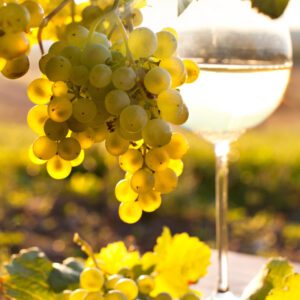 The slight tanginess of this Keto Low-Carb Fresh Ricotta cheese makes it a fabulous partner for crisp, dry white wines.  If you are incorporating the cheese into recipes, take the other tastes and flavors into consideration when choosing a cheese.  Ricotta is added more for its creamy texture than flavour.
*Wine Tips: To support your Keto diet or low-carb lifestyle, choose low-carb, low-sugar, and low-alcohol wines that are free of additives and artificial coloring.  Include your wine carb macros as part of your meal.  Remember, your liver will process alcohol before nutrients, pausing ketone creation and slowing the ketosis process. Your body will also metabolize alcohol as fuel before using food. This can slow fat burning and may cause your body to store carbs, fat, and protein as excess body fat.  Alcohol consumption also stimulates the appetite.  So, drink low-sugar, low-carb, and low alcohol wines in moderation.
WHAT OTHER KETO LOW-CARB HEALTHY HEART RECIPES CAN YOU ENJOY?
Keto Low-Carb Turkey Frittata (Heart Healthy)
Keto Low-Carb Cream Cheese (Heart Healthy)
Keto Low-Carb Tilapia Parmesan (Heart Healthy)
Keto Low-Carb Montreal Chicken Quarters (Heart Healthy)
Keto Low-Carb Stuffed Peppers (Heart Healthy)
WHAT IS SHARI MAC'S PRODUCT RECOMMENDATION FOR YOUR KETO LOW-CARB DIET?
I wanted to share with you the BEST thing you can do for yourself to support your Keto Low-Carb diet.  Invest in a Vitamix Blender!  I stand behind this product 100%.  This Vitamix is a long-term investment worth every dollar! I use this Vitamix for almost daily all of my Keto diet needs – smoothies, ice cream blends, hot soups (made right in the Vitamix), sauces, and more!  Every other blender I purchased before my Vitamix failed within a couple of years.  This blender is a work horse. My best-friend has had her Vitamix for over 20 years with NO issues!  I just got my Vitamix this past year and LOVE IT!
HOW DO YOU MAKE KETO LOW-CARB FRESH RICOTTA?
Print
KETO LOW-CARB FRESH RICOTTA (HEART HEALTHY)
---
Description
Keto Low-Carb fresh ricotta can be used as a dip and in recipes like casseroles, pasta, lasagnia, and more.  Super nutritious in monounsaturated fats!  Lots of depth and roundness of flavour (umami) due to nutritional yeast.  The recipe uses raw almonds or cashews, nutritional yeast, fresh lemon juice, garlic powder (optional), salt, and water.   If you are hunting for a dairy-free, good fat ricotta that can be used with a variety of dishes paired with wine, check out this recipe!
---
2 cups slivered blanched almonds or raw cashews
2-3 teaspoon nutritional yeast
2 to 3 tablespoons lemon juice
1 teaspoon sea salt
1/2 teaspoon garlic powder (optional)
1/2 to 1 cup water
1 tablespoon olive oil
---
Instructions
Transfer all ingredients to a food processor or blender and blend until smooth.  Add more water if needed. 
Transfer mixture to a bowl.  Use as needed or cover and refrigerate.
Notes
You can also make this cheese with raw cashews or macadamia nuts. Adjust nutritional yeast to your desired taste. The nutritional value of this recipe is based on the Keto version and is approximate.  One serving (1 ounce) of this cheese has 1.1 net carbs.
(Note: The nutritional information provided is a courtesy and is approximate only.  We cannot guarantee the nutritional accuracy of any recipe on this site.  We cannot know what brands you use or how accurately you follow the recipe or what you like to add creatively to the dish. Use the information as a general guideline only.) 
Prep Time:

10

Category:

KETO LOW-CARB

Method:

MIXING

Cuisine:

BREAKFAST, LUNCH, BRUNCH, DINNER
Nutrition
Serving Size:

1 ounce

Calories:

58

Sugar:

0.5

Sodium:

94

Fat:

4.8

Saturated Fat:

0.4

Carbohydrates:

2.4

Fiber:

1.3

Protein:

2.3

Cholesterol:

0
Keywords: keto, keto ricotta, keto ricotta recipe, keto vegan ricotta recipe, keto-recipes, ketogenic-diet, ketogenic-recipes, low-carb, low-carb-recipes, lazy-keto, sugar-free, sugar-free-recipes, keto-and-wine, paleo, paleo-diet, paleo-recipes, lazy-paleo, , paleo-and-wine, primal-diet, primal-diet-recipes, caveman-diet, caveman-diet-recipes, gluten-free, gluten-free-recipes, gluten-free-with-wine, grain-free, grain-free-diet, grain-free-recipes, grain-free-recipes-with-wine, anti-inflammatory-diet, anti-inflammatory-recipes, dairy-free-diet, dairy-free-recipes, dairy-free-recipes-with-wine,
FREE e-cookbook called OODLES OF LOW CARB NOODLES
Join our family to get your FREE e-cookbook OODKES OF LOW CARB NOODLES + new recipes in your inbox.
Latest posts by Shari MAC
(see all)