KETO LOW-CARB CURRY CHICKEN QUARTERS (HEART HEALTHY)
I prepare these Keto Low-Carb Curry Chicken Quarters on a regular basis. 
Before beginning and now during my Keto Low-Carb journey, I continue to LOVE all kinds of curries.  I don't cook with this spice as often as I like.  Curry odor can stink up the house.  Shawn doesn't mind the lingering scent of curry.  I despise it. I'm also super sensitive to smells, which is no doubt the reason why I loved being a wine journalist for many years.  My girlfriends call me a scent puppy and often use my smelling abilities to help them detect scents in the house like mold! If I walk into a house and say there is mold…well, there is always mold.  Back to the curry.  I love this recipe because the fat is removed from the chicken.  No sauces or extra fats are added.  It's just skinless legs with curry spice, salt, and pepper.  A healthy way to enjoy dark poultry. 
WHAT IS THE NUTRITIONAL VALUE OF KETO LOW-CARB CURRY CHICKEN QUARTERS? 
Curry powder is the main spice in these Keto Low-Carb Curry Chicken Quarters.  It is a mixture of spices with a bright golden color.  It is made with spices, such as turmeric, coriander, cumin, fenugreek, and sometimes chili powder.  Small producers can sometimes add ginger, mustard seeds, curry leaves, fennel seeds, and black pepper. Curry powder is a great addition to the Keto diet and low-carb lifestyle due to its impressive nutritional benefits. It is a blend of various spices including turmeric, cumin, coriander, and ginger. These spices contain numerous nutrients that offer various health benefits. Turmeric, for instance, contains curcumin, which is a powerful antioxidant that helps to reduce inflammation and boost brain health. Cumin contains iron, which is essential for the formation of red blood cells and the prevention of anemia. Coriander is rich in vitamin K, which is important for maintaining healthy bones and blood clotting. Ginger is known for its anti-inflammatory properties and can help to alleviate nausea and pain.
By the way, curry powder is also a low-calorie seasoning that can enhance the flavor of food while adding minimal calories to the diet. This makes it an excellent choice for those who are trying to lose weight or maintain a healthy weight. Additionally, the spices in curry powder have been linked to improved digestion, reduced risk of heart disease, and lower blood sugar levels.
WHAT IS THE TASTE PROFILE OF KETO LOW-CARB CURRY CHICKEN QUARTERS?
The predominant taste sensation in these Keto Low-Carb Curry Chicken Quarters is spiciness due to the curry powder with heavy garlic.  Some saltiness.
HOW DO YOU DE-BONE CHICKEN QUARTERS IF YOU DON'T WANT TO SERVE THE BONE IN THE CHICKEN?
WHAT WINE HARMONIZES WITH KETO LOW-CARB CURRY CHICKEN QUARTERS
?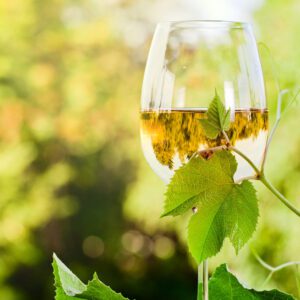 What wine partners well with these Keto Low-Carb Curry Chicken Quarters? Spicy foods always require a wine with some sweetness to offset the heat and spice.  While this dish is not "hot" per se, it's still spicy.  So you have a couple of options.  This means you need a wine with sweetness to match.  Normally this dish would demand a white wine with sweetness. But in following a Keto diet or in living a low-carb lifestyle, we don't want to use up carbs on a glass of wine with carbs, especially when we can enjoy zero carb wine!  So, you have a couple of options. 
Drink whatever wine you like (as long as it's bone dry) and don't worry about pairing the wine to salad. Enjoy your wine the way you like it. 
If you like to create harmony between the wine and the food, you'll need some sweetness in the wine to offset the heat and spice.  Add a pinch of stevia or monk fruit to your glass of white wine.  Choose whites like Riesling or Gewurztraminer or a pink rose. These varieties taste great when bone dry or sweet.  So they will take well to the added sweetener.  The wine's sweetness will nicely offset the heat and spice.
*Wine Tips: To support your Keto diet or low-carb lifestyle, choose low-carb, low-sugar, and low-alcohol wines that are free of additives and artificial coloring.  Include your wine carb macros as part of your meal.  Remember, your liver will process alcohol before nutrients, pausing ketone creation and slowing the ketosis process. Your body will also metabolize alcohol as fuel before using food. This can slow fat burning and may cause your body to store carbs, fat, and protein as excess body fat.  Alcohol consumption also stimulates the appetite.  So, drink low-sugar, low-carb, and low alcohol wines in moderation.
WHAT OTHER KETO LOW-CARB HEART HEALTHY RECIPES CAN YOU ENJOY?
Keto Low-Carb BLT Tart (Heart Healthy)
Keto Low-Carb Cajun Salmon (Heart Healthy)
Keto Low-Carb Mama Meatloaf (Heart Healthy)
Keto Low-Carb Steak Marinade (Heart Healthy)
Keto Low-Carb Cinnamon Marmalade Chicken (Heart Healthy)
WHAT IS SHARI MAC'S PRODUCT RECOMMENDATION FOR YOUR KETO LOW-CARB DIET?
I wanted to share with you the BEST thing you can do for yourself to support your Keto Low-Carb diet.  Invest in a Vitamix Blender!  I stand behind this product 100%.  This Vitamix is a long-term investment worth every dollar! I use this Vitamix for almost daily all of my Keto diet needs – smoothies, ice cream blends, hot soups (made right in the Vitamix), sauces, and more!  Every other blender I purchased before my Vitamix failed within a couple of years.  This blender is a work horse. My best-friend has had her Vitamix for over 20 years with NO issues!  I just got my Vitamix this past year and LOVE IT!
WHAT ARE THE HEALTH BENEFITS OF CURRY POWDER?
HOW IS KETO LOW-CARB CURRY CHICKEN QUARTERS PREPARED?
Print
KETO LOW-CARB CURRY CHICKEN LEG QUARTERS
---
Description
Keto Low-Carb Curry Chicken Quarters is a tasty way to enjoy your protein.  The recipe uses chicken quarters, garlic, curry and black pepper.   If you are looking for a super simple, but highly flavourful chicken dish and one paired with wine, check out this recipe!
---
4 (6 ounce) chicken quarters (thigh and drum stick, skin removed) (chicken breasts for Keto Heart Healthy)
1 garlic bulb, cloves peeled and chopped
2 heaping tablespoons curry powder
Freshly ground black pepper to taste
---
Instructions
Preheat oven to 350 F.  Finely chop garlic.  Let chopped garlic sit out on cutting board for about 15 minutes.  This triggers an enzyme reaction boosting the garlic's allicin.  Allicin is a powerful nutrient that fights cancers.  Place skinless chicken in an oven-proof baking dish.  Sprinkle curry powder, garlic, salt, and pepper on chicken.  Bake for about 50 to 60 minutes until chicken is cooked.  Halfway through the baking process, baste the chicken with its own pan juice. Serve hot.
Notes
You can add a touch of oil to the chicken before adding the spice if desired. 

The recipe is based on the keto version and is approximate only.  One serving has 1.5 grams of net carbs.

(Note: The nutritional information provided is a courtesy and is approximate only.  We cannot guarantee the nutritional accuracy of any recipe on this site.  We cannot know what brands you use or how accurately you follow the recipe or what you like to add creatively to the dish. Use the information as a general guideline only.) 
The recipe is based on the keto version and is approximate only.  One serving has 1.5 gram of net carbs. 
The recipe baking temperature and time is an estimate.  Follow your own oven's temperature and cooking time. It takes a gas oven 10-15 minutes to reach the desired temperature. Electric ovens can take 10 minutes longer than that.  The age of your oven will also determine the temperature, time for roasting or baking, and where you want to place your dish in the oven.  The bottom of your oven may be hotter than the top, depending on its condition.  This also includes where to set your dish under the broiler.  So use your own best judgment based on the type, condition, and age of your oven.  Prep times will also vary depending on how slow or quickly you like to work.
Prep Time:

10

Cook Time:

50

Category:

KETO LOW-CARB

Method:

ROASTING

Cuisine:

DINNER
Nutrition
Serving Size:

1

Calories:

227

Sugar:

2.6

Sodium:

146

Fat:

9.6

Saturated Fat:

2.4

Carbohydrates:

2.6

Fiber:

1.1

Protein:

33.8

Cholesterol:

122
Keywords: keto, keto chicken, keto chicken recipes,, keto chicken quarters, keto chicken quarters recipes, keto-recipes, ketogenic-diet, ketogenic-recipes, low-carb, low-carb-recipes, lazy-keto, sugar-free, sugar-free-recipes, keto-and-wine, paleo, paleo-diet, paleo-recipes, lazy-paleo, , paleo-and-wine, primal-diet, primal-diet-recipes, caveman-diet, caveman-diet-recipes, gluten-free, gluten-free-recipes, gluten-free-with-wine, grain-free, grain-free-diet, grain-free-recipes, grain-free-recipes-with-wine, anti-inflammatory-diet, anti-inflammatory-recipes, dairy-free-diet, dairy-free-recipes, dairy-free-recipes-with-wine,
FREE e-cookbook called OODLES OF LOW CARB NOODLES
Join our family to get your FREE e-cookbook OODKES OF LOW CARB NOODLES + new recipes in your inbox.
Latest posts by Shari MAC
(see all)