KETO LOW-CARB FLOUR BLEND (HEART HEALTHY)
As an Amazon Associate I earn from qualifying purchases.
I use this Keto Low-Carb Flour Blend all the time!
In following a Keto Low-Carb lifestyle or diet, you'll no doubt want to enjoy some of the same dishes you prepared in your past life.  Often a regular diet includes wheat flour.  We use flour for everything.  Pizza, pancakes, waffles, cakes, pies, pasta, dumplings, and more.  We use wheat flour in baked goods and desserts, to dredge proteins in a crispy flour batter like fish, seafood, or chicken, or to thicken soups and sauces.   The list of flour uses is endless.
On a Keto Low-Carb you can create a compliant all-purpose flour to enhance your culinary needs.  This Keto flour blend provided here can be used for baked goods and more.
There are many Keto Low-Carb all-purpose flour recipes.  The ingredient you use, and their ratios depend on your own taste buds and budget.  The key is to experiment until you find an ingredient combination that you enjoy that falls within our budget.  Almond flour tends to be the predominant ingredient in most blends.  But almond flour is expensive.  And some people are allergic to almonds.  Sunflower seed flour is just slightly high in carbs and less expensive than almond flour.  This seed flour substitute can be measured 1 for 1.
WHAT ARE THE NUTRITIONAL BENEFITS OF THIS KETO LOW-CARB FLOUR BLEND?
The Keto Low-Carb Flour Blend included here uses the ingredients of almond flour, coconut flour, flax meal, and xanthan gum.  You can replace the flax meal with oat fiber.  However, oat fiber tends to be pricey and difficult to find.  Almond flour is ideal for this flour blend because it is substantial, high in protein, and doesn't soak up too much liquid.  It is the lowest in carbs but tends to be pricey.
This is why we cut the ratio with coconut flour, as well. It is inexpensive, neutral tasting, and builds up your flour volume.  Coconut flour is higher in carbs and absorbs a lot of liquid, so keep the ratio to almond flour as low as possible. But this flour is also nutritious. Coconut flour is a popular gluten-free alternative to traditional wheat flour and can be used in a variety of Keto recipes. It is made by grinding coconut meat into a fine powder, resulting in a high-fiber, low-carbohydrate flour that is rich in nutrients. Its unique nutritional profile makes it an excellent choice if you want to add more fiber and nutrients to your Keto diet.
One of the most significant nutritional benefits of coconut flour is its high fiber content. Just two tablespoons of coconut flour contain a whopping 5 grams of fiber, which is more than 18% of the recommended daily intake. Fiber is essential for maintaining good digestive health, promoting feelings of fullness, and reducing the risk of chronic diseases such as heart disease, obesity, and diabetes.
Coconut flour also contains a good amount of protein and healthy fats. Two tablespoons of coconut flour provide approximately 2 grams of protein and 1.5 grams of healthy fats. Additionally, coconut flour is rich in important vitamins and minerals such as iron, potassium, and magnesium.
Ccoconut flour is a highly nutritious ingredient that can be used in a variety of recipes.
GOLDEN FLAXEDD MEAL:
Golden flax seed meal adds a nutritional punch to the flour blend.  Golden flax meal also has a neutral taste, which doesn't interfere with the flavors of the dish you're preparing with the flour blend.
Ideal for the Keto diet! Golden flax meal, also known as ground flax seed, is a popular ingredient in many recipes and is also considered a super-food due to its high nutritional value. Flax seeds are an excellent source of dietary fiber, plant-based protein, and heart-healthy omega-3 fatty acids. Additionally, golden flax meal is rich in vitamins and minerals such as vitamin E, thiamine, magnesium, and phosphorus.
One tablespoon of golden flax meal contains approximately 37 calories, 2 grams of dietary fiber, and 1.3 grams of protein. It also provides 1.6 grams of alpha-linolenic acid (ALA), a type of omega-3 fatty acid that has been linked with reduced inflammation and improved heart health.
Golden flax meal can be a nutritious addition to a variety of dishes, including smoothies, oatmeal, baked goods, and more. However, it's important to note that flax seeds are not easily digestible in their whole form, which is why ground flax seeds are typically recommended. Overall, incorporating golden flax meal into your diet can provide a range of health benefits and help you meet your daily recommended intake of essential nutrients.
XANTHAN GUM: 
Xanthan gum is added to help to bind and thicken the flour blend.  You just need a pinch – ¼ teaspoon.  It also gives your flour blend a bit of bounce to replace the gluten normally found in wheat flour.
WHAT OTHER KETO LOW-CARB CONDIMENT RECIPES CAN I ENJOY?
Keto Low-Carb Homemade Chicken Stock
Keto Low-Carb Roast Beef Spice Rub (Heart Healthy)
WHAT IS SHARI MAC'S PRODUCT RECOMMENDATION FOR YOUR KETO LOW-CARB DIET?
I wanted to share with you the BEST thing you can do for yourself to support your Keto Low-Carb diet.  Invest in a Vitamix Blender!  I stand behind this product 100%.  This Vitamix is a long-term investment worth every dollar! I use this Vitamix for almost daily all of my Keto diet needs – smoothies, ice cream blends, hot soups (made right in the Vitamix), sauces, and more!  Every other blender I purchased before my Vitamix failed within a couple of years.  This blender is a work horse. My best-friend has had her Vitamix for over 20 years with NO issues!  I just got my Vitamix this past year and LOVE IT!
HOW DO YOU PREPARE KETO LOW-CARB FLOUR BLEND?
Print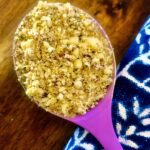 KETO LOW-CARB FLOUR BLEND (HEART HEALTHY)
---
Author:

Shari MAC

Total Time:

5

Yield:

3.5 cups

1

x

Diet:

Gluten Free
Description
Keto Low-Carb flour blend uses almond flour, coconut flour, flax and xanthan gum.  Add whatever spices you like, such as garlic powder or onion powder, depending on the recipe you intend to prepare.  Scrumptious!
---
---
Instructions
Mix all the ingredients together and store in an airtight bag or container.
Notes
The nutritional value of this recipe is based on the keto version and is approximate.  One serving is one ounce and contains 1.7 net carbs.
(Note: The nutritional information provided is a courtesy and is approximate only.  We cannot guarantee the nutritional accuracy of any recipe on this site.  We cannot know what brands you use or how accurately you follow the recipe or what you like to add creatively to the dish. Use the information as a general guideline only.)
Prep Time:

5

Category:

KETO LOW-CARB

Method:

MIXING

Cuisine:

APPETIZER, LUNCH, DINNER
Nutrition
Serving Size:

1 ounce

Calories:

74

Sugar:

0

Sodium:

39

Fat:

6.2

Saturated Fat:

0

Unsaturated Fat:

NA

Carbohydrates:

5.6

Fiber:

3.6

Protein:

3.2

Cholesterol:

0
Keywords: keto flour blend, keto flour, low-carb flour blend, low-carb flour, keto, keto chicken, keto chicken recipes, keto chicken thigh recipes, keto chicken marsala, keto-recipes, ketogenic-diet, ketogenic-recipes, low-carb, low-carb-recipes, lazy-keto, sugar-free, sugar-free-recipes, keto-and-wine, paleo, paleo-diet, paleo-recipes, lazy-paleo, , paleo-and-wine, primal-diet, primal-diet-recipes, caveman-diet, caveman-diet-recipes, gluten-free, gluten-free-recipes, gluten-free-with-wine, grain-free, grain-free-diet, grain-free-recipes, grain-free-recipes-with-wine, anti-inflammatory-diet, anti-inflammatory-recipes, dairy-free-diet, dairy-free-recipes,
FREE e-cookbook called OODLES OF LOW CARB NOODLES
Join our family to get your FREE e-cookbook OODKES OF LOW CARB NOODLES + new recipes in your inbox.
Latest posts by Shari MAC
(see all)