KETO LOW-CARB FRESH TOMATO SOUP (HEART HEALTHY)
As an Amazon Associate I earn from qualifying purchases.
Keto Low-Carb Fresh Tomato soup is a staple in our household.  We enjoy this soup in every season. I have slurped my way through the Bubba dictionary of soups celebrating the tomato. (In the movie Forrest Gump, the character of Bubba could rhyme off a whole list of shrimp delicacies and dishes; in my case, tomato soups.) I have enjoyed garden-fresh tomato soup, tomato, and rice, smoked tomato, tomato with bacon and basil, creamy tomato with Parmesan and  Keto savvy croutons, and tomato soup with Keto macaroni and cheese. The list is endless.  
In fact, just recently I woke up feeling the flu coming on. My symptoms included aching muscles, headache, slight fever, and chills. All I could think about was garden my Keto Low-Carb Fresh Tomato Soup! Garden fresh means you don't slow cook the soup at all. Once all the ingredients are added, the soup is heated quickly on the stove, thus retaining that garden-fresh flavour, all the while being hot. On this occasion, I added almost a bulb of garlic.  (On this Keto Low-Carb journey, I eat a lot of garlic.)  The next morning I awoke without any symptoms. I'm not sure if it was the tomatoes or loads of raw garlic or both. But I felt cured.
My Keto Low-Carb Fresh Tomato Soup recipe uses fresh tomatoes!  Tomatoes are healthy, in my personal opinion. I say my personal opinion because nowadays, the tomato seems to be getting a bad rap because it is part of the nightshade family.  There are those who do have an allergy to shade vegetables and fruits. A person with a nightshade allergy may develop breathing problems or a rash, or even eczema shortly after eating tomatoes.  Others might have a nightshade intolerance or sensitivity to tomatoes.  This means that they cannot digest tomatoes properly and might then suffer from a  range of symptoms, including digestive issues.  
Personally I am not allergic nor sensitive to tomatoes.  I stand with the Italians in believing that it's one of the most magical fruit in existence, used in a plethora of traditional dishes that tantalize the palate.
While healthy and magical, the tomato also has to be washed properly.  It is important that you take precautions after buying the tomato to remove as much dirt and bacteria as you can.  Wash all whole tomatoes thoroughly in a clean sink under clean, running water. Gently rub them with your hands to remove as much dirt and any bacteria.  Don't use detergents, soap, or bleach. Chemicals can potentially cause them to become poisonous. Be sure to cut off and throw out the stem end of the tomato. Pathogens here may cause food borne illness as well.
As long as the tomato continues to grow, its soups will prevail.  Paradicsomleves is the word for Hungarian tomato soup. Gazpacho Andaluz is a traditional Spanish tomato gazpacho – cold tomato soup. "Saar" is the name for traditional Indian tomato soup. Zuppa di Pomodoro is none other than Italian tomato soup. The name alone is enough to make one salivate.
WHAT IS THE RECIPE TASTE PROFILE OF KETO LOW-CARB FRESH TOMATO SOUP WITH FRESH HERBS?
This Keto Low-Carb Fresh Tomato Soup is delightfully tangy due to the use of ripe, fresh tomatoes.  Tomato soup is really a comfort food, brimming with the 5th taste sensation of umami.  Fresh tomatoes are high in simplistic umami, offering roundness and depth of flavour to this simple summer soup.
WHAT IS THE NUTRITIONAL VALUE OF KETO LOW-CARB FRESH TOMATO SOUP WITH FRESH HERBS?
This Keto Low-Carb Fresh Tomato Soup is packed with nutrition.  The tomato is simply good for us. Its soups can be meat-free, gluten-free, grain-free, fat-free, and peanut-free and still taste delicious. Even creamy tomato soup can be dairy-free.  Simply use whipped Silken Tofu instead of cream to thicken the soup. We have long known that the tomato is a good source of vitamin C and the antioxidant called lycopene. This fruit is also high in vitamin K and calcium, which strengthens bone tissue. It is also a good source of the mineral chromium, which helps to stabilize blood sugars for diabetics. New research from Cornell University reveals that cooking this fruit increases its level of lycopene. However, its vitamin C level is reduced through the cooking process. Lycopene is believed to be highly beneficial in preventing and fighting cancers and heart disease. It is an antioxidant that our body does not naturally produce. Hence, the importance of consuming fruits and vegetables containing lycopene. The tomato also contains chlorogenic acid and coumaric acid, which to fight against some of the carcinogens brought about by cigarette smoke.
Many avid home cook friends are as obsessed with tomato soup as they are with apple pie and family lasagna recipes. It is comfort food! It naturally possesses two survival mechanisms – natural sweetness and simplistic umami. We all love sweetness. And we also crave umami. Umami is the fifth taste sensation; it produces roundness and depth of flavour on the palate. We crave umami, which allows us to retain a healthy appetite and therefore keeps us alive – a survival mechanism. As the tomato ripens and ages, the level of umami increases. When slow-cooked, umami moves from simplistic to synergistic, increasing dramatically. (Hence our addiction to ketchup! It is nothing more than slow-cooked tomatoes with synergistic umami and sweetness.)
I'm personally a fan of garden fresh tomato soup made from puréed beefsteak tomatoes straight off the vine.  I consume this soup both hot and cold. I love the pure taste of the fresh tomato. I season the soup with sea salt, freshly ground black pepper, high-quality extra-virgin olive oil, and finely chopped basil. Then I garnish each bowl with a heavy dollop of Crème Fraiche or Greek yogurt, depending on my mood. The trick is to heat up the soup as quickly as possible, thus allowing it to retain its garden-fresh flavour and acidity.  This soup is meant to be hot, not cooked or slow-cooked.
WHAT WINE HARMONIZES WITH KETO LOW-CARB FRESH TOMATO SOUP WITH FRESH HERBS?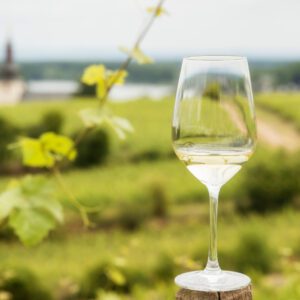 The two predominant flavour sensations in this Keto Low-Carb Fresh Tomato Soup are tanginess and umami from the fresh tomatoes.  Choose a light, fruity white wine with tanginess to match.  Think in terms of Sauvignon Blanc, Vino Verde, Pinot Gris, and Pinot Grigio.  Look for that zinging acidity in the white wine to harmonize with the tanginess of this tomato soup.
*Wine Tips: To support your Keto diet or low-carb lifestyle, choose low-carb, low-sugar, and low-alcohol wines that are free of additives and artificial coloring.  Include your wine carb macros as part of your meal.  Remember, your liver will process alcohol before nutrients, pausing ketone creation and slowing the ketosis process. Your body will also metabolize alcohol as fuel before using food. This can slow fat burning and may cause your body to store carbs, fat, and protein as excess body fat.  Alcohol consumption also stimulates the appetite.  So, drink low-sugar, low-carb, and low alcohol wines in moderation.
WHAT OTHER KETO LOW-CARB HEALTHY HEART RECIPES CAN I ENJOY?
Keto Low-Carb Tuna Cheddar Pasta Casserole
Keto Low-Carb Zoodle Caprese Salad
Keto Low-Carb Japanese Crab Noodle Salad
WHAT IS SHARI MAC'S PRODUCT RECOMMENDATION FOR YOUR KETO LOW-CARB DIET?
OMG, the Ninja NC301 CREAMi Ice Cream Maker is the BEST appliance I've bought for myself to support my Keto diet. I stand behind this product 100%. I eat healthy high protein, sugar-free ice cream every night. I experiment with different ingredient combinations all the time. I purchased 5 additional containers so that I can make a week's worth of ice cream at one time. I've made ice cream with cottage cheese and almond milk with protein powder; tofu with almond milk and protein powder; fat-free plain yogurt with almond milk and sugar-free jello and more! The machine shaves frozen pints perfectly with its one-touch programs.. You can prepare ice cream, sorbet, gelato, milkshake, smoothie bowl, lite ice cream and more.  Prep your base, freeze overnight, process, and enjoy!
Sometimes it takes more than one spin to get your desired texture. Select the re-spin function if, after processing, you want your processed treat softer and creamier. This unit is ONLY compatible with the Ninja CREAMi NC299 and NC300 pint accessories. It will NOT fit the NC100, NC200 or NC500 Series pints.
With the Ninja Creami you can enjoy healthy treats that taste just as good as regular ice cream loaded in bad saturated fat, sugar, and preservatives.
Print
KETO LOW-CARB FRESH TOMATO SOUP
---
Description
Keto Low-Carb Fresh Tomato Soup is a refreshing summer, chilled vegetarian soup enjoyable at any time of the year for lunch or brunch.  The recipe uses fresh tomatoes, fresh basil, olive oil, and dairy or vegan cream cheese.  If you are hunting for a delicious Keto Low-Carb gazpacho recipe paired with wine, check out this recipe!
---
3 large tomatoes, halved crosswise and seeded
2 tablespoons olive oil
1 teaspoon stevia
Freshly ground black pepper to taste
3 tablespoons finely chopped fresh basil
2 tablespoons cream cheese (low-fat for heart healthy)
2 tablespoons finely chopped fresh Thyme (for garnish)
---
Instructions
In a food processor or blender add tomatoes, olive oil, sweetener, and fresh basil.  Blend until either chunky or smooth, depending on your texture preference.  Garnish gazpacho with fresh herbs of choice and/or a dollop of cream cheese.
Notes
The recipe is based on the keto version and is approximate only.  One serving has 6.5 grams of net carbs.
(Note: The nutritional information provided is a courtesy and is approximate only.  We cannot guarantee the nutritional accuracy of any recipe on this site.  We cannot know what brands you use or how accurately you follow the recipe or what you like to add creatively to the dish. Use the information as a general guideline only.) 
Prep Time:

10

Category:

KETO LOW-CARB

Method:

PUREE

Cuisine:

LUNCH, DINNER
Nutrition
Serving Size:

1

Calories:

96

Sugar:

6.2

Sodium:

21

Fat:

9

Carbohydrates:

7.8

Fiber:

1.3

Protein:

1.4
Keywords: keto tomato soup, low-carb tomato soup, paleo tomato soup, keto, keto-recipes, ketogenic-diet, ketogenic-recipes, low-carb, low-carb-recipes, lazy-keto, sugar-free, sugar-free-recipes, keto-and-wine, paleo, paleo-diet, paleo-recipes, lazy-paleo, , paleo-and-wine, primal-diet, primal-diet-recipes, caveman-diet, caveman-diet-recipes, gluten-free, gluten-free-recipes, gluten-free-with-wine, grain-free, grain-free-diet, grain-free-recipes, grain-free-recipes-with-wine, anti-inflammatory-diet, anti-inflammatory-recipes, dairy-free-diet, dairy-free-recipes, dairy-free-recipes-with-wine,
FREE e-cookbook called OODLES OF LOW CARB NOODLES
Join our family to get your FREE e-cookbook OODKES OF LOW CARB NOODLES + new recipes in your inbox.
Latest posts by Shari MAC
(see all)