KETO LOW-CARB SALMON WITH LEMON, HONEY, THYME (HEART HEALTHY)
As an Amazon Associate I earn from qualifying purchases.
Keto Low-Carb Salmon with Honey, Lemon, Thyme is gourmet delight without all the work and headache!  
I'm a fan of fresh salmon!  In fact, I cook fish a couple of times per month.  In my city and in being from Ontario, Canada, we have access to buying Atlantic salmon from the southern coasts of our provinces of New Brunswick, Nova Scotia, and the island portion of Newfoundland and Labrador.  Fresh Canadian pacific salmon is more difficult to find and sold at a decent price.
When buying salmon, make sure it is MSC certified (Marine Stewardship Council).  This certification ensures the fish is wild, traceable, and sustainable. The bluefish label is only applied to wild fish or seafood from fisheries that have been certified to the MSC Fisheries Standard, a science-based set of requirements for sustainable fishing. If this certification is not available in your area, do some research to find a suitable one.
When shopping, hunt for salmon that smells fresh, is moist and shiny, an indicator of freshness.  Brown spots on the flesh or around the filet may be a sign of spoiling.
Salmon can be served in a variety of ways and in recipes, depending on how it is cooked.  
WHAT IS THE NUTRITIONAL VALUE OF KETO LOW-CARB SALMON WITH LEMON, HONEY, THYME?
What are the nutritional and health benefits of Keto Low-Carb Salmon with Honey, Lemon, Thyme? I cannot underestimate the nutritional and health benefits of fresh salmon.  Two meals per week of fatty fish, such as salmon, can reduce your risk of fatal heart disease by 40%.  Salmon is a delicious and nutritious fish that is enjoyed all over the world. It is rich in protein, omega-3 fatty acids, vitamins, and minerals, making it an excellent addition to a healthy diet.
A 3.5-ounce (100-gram) serving of cooked salmon provides approximately 206 calories, 22 grams of protein, 14 grams of fat, and zero carbohydrates. In addition to this, salmon is an excellent source of omega-3 fatty acids, which are essential for maintaining a healthy heart and brain. It also contains significant amounts of vitamin B12, vitamin D, and selenium, which are important for maintaining healthy skin, bones, and immune function. Furthermore, salmon is also a good source of potassium, which helps to regulate blood pressure, and contains antioxidants that may help to reduce inflammation in the body.
Overall, salmon is a highly nutritious food that can provide numerous health benefits. It is an excellent source of protein, healthy fats, vitamins, and minerals, and is a great addition to any healthy diet.
Salmon is a highly nutritious and healthy food that is packed with essential nutrients and vitamins. Eating salmon regularly can have a significant impact on your overall health. Here are some of the health benefits of salmon:
Rich in Omega-3 Fatty Acids: Salmon is an excellent source of omega-3 fatty acids, which are essential for heart health. These fatty acids can help reduce inflammation, lower blood pressure, and decrease the risk of heart disease.
High in Protein: Salmon is a great source of high-quality protein, which is important for building and repairing tissues in the body. Protein also helps keep you feeling full and satisfied, which can aid in weight management.
Good Source of B Vitamins: Salmon is rich in B vitamins, including B12, which is essential for brain function and the production of red blood cells. B vitamins also play a role in energy metabolism and can help reduce the risk of certain chronic diseases.
Supports Brain Health: The omega-3 fatty acids found in salmon are important for brain health and can help improve cognitive function and memory. Salmon also contains vitamin D, which has been shown to improve mood and reduce the risk of depression.
Promotes Healthy Skin: Salmon is rich in antioxidants and omega-3 fatty acids, which can help protect the skin from damage and promote healthy, glowing skin.
Overall, incorporating salmon into your diet is a great way to boost your overall health and wellbeing.
WHAT IS THE TASTE PROFILE OF KETO LOW-CARB SALMON WITH LEMON, HONEY, THYME?
The predominant taste sensations of Keto Low-Carb Salmon with Honey, Lemon, Thyme are fattiness (salmon), sweetness (Keto Honey), and tanginess (fresh lemon) Fresh thyme has a distinct and robust flavor that is a little sweet, earthy, and slightly minty.
WHAT WINE HARMONIZES WITH KETO LOW-CARB SALMON WITH LEMON, HONEY, THYME?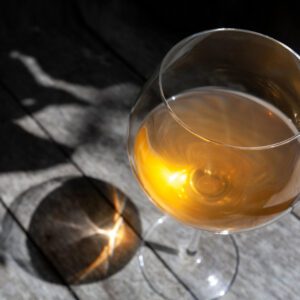 While Keto Low-Carb Salmon with Lemon, Honey, Thyme offers some tanginess from the fresh lemon, it's important to consider the sweetness first.  The pleasant sweetness in the sauce calls for a white wine with some sweetness to match.  In following a Keto diet or in living a low-carb lifestyle, we don't want to use up carbs on a glass of wine, especially when we can enjoy zero carb wine!  So you have a couple of options. 
Drink whatever you like and don't worry about pairing the wine to the dish.  Enjoy your wine the way you like it. 
Or, if you like to create harmony between the wine and the food, you'll need some sweetness in the wine.  Add a pinch of stevia or monk fruit to your glass of white wine.  Choose a fruity white with some buttery character and/or weight to match the fattiness of salmon.  Examples include Chardonnay, Semillion, or Viognier. So, you'll have a wine with some sweetness to harmonize with the honey flavor. 
The other option is to change the honey to maple.  Use maple extract with the lemon juice. Forgo the sweetener.  With no sweetness, you can pair the salmon with lemon maple flavor with a light, fruity red like Pinot Noir.  
*Wine Tips: To support your Keto diet or low-carb lifestyle, choose low-carb, low-sugar, and low-alcohol wines that are free of additives and artificial coloring.  Include your wine carb macros as part of your meal.  Remember, your liver will process alcohol before nutrients, pausing ketone creation and slowing the ketosis process. Your body will also metabolize alcohol as fuel before using food. This can slow fat burning and may cause your body to store carbs, fat, and protein as excess body fat.  Alcohol consumption also stimulates the appetite.  So, drink low-sugar, low-carb, and low alcohol wines in moderation.
WHAT OTHER KETO LOW-CARB HEALTHY HEART RECIPES CAN I ENJOY?
Keto Low-Carb Curry Chicken Quarters (Heart Healthy)
Keto Low-Carb Meat Lover's Pizza (Heart Healthy)
Keto Low-Carb Salmon and Brussels Sprouts (Heart Healthy)
Keto Low-Carb Tuna Avocado Blackberry Salad (Hearty Healthy)
Keto Low-Carb Indian Fry Bread (Heart Healthy)
WHAT IS SHARI MAC'S PRODUCT RECOMMENDATION FOR YOUR KETO LOW-CARB DIET?
I'm a huge fan of the Ninja products. In the past, I've gone through a counter-top convection oven every couple of years. This Ninja 1800-watt oven is a work horse! It is a must for me to support my Keto diet. Since buying this Ninja I have not turned on my oven in months! Amazing in the summer! No heat in the kitchen from the traditional oven. I use the air-fryer for all our proteins every day. All my air-fried favorites have less bad saturated fat and therefore fewer calories. I cut chicken breasts in half, horizontally, and air-fry them for 20 minutes. You can set the temperature and timer for all sorts of foods and walk away from the kitchen. The machine will shut off automatically at the right time. My proteins are crispy on the outside and super juicy
HOW DO YOU PREPARE THE RECIPE FOR KETO LOW-CARB SALMON WITH LEMON, HONEY THYME?
KETO LOW-CARB SALMON WITH LEMON, HONEY, THYME
Keto Low-Carb Salmon with Lemon, Honey, Thyme uses fresh salmon, lemon, sugar-free honey, lemon, fresh thyme and garlic.
Author: KETO LOW-CARB SHARI MAC
Prep Time:

10

Cook Time:

12

Total Time:

22

Yield:

4

1

x
Category:

KETO LOW-CARB

Method:

BAKING

Cuisine:

LUNCH, BRUNCH, DINNER

Diet:

Gluten Free
2 to 3-pound salmon filet (cut into 4 wedges)
2 lemons (Juice from 1 fresh lemon for recipe) and 1 sliced for garnish
2 to 3 tablespoons of sugar-free honey*
1 tablespoon fresh thyme (or 1 teaspoon dried thyme)
5 to 6 cloves garlic, finely chopped*
Freshly ground black pepper to taste
Fresh thyme springs for garnish
Instructions
*Keto Low-Carb Sugar-Free Honey
Preheat oven to 400°F.  Line a baking sheet with a large enough piece of foil.  Or oil a baking pan or sheet with olive oil.  Place salmon in the center of the pan.  Chop garlic.  Set aside.   In a bowl combine lemon juice with "honey" and fresh (or dried) thyme.  Stir together.  Coat top of salmon in lemon honey sauce.  Sprinkle chopped garlic over the sauce.  Season with black pepper.  Place in oven and bake for 10 to 14 minutes or until your desired doneness.  Remove salmon from the oven and turn the broiler on HIGH.  Place salmon back under the broiler for 2 to 3 minutes to toast garlic.   Remove from oven.  Serve hot garnished with lemon slices and sprigs of fresh thyme.
Notes
The recipe is based on the keto version and is approximate only.  One serving has 6.7 grams of net carbs. 
(Note: The nutritional information provided is a courtesy and is approximate only.  We cannot guarantee the nutritional accuracy of any recipe on this site.  We cannot now what brands you use or how accurately you follow the recipe or what you like to add creatively to the dish. Use the information as a general guideline only.  Net carbs are the total carbs minus the fiber.)
Nutrition
Serving Size:

1

Calories:

484

Sugar:

2.9

Sodium:

151

Fat:

21.1

Carbohydrates:

7

Fiber:

0.3

Protein:

67.6

Cholesterol:

150
Keywords: keto, keto salmon, keto salmon recipe, keto baked salmon recipe, keto-recipes, ketogenic-diet, ketogenic-recipes, low-carb, low-carb-recipes, lazy-keto, sugar-free, sugar-free-recipes, keto-and-wine, paleo, paleo-diet, paleo-recipes, lazy-paleo, , paleo-and-wine, primal-diet, primal-diet-recipes, caveman-diet, caveman-diet-recipes, gluten-free, gluten-free-recipes, gluten-free-with-wine, grain-free, grain-free-diet, grain-free-recipes, grain-free-recipes-with-wine, anti-inflammatory-diet, anti-inflammatory-recipes, dairy-free-diet, dairy-free-recipes, dairy-free-recipes-with-wine,
FREE e-cookbook called OODLES OF LOW CARB NOODLES
Join our family to get your FREE e-cookbook OODKES OF LOW CARB NOODLES + new recipes in your inbox.
Latest posts by Shari MAC
(see all)