KETO LAZY THAI SALAD OF GREENS
As an Amazon Associate I earn from qualifying purchases.
I've been on a kick for preparing this Keto Lazy Thai Salad of Greens as our main course dinner, including protein on the side or in the salad itself.  I have been inspired by the flexitarian movement.  The idea is to maintain a plant-based diet and to get most of your protein from plants.  However, you can incorporate flesh proteins into your diet as you see fit.  There are no rules as to how much flesh protein you eat.  Some enjoy flesh proteins once a year, while others choose once a week, or even once a day.  The amount and nature of the flesh protein you consume are subjective.   However, the idea is to move toward eating a mostly plant-based diet in time.  
Sometimes I incorporate plenty of seeds and nuts into this salad and forgo flesh protein altogether.  Other times, I add cooked chicken or tuna salad on the side.  But the salad always takes center stage.  
I love the salad dressing because it has a smidgen of fat from the sesame oil.  So it's almost fat-free!  The dressing is also refreshing and super healthy.
WHAT IS THE NUTRITIONAL VALUE OF KETO LAZY THAI SALAD OF GREENS? 
The dressing for this Keto Lazy Thai Salad of Greens includes fresh lime juice and fresh ginger.  These ingredients offer valuable nutrition.  The juice from fresh limes can boost your immunity, help to reduce heart disease risk, help prevent kidney stones, helping to aid iron absorption, and help to improve your skin.  Lime juice is high in vitamin C, proving about 20% of your daily recommended need, also contributing toward boosting your immune system.
Fresh ginger also contributes to valuable nutrition.  Fresh ginger offers anti-inflammatory, antibacterial, and antiviral properties. 
The combination of fresh lime juice, fresh ginger, and fresh garlic contributes toward boosting a healthy immune system.
The salad itself contains carrots (optional), avocado, and mixed greens.
WHAT IS THE TASTE PROFILE OF KETO LAZY THAI SALAD OF GREENS? 
The dressing for this Keto Lazy Thai Salad of Greens takes over.  The predominant taste sensations are tanginess (lime juice), saltiness (Coconut Aminos), and spiciness (from the chili).  The date paste does not occur as sweetness here because its job is to soften the acidity from the limes.  The dressing is still quite tangy. 
WHAT WINE HARMONIZES WITH KETO LAZY THAI SALAD OF GREENS?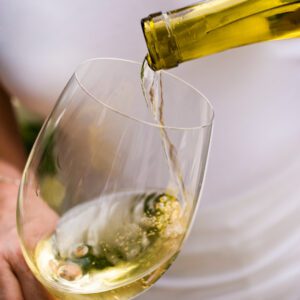 This Keto Lazy Thai Salad of Greens displays the predominant taste sensations of tanginess, saltiness, and spiciness.  This means you need a wine with good acidity and some sweetness to match.  Normally this dish would demand a white wine with sweetness. But in following a Keto diet or in living a low-carb lifestyle, we don't want to use up carbs on a glass of wine with carbs, especially when we can enjoy zero carb wine!  So, you have a couple of options. 
Drink whatever wine you like (as long as it's bone dry) and don't worry about pairing the wine to salad. Enjoy your wine the way you like it. 
If you like to create harmony between the wine and the food, you'll need some sweetness in the wine to offset the heat and spice.  Add a pinch of stevia or monk fruit to your glass of white wine.  Choose whites like Riesling or Gewurztraminer or a pink rose. These varieties taste great when bone dry or sweet.  So they will take well to the added sweetener.  The wine's sweetness will nicely offset the heat and spice.
*Wine Tips: To maintain your Keto diet or low-carb lifestyle, choose low-carb, low-sugar, and low-alcohol wines that are free of additives and artificial coloring.  Include your wine carb macros as part of your meal.  Remember, your liver will process alcohol before nutrients, pausing ketone creation and slowing the ketosis process. Your body will also metabolize alcohol as fuel before using food. This can slow fat burning and may cause your body to store carbs, fat, and protein as excess body fat.  Alcohol consumption also stimulates the appetite.  So, drink low-sugar, low-carb, and low alcohol wines in moderation.
WHAT OTHER KETO LOW-CARB RECIPES CAN I ENJOY?
Keto Lazy Sunflower Seed Risotto
WHAT IS SHARI MAC'S PRODUCT RECOMMENDATION FOR YOUR KETO LOW-CARB DIET?
I'm a huge fan of the Ninja products. In the past, I've gone through a counter-top convection oven every couple of years. This Ninja 1800-watt oven is a work horse! It is a must for me to support my Keto diet. Since buying this Ninja I have not turned on my oven in months! Amazing in the summer! No heat in the kitchen from the traditional oven. I use the air-fryer for all our proteins every day. All my air-fried favorites have less bad saturated fat and therefore fewer calories. I cut chicken breasts in half, horizontally, and air-fry them for 20 minutes. You can set the temperature and timer for all sorts of foods and walk away from the kitchen. The machine will shut off automatically at the right time. My proteins are crispy on the outside and super juicy
HOW DO YOU PREPARE KETO LAZY THAI SALAD OF GREENS? 
To prepare this Keto Lazy Thai Salad of Greens, cut all vegetables and set them in a bowl. Keep separated for freshness until time to eat. Prepare ingredients for salad dressing. Refrigerate until needed. In a dry fry pan toast cashews on low heat, tossing frequently.  Remove from heat.  Set in a bowl and let cool. Serve as 4 side salads or 2 entrée dishes.
Print
KETO LAZY THAI SALAD OF GREENS
---
Description
Keto LazyThai Salad of Greens is filling and super nutritious meal for lunch, brunch, or dinner.  The recipe uses mixed greens, carrots, red pepper, and avocado.  For the dressing combine coconut aminos, erythritol, lime juice, garlic, sesame oil and fresh herbs. If you are hunting for a filling and satisfying Keto Low-Carb salad recipe paired with wine, check out this recipe!
---
Salad Ingredients:
10 ounces of mixed greens
3 small carrots, shaved
1/2 red pepper, julienned
1 ripe avocado, sliced last minute
Dressing:
1/4 cup Coconut Aminos
1/4 cup favorite sweetener
1/2 to 1 teaspoon chili flakes (depending on your love of heat!)
1/2 teaspoon sesame oil
2 cloves garlic, minced
2 tablespoons fresh lime juice
2 tablespoons grated fresh ginger
1 tablespoon finely chopped fresh mint (optional)
1 tablespoon finely chopped fresh Thai basil (optional)
1 tablespoon finely chopped fresh cilantro (optional)
Topping: 
1/2 cup toasted cashew pieces
---
Instructions
Place all salad ingredients in a bowl.  Keep them separated until ready to eat.  Refrigerate until needed.
To make dressing place all ingredients in a bowl and whisk together or use a Magic Bullet and puree until smooth.  Refrigerate dressing until needed. In a dry fry pan toast cashews until golden.  Remove from heat.  Let cool. 
Toss all salad ingredients together with the dressing. Garnish with toasted cashews. Serve.
Notes
The recipe is based on the keto version and is approximate only.  One serving has 26.7 grams of net carbs.
(Note: The nutritional information provided is a courtesy and is approximate only.  We cannot guarantee the nutritional accuracy of any recipe on this site.  We cannot now what brands you use or how accurately you follow the recipe or what you like to add creatively to the dish. Use the information as a general guideline only.  Net carbs are the total carbs minus the fiber.)
Prep Time:

30

Category:

KETO LAZY

Method:

MIXING

Cuisine:

LUNCH, BRUNCH, DINNER
Nutrition
Serving Size:

1

Calories:

401

Sugar:

6.9

Sodium:

77

Fat:

26.6

Saturated Fat:

5.4

Carbohydrates:

35.9

Fiber:

9.2

Protein:

9.2
Keywords: keto, keto salad, keto Thai salad, keto Thai salad recipe, keto-recipes, ketogenic-diet, ketogenic-recipes, low-carb, low-carb-recipes, lazy-keto, sugar-free, sugar-free-recipes, keto-and-wine, paleo, paleo-diet, paleo-recipes, lazy-paleo, , paleo-and-wine, primal-diet, primal-diet-recipes, caveman-diet, caveman-diet-recipes, gluten-free, gluten-free-recipes, gluten-free-with-wine, grain-free, grain-free-diet, grain-free-recipes, grain-free-recipes-with-wine, anti-inflammatory-diet, anti-inflammatory-recipes, dairy-free-diet, dairy-free-recipes, dairy-free-recipes-with-wine,
FREE e-cookbook called OODLES OF LOW CARB NOODLES
Join our family to get your FREE e-cookbook OODKES OF LOW CARB NOODLES + new recipes in your inbox.
Latest posts by Shari MAC
(see all)