HEALTHY (PALEO) BACON-WRAPPED BANANA
I think you will LOVE these Healthy (Paleo) Bacon-Wrapped Banana!
Last night I made bacon-wrapped dates.  I made about 16.  My husband Shawn and I ate not only the 16 but an additional 10!  So addictive.  Tonight I decided to prepare a bacon-wrapped banana.  I think you could substitute the banana for plantain. 
These little hors d'oeuvres as so simple and fast to make.  A hand of bananas and a package of bacon will do the trick!
WHAT IS THE NUTRITIONAL VALUE OF HEALTHY (PALEO) BACON-WRAPPED BANANA?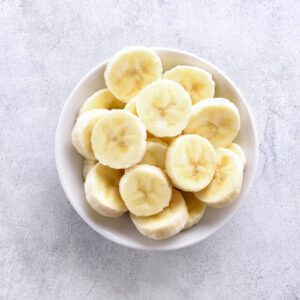 In this Healthy (Paleo) Bacon-Wrapped Banada recipe, I used green bananas for a reason. One medium banana offers 4.7 grams of resistant starch.  In North America, we seem to only like ripe bananas. But green bananas are an integral part of other cultural menus, such as in the Caribbean and Jamaica. Green bananas contain inulin, a resistant starch that serves as a strong probiotic in the body, improving the health of gut flora as well as controlling blood sugar.  Green bananas are lower in sugar and higher in resistant starch.  Resistant starch is different, in that it moves completely through the small intestine without being digested. As a result, these starches act like soluble fiber. They help to lower fat intake because they have fewer calories than other starches. They assist in the fermentation of good bacteria that can affect our hormones, body fat, and glucose, and glycemic index levels in a way that encourages a healthy body weight and even weight loss if desired. Resistant starch takes a longer time to digest. That means expanding as it soaks up fluids in your body stimulating satiety and giving you effective control over your appetite. Natural resistant starch foods also help diabetics manage their condition by decreasing glycemic response and increasing insulin sensitivity.
CAN I SUBSTITUTE PLANTAINS FOR THE BANANAS IN A SAVORY DISH?
Plantains and bananas are both members of the same family, but they are not the same fruit. While they may look similar, plantains are usually larger, contain a higher starch content, and are less sweet than bananas. This means that while you can substitute bananas for plantains in recipes, it may not work as well the other way around.
If you are looking to substitute plantains for bananas in a recipe, keep in mind that the final result may be less sweet and more starchy. This might work well in some recipes, such as plantain chips or tostones, but may not be ideal in others, such as banana bread or smoothies.
If you do decide to substitute plantains for bananas in a recipe, there are a few things to keep in mind. First, make sure to choose ripe plantains that are yellow or black in color. Green plantains are not yet ripe and will not have the same flavor or texture as ripe ones. Additionally, you may need to adjust the cooking time or temperature to account for the differences in texture and sweetness.
In summary, while you can substitute plantains for bananas in recipes, the final result may be different than intended. It's always a good idea to experiment and adjust the recipe to your taste preferences.
CAN I SUBSTITUTE THE BANANAS WITH GREEN BANANAS IN A SAVORY DISH?
Yes, you can use green bananas in savory dishes. Green bananas are starchy and firm, making them a great substitute for potatoes or other starchy vegetables. They can be boiled, fried, or roasted, and added to stews, soups, or curries. One popular dish that uses green bananas is the Caribbean dish called "green banana mash," which is made by boiling the green bananas until tender and then mashing them with butter, salt, and pepper. Green bananas are also a good source of fiber and vitamins, so incorporating them into your diet can be a healthy choice. Just keep in mind that green bananas have a different flavor and texture than ripe bananas, so they may not work well in sweet dishes.
WHAT IS THE TASTE PROFILE OF HEALTHY (PALEO) BACON-WRAPPED BANANA?
Health (Paleo) Bacon Wrapped Banana are fatty, salty, and just moderately sweet.  Not really, more creamy.
WHAT WINE HARMONIZES WITH HEALTHY (PALEO) BACON-WRAPPED BANANA?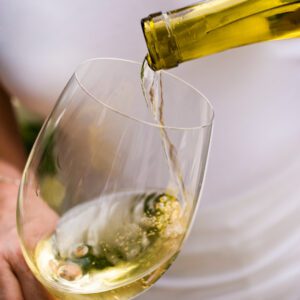 With the predominant taste sensations of Healthy (Paleo) Bacon Wrapped Banana being fattiness, saltiness, and gently sweet, you need a wine with some weight (higher alcohol to stand up to the fattiness), some fruitiness, and perhaps a smidgen of sweetness.  A dry Riesling with steely acidity, good weight, and lots of tropical fruit flavors is ideal here.  The wine's sweetness will work well with the natural sweetness of banana.  The wine's acidity will contrast well with the saltiness of the bacon.
WHAT OTHER HEALTHY (PALEO) RECIPES CAN I ENJOY?
Healthy (Paleo) Yorkshire Pudding Pie
Healthy (Paleo) Yorshire Pudding
Healthy (Paleo) Warm Spinach and Chicken Salad
WHAT IS SHARI MAC'S PRODUCT RECOMMENDATION FOR YOUR PALEO DIET?
I cannot tell you how awesome this product is!  I use my Instant Pot all the time.  Beats a crock pot any day.  This particular one has 11 different settings to air fry, roast, bake, dehydrate, pressure cook, slow cook, rice cooker, yogurt maker, steamer, sauté pan, yogurt maker, sterilizer and food warmer.  Can you believe you can use this as an air fryer!  OMG!  Cook fast or slow.  I love making pulled pork in my Instant Pot.  It's so juicy and tender and falls apart at your finger tips.  I stand behind this product 100%.  Check it out.
HOW DO YOU PREPARE HEALTHY (PALEO) BACON-WRAPPED BANANA?
Print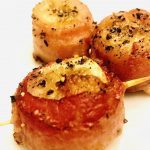 PALEO BACON-WRAPPED BANANA
---
Description
Paleo Bacon-Wrapped Banana includes bacon (free of nitrates and fillers) and under-ripe bananas or plantain. 
---
12 slices of bacon, cut vertically (making 24) (free of nitrates and fillers)
5 bananas, cut into 1-inch pieces
Freshly ground black pepper to taste
---
Instructions
Preheat your oven to 400 degrees. Line a baking sheet with parchment paper.
Cut the slices of

bacon

into 2 pieces (vertically). The bacon may not be completely straight.  You may need more slices if required.  Wrap a piece of the bacon around the 1-inch piece of banana.  Secure with a toothpick. Lay the bacon-wrapped banana on the parchment paper.  Add freshly ground black pepper to taste.  Bake for 10-15 minutes, or until the

bacon

is golden brown. Drain on paper towel.  Cool for 10 minutes to room temperature before serving.
Notes
You can substitute the bananas with green bananas or plantains.  The ripe bananas offer a lovely contrast of flavours.
Prep Time:

10

Cook Time:

12

Category:

HEALTHY

Method:

BAKING

Cuisine:

HORS' DOEUVRES
Keywords: paleo, paleo recipes, paleo dinner, Whole30, Whole30r recipes, whole30dinner, gluten free, gluten free recipes, gluten free dinner, gluten free recipes for dinner, anti-inflammatory diet, anti-inflammatory recipes, grain free, grain free diet, grain free recipes, grain free dinner, paleo and wine, gluten free and wine, dairy free diet, dairy free recipes, dairy free dinner,
FREE e-cookbook called OODLES OF LOW CARB NOODLES
Join our family to get your FREE e-cookbook OODKES OF LOW CARB NOODLES + new recipes in your inbox.
Latest posts by Shari MAC
(see all)