HEALTHY (PALEO) YORKSHIRE PUDDING PIE
As an Amazon Associate I earn from qualifying purchases.
Healthy (Paleo) Yorkshire Pudding Pie in the Summer?  Absolutely!  I go through these cooking phases where I re-discover a food I enjoy, prepare it in a Healthy (Paleo) fashion, and then try to create as many different recipes that I can.
I discovered that my gluten-free, grain-free, and dairy-free Yorkshire Pudding recipe could be used for more than just the mini little gems.  
I went online to see if any other cooks were just as enthusiastic about Yorkshire pudding.  I discovered all sorts of incredible Yorkshire pudding recipes. 
This giant, summer Yorkshire Pudding Pie can be served for breakfast, lunch, or dinner.  It offers the flavors of summer. The pie has an omelet-like look and feel but has that Yorkshire pudding flavour and yummy texture.  Give me a slice of this Yorkshire pudding with a glass of white wine, and I'd be set for the night!
WHAT IS THE NUTRITIONAL VALUE OF HEALTHY (PALEO) YORKSHIRE PUDDING PIE? 
This giant Healthy (Paleo) Yorkshire Pudding Pie is all-natural, non-GMO, sugar-free, gluten, and grain-free.  The pie offers lots of protein from the almond flour and egg, bacon, vegan cheese, and eggs.  Add the nutritional value of the garlic and vegan cheese, and you have a high protein delight for breakfast, lunch, or dinner.  Almond flour is a fabulous choice because it's gluten free and offers lots of nutrition
Almond flour is a popular alternative to traditional wheat flour for those who are gluten intolerant or following a low carb diet. It is made from ground almonds and has a nutty flavor that can enhance the taste of baked goods. In terms of nutritional value, almond flour is a good source of healthy fats, protein, and fiber. A quarter cup of almond flour contains about 14 grams of fat, 6 grams of protein, and 3 grams of fiber. It is also low in carbohydrates, with only 2 grams per quarter cup. Additionally, almond flour is rich in vitamin E, magnesium, and potassium, which are essential for maintaining good health. Overall, almond flour is a nutritious and delicious way to add variety to your baking recipes.
WHAT IS THE TASTE PROFILE OF HEALTHY (PALEO) PUDDING PIE?
The predominant taste sensations of this Healthy (Paleo) Yorkshire Pudding are saltiness from the bacon and vegan Parmesan, tanginess from the tomatoes, and garlic joy, due to the mega amount of garlic! 
WHAT WINE HARMONIZES WITH HEALTHY (PALEO) YORKSHIRE PUDDING PIE?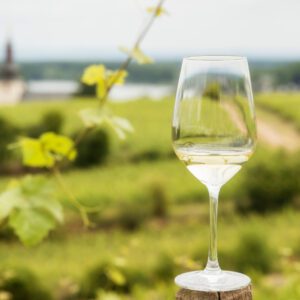 The Healthy (Paleo) Yorkshire Pudding is light and fluffy and so works better with a crisp, dry white wine.  Choose one with a good backbone of acidity to nicely offset the saltiness from the bacon and cheese.  Pinot Grigio, Sauvignon Blanc, dry Riesling, and Aligote spring to mind.
WHAT OTHER HEALTHY (PALEO) DESSERT RECIPES CAN I ENJOY?
Healthy (Paleo) Moms Carrot Cake
Healthy (Paleo) Apple Bundt Cakes
Healthy (Paleo) Wet-Bottom Apple Cake
WHAT IS SHARI MAC'S PRODUCT RECOMMENDATION FOR YOUR PALEO DIET?
I wanted to share with you the BEST thing you can do for yourself to support your diet.  Invest in a Vitamix Blender!  I stand behind this product 100%.  This Vitamix is a long-term investment worth every dollar! I use this Vitamix for almost daily all of my diet needs – smoothies, ice cream blends, hot soups (made right in the Vitamix), sauces, and more!  Every other blender I purchased before my Vitamix failed within a couple of years.  This blender is a work horse. My best-friend has had her Vitamix for over 20 years with NO issues!  I just got my Vitamix this past year and LOVE IT!
HOW DO YOU PREPARE HEALTHY (PALEO) YORKSHIRE PUDDING PIE?
Print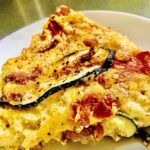 HEALTHY (PALEO) YORKSHIRE PUDDING PIE
---
Description
Healthy (Paleo) Yorkshire Pudding Pie is a fun and simple way to enjoy Yorkshire pudding in a new way!  It's so delicious!  A nice alternative to flatbread or pizza!  Slice the pie and serve as an hors d'oeuvre, an appetizer before the entrée, for lunch, brunch, or for dinner.  The recipe uses a gluten-free, grain-free, and dairy-free almond flour mix with coconut milk and eggs. Toppings include bacon, zucchini, tomato, and garlic.  If you are hunting a super easy dish to pair with wine, check out the recipe!
---
Toppings:
4 slices Paleo turkey compliant bacon 
½ zucchini, thinly sliced diagonally
1 small tomato, thinly sliced
1 tablespoon olive oil
3 cloves garlic, finely chopped 
Batter:
1.5 cups almond flour 170 g)
1.5 cups tapioca flour (228 grams)
1 teaspoon sea salt (6 grams)
1 teaspoon Guar Gum (2 grams)
1 tablespoon gluten-free double action baking powder
5 eggs
2 cups coconut milk
Parmigiano-Reggiano (for garnish)
---
Instructions
Preheat oven to 350 F.
To prepare toppings, fry bacon until crispy, drain on paper towel.  Line a baking tray with baking paper. Place tomato and zucchini in a single layer on prepared tray. Drizzle with olive oil.  Roast for 20 minutes or until vegies are starting to collapse.  Remove from oven.  Set aside.
Preheat oven to 450 F.
In a mixer add all ingredients.  Mix to a smooth batter.  Set in refrigerator until needed.
Pour olive oil into an oven-proof pan.  Set pan in the oven to heat oil.  When almost smoking, remove the pan from the oven.  Pour in batter.  Arrange toppings on the batter.  Place Yorkshire pudding back into the oven for about 40 minutes or until the top is golden.  Turn off the heat.  Set a piece of tin foil or parchment paper over pan and let the pudding sit in the oven for another 10 minutes, setting.  Remove from heat and let sit at room temperature.  Pudding will fall like a true Yorkshire treat!
Notes
The recipe baking temperature and time is an estimate.  Follow your own oven's temperature and cooking time. It takes a gas oven 10-15 minutes to reach the desired temperature. Electric ovens can take 10 minutes longer than that.  The age of your oven will also determine the temperature, time for roasting or baking, and where you want to place your dish in the oven.  The bottom of your oven may be hotter than the top, depending on its condition.  This also includes where to set your dish under the broiler.  So use your own best judgment based on the type, condition, and age of your oven.  Prep times will also vary depending on how slow or quickly you like to work.
Prep Time:

20

Cook Time:

40

Category:

HEALTHY

Method:

BAKING

Cuisine:

BREAKFAST, LUNCH, BRUNCH, DINNER
Keywords: gluten-free Yorkshire pudding pie, grain-free Yorkshire pudding pie, dairy-free Yorkshire pudding pie, Paleo dinner recipes, paleo dinner, whole30 dinner recipes, whole30 dinner, grain-free dinner, gluten-free dinner, paleo turkey burgers, whole30 turkey burgers, grain-free turkey burgers, gluten-free turkey burgers, paleo, paleo recipes, paleo dinner, Whole30, Whole30 recipes, gluten free, gluten free recipes, gluten free recipes ford dinner, anti inflammatory diet, grain free, grain free diet, grain free recipes, paleo and wine gluten free and wine
FREE e-cookbook called OODLES OF LOW CARB NOODLES
Join our family to get your FREE e-cookbook OODKES OF LOW CARB NOODLES + new recipes in your inbox.
Latest posts by Shari MAC
(see all)