KETO LOW-CARB CAESAR DRESSING (HEART HEALTHY)
As an Amazon Associate I earn from qualifying purchases.
I can say that I'm totally addicted to this Keto Low-Carb Caesar Dressing.  Long before I was committed to the Keto Low-Carb journey, in my 20s I ate wheat.  Almost every day I enjoyed a Caesars salad and toasted bagel for either lunch or dinner.  With each forkful, I would top the bagel with salad and bite into it.  So delicious.
Nowadays being on the KETO path, I enjoy the salad without the bagel!  I like putting this quick and easy dressing on all kinds of salads.  It's my "go-to" dressing that my husband and I eat every week on a salad.  I'm probably as addicted to garlic as I am to this dressing. So add more garlic if you desire!
This dressing tastes fabulous on these salads: Click links below:
Keto Lazy Chicken Caesar Salad
WHAT IS THE NUTRITIONAL VALUE OF KETO LOW-CARB CAESARS DRESSING?
In preparing this Keto Low-Carb Caesar Dressing you may want to substitute the Parmesan for a vegan version. With the vegan Parmesan, this dressing is just as super delicious and healthy.  The vegan Parmesan offers a good dose of protein due to the almond flour.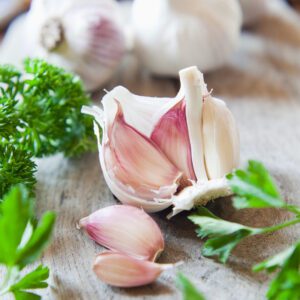 The garlic is also extremely healthy.  By chopping the garlic, you release its enzyme called alliinase that catalyzes the formation of allicin.
Allicin is a sulfur-containing compound that is found in high concentrations in garlic. It is responsible for the characteristic odor and flavor of garlic, but it also has several health benefits. When garlic is crushed or chopped, the alliinase enzyme converts alliin into allicin. Allicin is considered to be a potent antioxidant and has been shown to have anti-inflammatory and antimicrobial properties.
In terms of nutritional value, allicin itself does not contain any significant amount of nutrients. However, garlic as a whole contains several vitamins and minerals, including vitamin C, vitamin B6, selenium, and manganese. Garlic is also a good source of fiber and has been shown to have cholesterol-lowering effects.
It should be noted that allicin is unstable and breaks down quickly, especially when exposed to heat. Therefore, to get the most nutritional value from garlic, it is best to consume it raw or lightly cooked. Additionally, some people may be sensitive to garlic and experience digestive discomfort or other side effects when consuming it in large amounts.
WHAT IS THE TASTE PROFILE OF KETO LOW-CARB CAESARS DRESSING ?
This Keto Low-Carb Caesar Dressing is loaded with umami due to the Parmesan, some saltiness, and loads of garlic.
WHAT WINE HARMONIZES WITH KETO LOW-CARB CAESARS DRESSING?
The predominant taste sensations of this Keto Low-Carb Caesar Dressing are saltiness (added) and umami (Parmesan).  Choose a big, bold white with good acidity or a light, fruity red to match.  Why light and fruity?  Because the dressing goes over salad.  A big, bold red would dominate over a salad.  The acidity in the white or light, fruity red will nicely offset the saltiness in the dressing.  For whites think buttery Chardonnay or Viognier.  Think Gamay or Pinot Noir for reds.  These light, fruity reds have enough acidity to nicely offset the saltiness in the dressing.
*Wine Tips: To support your Keto diet or low-carb lifestyle, choose low-carb, low-sugar, and low-alcohol wines that are free of additives and artificial coloring.  Include your wine carb macros as part of your meal.  Remember, your liver will process alcohol before nutrients, pausing ketone creation and slowing the ketosis process. Your body will also metabolize alcohol as fuel before using food. This can slow fat burning and may cause your body to store carbs, fat, and protein as excess body fat.  Alcohol consumption also stimulates the appetite.  So, drink low-sugar, low-carb, and low alcohol wines in moderation.
WHAT KETO LOW-CARB HEART HEALTHY RECIPES CAN I ENJOY?
Keto Low-Carb Zucchini Tapas (Heart Healthy)
Keto Low-Carb Cold Pasta Salad (Heart Healthy)
Keto Low-Carb Smoked Salmon Rolls (Heart Healthy)
Keto Low-Carb Pulled Pork (Heart Healthy)
Keto Low-Carb Mayonnaise (Heart Healthy)
WHAT IS SHARI MAC'S PRODUCT RECOMMENDATION FOR YOUR KETO LOW-CARB DIET?
OMG, the Ninja NC301 CREAMi Ice Cream Maker is the BEST appliance I've bought for myself to support my Keto diet. I stand behind this product 100%. I eat healthy high protein, sugar-free ice cream every night. I experiment with different ingredient combinations all the time. I purchased 5 additional containers so that I can make a week's worth of ice cream at one time. I've made ice cream with cottage cheese and almond milk with protein powder; tofu with almond milk and protein powder; fat-free plain yogurt with almond milk and sugar-free jello and more! The machine shaves frozen pints perfectly with its one-touch programs.. You can prepare ice cream, sorbet, gelato, milkshake, smoothie bowl, lite ice cream and more.  Prep your base, freeze overnight, process, and enjoy!
Sometimes it takes more than one spin to get your desired texture. Select the re-spin function if, after processing, you want your processed treat softer and creamier. This unit is ONLY compatible with the Ninja CREAMi NC299 and NC300 pint accessories. It will NOT fit the NC100, NC200 or NC500 Series pints.
With the Ninja Creami you can enjoy healthy treats that taste just as good as regular ice cream loaded in bad saturated fat, sugar, and preservatives.
KETO CAESARS DRESSING
Keto Low-Carb Caesars Dressing is rich and nutritious and can be used in chicken salad, over salads, on proteins like chicken or pork, or as a dip with veggies. The recipe uses garlic, Parmesan, garlic, olive oil, lemon juice, and egg yolks.  If you are hunting for a super delicious dressing to add to foods and pair with wine, check out this recipe.   
Author: KETO LOW-CARB SHARI MAC
Prep Time:

5

Total Time:

5

Yield:

3/4 cup

(6)

1

x
Category:

KETO LOW-CARB

Method:

MIXING

Cuisine:

BREAKFAST, LUNCH, BRUNCH, DINNER

Diet:

Gluten Free
2 cloves garlic, chopped
1/2 cup olive oil
1/2 cup Vegan Parmesan or freshly grated Parmigiano-Reggiano
1 tablespoon freshly squeezed lemon juice
2 egg yolks
Freshly ground black pepper to taste
Instructions
Let the chopped garlic sit on the cutting boards for about 15 minutes to release the allicin.
In a food processor, blender, or magic bullet add all ingredients.  Blend until creamy.
Transfer to a clean bowl. Cover and refrigerate until needed.  If the dressing is too thick, add water, a little at a time to your desired consistency.
Notes
The nutritional value is based on the Keto version of this recipe and is approximate.  One serving offer 1.3 grams of net carbs (recipe makes 6 salad portions). 
(The nutritional information provided is a courtesy and is approximate only.  We cannot guarantee the nutritional accuracy of any recipe on this site.  We cannot now what brands you use or how accurately you follow the recipe or what you like to add creatively to the dish. Use the information as a general guideline only.  Net carbs are the total carbs minus the fibre.)
Nutrition
Serving Size:

1

Calories:

224

Sugar:

0.3

Sodium:

177

Fat:

22.3

Saturated Fat:

5.6

Carbohydrates:

1.3

Fiber:

0.2

Protein:

7.1

Cholesterol:

83
Keywords: keto, keto salad, keto Caesar salad, keto Caesar salad recipe, keto-recipes, ketogenic-diet, ketogenic-recipes, low-carb, low-carb-recipes, lazy-keto, sugar-free, sugar-free-recipes, keto-and-wine, paleo, paleo-diet, paleo-recipes, lazy-paleo, , paleo-and-wine, primal-diet, primal-diet-recipes, caveman-diet, caveman-diet-recipes, gluten-free, gluten-free-recipes, gluten-free-with-wine, grain-free, grain-free-diet, grain-free-recipes, grain-free-recipes-with-wine, anti-inflammatory-diet, anti-inflammatory-recipes, dairy-free-diet, dairy-free-recipes, dairy-free-recipes-with-wine,
FREE e-cookbook called OODLES OF LOW CARB NOODLES
Join our family to get your FREE e-cookbook OODKES OF LOW CARB NOODLES + new recipes in your inbox.
Latest posts by Shari MAC
(see all)