KETO LOW-CARB CRUSTLESS PIZZA
As an Amazon Associate I earn from qualifying purchases.
You'll love this Keto Low-Carb Crustless Pizza.  Since maintaining a Keto Low-Carb lifestyle, I have not prepared any foods for clients or friends.  But I used to.
In 2007, I prepared a range of hors d'oeuvres for my girlfriend's wedding. I created eight various hors d'oeuvres, including locally smoked trout with homemade cream cheese and chives on potato canapés. I also brought my mini pizza oven and prepared fresh, hot gourmet pizzas. Each married to a harmonizing wine. To my surprise, the pizzas were the first to be devoured by guests. I thought, "Wow, this crowd loves pizza." I did not think further about this, other than having a new appreciation for my pizza talent.
In the spring of 2012, I created and initiated an extensive wine and food festival in my town. Over the day, we saw over 5,000 participants. Vendors offered gourmet appetizers made with local ingredients and wines from around the world. At the end of the event, I was surprised to discover that our local pizza maker garnered the highest net profit! Locals came to this exceptional gourmet food and wine event, bought admission tickets and food tickets. With these tickets, they purchased the same food that they could get any day of the week – pizza.
I realized that pizza is a staple in North America. Italian immigrants brought their comfort food to the US at the beginning of the 20th century. In 1905 Grocery owner Gennaro Lombari opened the first pizzeria in New York City. Pizzerias popped up across North America everywhere. In 1962 Greek-Canadian Sam Panopoulos created the first Hawaiian pizza with pineapple and ham at the Satellite Restaurant in Chatham, Ontario, Canada. Today over 5 billion pizzas are consumed each year around the world. Did you know that Americans eat 3 billion of these? Calculated another way, Americans eat over 350 slices of pizza every second. We consume pizza for breakfast, lunch, brunch, dinner, an evening snack, and party necessity.
WHAT IS THE TASTE PROFILE OF KETO LOW-CARB CRUST-LESS PIZZA?
This Keto Low-Carb crust-less pizza has all the flavors as a classic one.  The tomato sauce and pepperoni provide the palate with that comfort food pizza feeling.  If you add plant-based mozzarella adds that melted cheese creaminess.
WHAT IS THE NUTRITIONAL VALUE OF KETO LOW-CARB CRUST-LESS PIZZA?
What is the nutritional value of this Keto Low-Carb Crustless Pizza?  While considered junk food, pizza (this version at least) has some nutritional benefits in the ground beef (65 grams of protein); spinach (an excellent source of vitamin K, vitamin A (carotenoids), manganese, folate, copper, vitamin B2, vitamin B6, vitamin E, calcium, and vitamin C); mushrooms (vitamin D and B12); tomato sauce (dietary fiber, vitamin K, Thiamin, Niacin, Vitamin B6, Magnesium and Manganese, vitamin A, vitamin C, vitamin E, Potassium and Copper. 
I like to use an iron skillet on the BBQ.  Cook the beef, mushrooms, onions, and spinach in the skillet on the stovetop.
WHAT WINE HARMONIZES WITH KETO LOW-CARB CRUST-LESS PIZZA?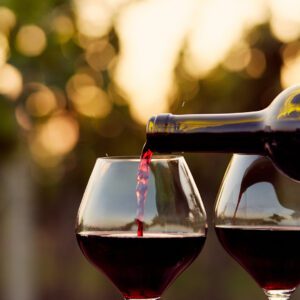 The predominant sensation of this Keto Low-Carb crust-less pizza is the mouth feel — fattiness from the pepperoni and mozzarella.  For this reason, choose an earthy red wine, Pick a quaffer (inexpensive wine) in fact.  This is pizza and there is no need to spend a small fortune on a quality vintage. Keep it simple.  Look for a red wine with enough weight to stand up to the fattiness of the crust-less pizza.  The wine's natural backbone of acidity will complement the tanginess of the tomato sauce.  Consider Merlot, Zinfandel or Shiraz.
*Wine Tips: To support your Keto diet or low-carb lifestyle, choose low-carb, low-sugar, and low-alcohol wines that are free of additives and artificial coloring.  Include your wine carb macros as part of your meal.  Remember, your liver will process alcohol before nutrients, pausing ketone creation and slowing the ketosis process. Your body will also metabolize alcohol as fuel before using food. This can slow fat burning and may cause your body to store carbs, fat, and protein as excess body fat.  Alcohol consumption also stimulates the appetite.  So, drink low-sugar, low-carb, and low alcohol wines in moderation.
WHAT OTHER KETO LOW-CARB RECIPES CAN YOU ENJOY?
Keto Low-Carb Tuna Cheddar Pasta Casserole
Keto Low-Carb Zoodle Caprese Salad
Keto Low-Carb Japanese Crab Noodle Salad
WHAT IS SHARI MAC'S PRODUCT RECOMMENDATION FOR YOUR KETO LOW-CARB DIET?
OMG, the Ninja NC301 CREAMi Ice Cream Maker is the BEST appliance I've bought for myself to support my Keto diet. I stand behind this product 100%. I eat healthy high protein, sugar-free ice cream every night. I experiment with different ingredient combinations all the time. I purchased 5 additional containers so that I can make a week's worth of ice cream at one time. I've made ice cream with cottage cheese and almond milk with protein powder; tofu with almond milk and protein powder; fat-free plain yogurt with almond milk and sugar-free jello and more! The machine shaves frozen pints perfectly with its one-touch programs.. You can prepare ice cream, sorbet, gelato, milkshake, smoothie bowl, lite ice cream and more.  Prep your base, freeze overnight, process, and enjoy!
Sometimes it takes more than one spin to get your desired texture. Select the re-spin function if, after processing, you want your processed treat softer and creamier. This unit is ONLY compatible with the Ninja CREAMi NC299 and NC300 pint accessories. It will NOT fit the NC100, NC200 or NC500 Series pints.
With the Ninja Creami you can enjoy healthy treats that taste just as good as regular ice cream loaded in bad saturated fat, sugar, and preservatives.
HOW TO YOU PREPARE KETO LOW-CARB CRUSTLESS PIZZA?
Print
KETO LOW-CARB CRUSTLESS PIZZA
---
Description
Keto Low-Carb Crustless Pizza is a hefty Italian dish that can be done on the BBQ or in the oven.  A slice will do you for lunch, brunch, or dinner.  The recipe uses ground beef, mushrooms, spinach, tomato sauce, and cheese. If you are hunting for a filling and satisfying Keto Low-Carb pizza recipe paired with wine, check out this recipe!
---
1 tablespoon olive oil
1 pound (16 ounces) lean ground beef
1 cup chopped mushrooms, divided into 2
1 onion, diced
8 ounces baby spinach, washed
6 cloves garlic, minced
1 cup shredded mozzarella
1 cup low-carb marinara sauce
20 slices pepperoni
---
Instructions
Preheat the BBQ to 350 F. In an iron skillet, heat oil. On medium heat, add ground beef, mushrooms, onion. Cook until the beef has browned and the onions and half the mushrooms are soft, about 7 to 10 minutes. Fold in the spinach. Cook another 2 minutes until the spinach has wilted. Remove the skillet from heat. Add the garlic and half the cheese. Fold it all together. Spread the marinara sauce over the mixture. Arrange the pepperoni and the other half of the mushrooms on top of the mixture. Set the iron skillet on the BBQ grill on indirect heat. Close the lid and grill for 5 to 10 minutes or until the mushrooms cook. When cooked, turn off the heat. Sprinkle the remaining cheese on the mixture. Close the BBQ lid and continue to cook until the cheese has melted. Remove the skillet from the grill. Let it sit for 10 minutes. Slice and serve.
Notes
The nutritional value of this recipe is based on the Keto version and is approximate.  One serving contains 5.8 carbs.

(Note: The nutritional information provided is a courtesy and is approximate only.  We cannot guarantee the nutritional accuracy of any recipe on this site.  We cannot know what brands you use or how accurately you follow the recipe or what you like to add creatively to the dish. Use the information as a general guideline only.)
The recipe baking temperature and time is an estimate.  Follow your own oven's temperature and cooking time. It takes a gas oven 10-15 minutes to reach the desired temperature. Electric ovens can take 10 minutes longer than that.  The age of your oven will also determine the temperature, time for roasting or baking, and where you want to place your dish in the oven.  The bottom of your oven may be hotter than the top, depending on its condition.  This also includes where to set your dish under the broiler.  So use your own best judgment based on the type, condition, and age of your oven.  Prep times will also vary depending on how slow or quickly you like to work. 
Prep Time:

15

Cook Time:

10

Category:

KETO LOW-CARB

Method:

BBQ

Cuisine:

LUNCH, DINNER
Nutrition
Serving Size:

1

Calories:

537

Sugar:

3.6

Sodium:

551

Fat:

29.4

Saturated Fat:

11.9

Carbohydrates:

7.8

Fiber:

1.9

Protein:

52.1

Cholesterol:

167
Keywords: keto, keto crustless pizza, keto crustless pizza recipe, keto BBQ pizza, keto BBQ pizza recipe, keto-recipes, ketogenic-diet, ketogenic-recipes, low-carb, low-carb-recipes, lazy-keto, sugar-free, sugar-free-recipes, keto-and-wine, paleo, paleo-diet, paleo-recipes, lazy-paleo, , paleo-and-wine, primal-diet, primal-diet-recipes, caveman-diet, caveman-diet-recipes, gluten-free, gluten-free-recipes, gluten-free-with-wine, grain-free, grain-free-diet, grain-free-recipes, grain-free-recipes-with-wine, anti-inflammatory-diet, anti-inflammatory-recipes, dairy-free-diet, dairy-free-recipes, dairy-free-recipes-with-wine,
FREE e-cookbook called OODLES OF LOW CARB NOODLES
Join our family to get your FREE e-cookbook OODKES OF LOW CARB NOODLES + new recipes in your inbox.
Latest posts by Shari MAC
(see all)