KETO SHAKE 'N BAKE CHICKEN (HEART HEALTHY)
As an Amazon Associate I earn from qualifying purchases.
Another poultry recipe to enjoy — Keto Shake 'N Bake Chicken. 
Within this Keto Low-Carb blog you're going to find a lot of chicken leg quarter recipes as this is one food that Shawn and I crave and enjoy. The reason is that one chicken leg quarter provides a large amount of protein versus fat and we both lift weights.  Dark meat is also so much tastier than white meat.  Granted, a chicken breast provides more protein than a leg, but not as tasty…at least as far as we are concerned. 
What are chicken leg quarters? A whole chicken leg is known as a thigh-drumstick piece. But if that piece also includes a portion of the chicken back, it's called a quarter.  The quarters are inexpensive because they take very little processing.  The less the processing, the cheaper the cut. 
To mix things up a little, I decided to incorporate a shake 'n bake coating with my salt-free, sugar-free Cajun spice.  I had developed the Cajun spice for salmon.  I had half a jar left and so decided to try it on the chicken.  The results were awesome. 
Shawn has been instrumental in inspiring me to create salt-free seasonings.  We get enough hidden sodium in our food to meet our daily needs.  As I wrote in my Cajun spice blog….
A low sodium lifestyle offers a plethora of health benefits, such as helping to:
·      lower blood pressure
·      reduce the risk of a heart attack
·      lower LDL cholesterol
·      prevent congestive heart failure
·      decrease the risk of kidney damage
·      prevent the risk of a stroke
·      lessen the risk of a brain aneurysm
·      protect vision 
·      reduce the risk of diabetes
·      improve memory
·      lower the risk of dementia
·      reduce the hardening and thickening of arteries
·      reduce bloating and swelling
·      reduce salt cravings
·      decrease headaches
·      build stronger bones
·      reduce kidney stones
·      allow the heart to pump effectively
·      lower the risk of stomach cancer
WHAT IS THE NUTRITIONAL VALUE OF KETO SHAKE 'N BAKE CHICKEN?
Let's look at the nutritional value of Keto Shake 'N Bake Chicken.  Chicken leg quarters offer a decent amount of protein.  About 100 grams each of drumstick and thigh equals 54 grams of protein.  Chicken legs also provide a plethora of minerals and vitamins that our body requires, such as providing significant amounts of selenium and phosphorus, and B12. Selenium supports the function of your thyroid gland and protects your blood vessels from damage. Phosphorus also helps control enzyme activity, and it makes up a component of your cell membranes and DNA.  B12 promotes healthy cell metabolism. 
The Cajun seasoning also contains lots of important nutrients.  Paprika offers a variety of beneficial compounds, including vitamin A, capsaicin, and carotenoid antioxidants. These substances may help prevent inflammation and improve your cholesterol, eye health, and blood sugar levels, among other benefits.
Onion powder is rich in essential vitamins like vitamins B and C.  It contains minerals like manganese, calcium, iron and potassium, and a myriad of antioxidants.  Onion powders is used in treating mouth sores, heart problems, headaches, high blood sugar, and even cancer. 
Garlic powder has been proven to lower cholesterol and thin the blood.  This helps in preventing stroke, high blood pressure, and heart disease. It is believed to help block the growth of cancer cells. Garlic powder is also believed to help regulate blood sugar levels.
Black pepper is high in antioxidants.  As a result, black pepper contributes to brain health, improved blood sugar, lowers cholesterol, and cancer-fighting properties.
Cayenne pepper boosts the metabolism, helps to reduce hunger, aids in digestion, helps to relieve pain, improves Psoriasis, and helps to reduce cancer risk.
Dried oregano is also rich in antioxidants and is antibacterial.  This seasoning possesses anti-cancer properties, helps to decrease inflammation, and helps to reduce viral infections.
Dried thyme helps to boost your mood, helps to lower blood pressure and cholesterol.  It is also shown to increase good fats in the brain, liver, and kidneys. Thyme is known to work well as a decongestant, and it is used to treat everything from dry coughs to bronchitis.
Red pepper flakes help to give us relief from digestive issues, pain, and inflammation.
WHAT IS THE TASTE PROFILE OF KETO SHAKE 'N BAKE CHICKEN?  
The predominant taste sensations of Keto Shake 'N Bake Chicken are fattiness (from the wing skin) and spiciness from the Cajun spice. 
WHAT WINE HARMONIZES WITH KETO LOW-CARB SHAKE 'N BAKE CHICKEN?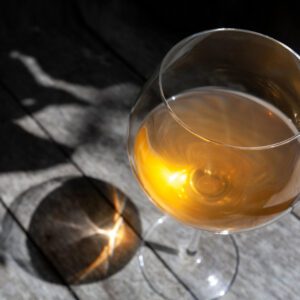 With the predominant taste sensations of Keto Shake 'N Bake Chicken being fattiness and spiciness you'll need some sweetness in the wine to match. In following a Keto diet or in living a low-carb lifestyle, we don't want to use up your carbs on a glass of wine.  Why add the extra carbs to your meal when you can find zero carb wines!  You have a couple of options:
Drink whatever wine you like (as long as it's bone dry) and don't worry about pairing the wine to dish. Enjoy your wine the way you like it. 
If you like to create harmony between the wine and the food, you'll need some sweetness in the wine to offset the heat and spice.  Add a pinch of stevia or monk fruit sweetener to your glass of wine.  Choose a white like Riesling or Gewurztraminer or a pink rose. These varieties taste great when bone dry or sweet.  So they taste great with the added sweetener.  The wine's sweetness will nicely offset the heat and spice.
*Wine Tips: To Support your Keto diet or low-carb lifestyle, choose low-carb, low-sugar, and low-alcohol wines that are free of additives and artificial coloring.  Include your wine carb macros as part of your meal.  Remember, your liver will process alcohol before nutrients, pausing ketone creation and slowing the ketosis process. Your body will also metabolize alcohol as fuel before using food. This can slow fat burning and may cause your body to store carbs, fat, and protein as excess body fat.  Alcohol consumption also stimulates the appetite.  So, drink low-sugar, low-carb, and low alcohol wines in moderation.
WHAT OTHER KETO LOW-CARB HEART HEALTHY RECIPES CAN YOU ENJOY?
Keto Low-Carb Montreal Strip Loin (Healthy Heart)
Keto Low-Carb Hamburger Buns (Healthy Heart)
Keto Low-Carb Stuffed Pork Chops (Heart Healthy)
Keto Low-Carb Egg Foo Young (Heart Healthy)
Keto Low-Carb Bacon-Wrapped Salmon Asparagus (Heart Healthy)
WHAT IS SHARI MAC'S PRODUCT RECOMMENDATION FOR YOUR KETO LOW-CARB DIET?
OMG, the Ninja NC301 CREAMi Ice Cream Maker is the BEST appliance I've bought for myself to support my Keto diet. I stand behind this product 100%. I eat healthy high protein, sugar-free ice cream every night. I experiment with different ingredient combinations all the time. I purchased 5 additional containers so that I can make a week's worth of ice cream at one time. I've made ice cream with cottage cheese and almond milk with protein powder; tofu with almond milk and protein powder; fat-free plain yogurt with almond milk and sugar-free jello and more! The machine shaves frozen pints perfectly with its one-touch programs.. You can prepare ice cream, sorbet, gelato, milkshake, smoothie bowl, lite ice cream and more.  Prep your base, freeze overnight, process, and enjoy!
Sometimes it takes more than one spin to get your desired texture. Select the re-spin function if, after processing, you want your processed treat softer and creamier. This unit is ONLY compatible with the Ninja CREAMi NC299 and NC300 pint accessories. It will NOT fit the NC100, NC200 or NC500 Series pints.
With the Ninja Creami you can enjoy healthy treats that taste just as good as regular ice cream loaded in bad saturated fat, sugar, and preservatives.
HOW DO YOU PREPARE KETO SHAKE 'N BAKE CHICKEN?
Mix almond flour with Cajun seasoning.
Print
KETO SHAKE 'N BAKE CHICKEN
---
Description
I think you'll enjoy these mock Keto Shake 'N Bake Chicken quarters.  The quarters are an inexpensive, but fabulous way to get in that protein count for the day.  So little to do to these babies to make them tasty.  Add a little bread crumbs (almond flour) with Cajun spice and you'll devour them all.  Enjoy these high protein gems for lunch, as a snack, or for dinner.  Nope not for dessert!  The recipe includes almond flour and Keto Low-Carb Cajun Spice.  You'll find the Cajun spice recipe in the blog.  Check out this fabulous chicken recipe!
---
6 chicken quarters (or breasts for heart healthy)
1.5 cups almond flour
½ cup Cajun seasoning*
1/2 cup olive oil 
---
Instructions
*Keto Low-Carb Salt-Free Sugar-Free Cajun Spice Seasoning
Preheat oven to 350 F.  Or pre-heat air-fryer at 400F.  Spray baking sheet with avocado non-stick cooking spray or cover in parchment.  Set a rack on top of baking set.   Set aside.  In a bowl combine almond flour and seasoning.  Mix together.  In another wider bowl (large enough to fit a chicken leg) add olive oil.
After coating each chicken quarter with olive oil, dredge in seasoning.  Repeat for all legs.  Bake for 50 to 60 minutes until juices run clear, and the temperature reaches 165 F.  Or air-fry for half that time until internal temperature reaches 165F.  Remove from oven.  Let sit for 10 minutes.  Enjoy plain or with your favorite sauce.
Notes
The recipe is based on chicken quarters and is approximate only.  

One serving has 6.9 grams of net carbs.

(Note: The nutritional information provided is a courtesy and is approximate only.  We cannot guarantee the nutritional accuracy of any recipe on this site.  We cannot know what brands you use or how accurately you follow the recipe or what you like to add creatively to the dish. Use the information as a general guideline only.) 

 
Prep Time:

10

Cook Time:

60

Category:

KETO LOW-CARB

Method:

BAKING

Cuisine:

DINNER
Nutrition
Serving Size:

1

Calories:

325

Sugar:

0

Sodium:

138

Fat:

21

Saturated Fat:

2.2

Carbohydrates:

10.5

Fiber:

3.6

Protein:

30.3

Cholesterol:

95.5
Keywords: keto, keto chicken, keto chicken recipe, keto cajun chicken, keto recipes, paleo, paleo recipes, paleo dinner, Whole30, Whole30r recipes, whole30dinner, gluten free, gluten free recipes, gluten free dinner, gluten free recipes for dinner, anti-inflammatory diet, anti-inflammatory recipes, grain free, grain free diet, grain free recipes, grain free dinner, paleo and wine, gluten free and wine, dairy free diet, dairy free recipes, dairy free dinner,
FREE e-cookbook called OODLES OF LOW CARB NOODLES
Join our family to get your FREE e-cookbook OODKES OF LOW CARB NOODLES + new recipes in your inbox.
Latest posts by Shari MAC
(see all)