KETO LOW-CARB ULTIMATE STEAK RUB (HEART HEALTHY)
I keep this Keto Low-Carb Ultimate Steak Rub on hand for all occasions.  I'm always looking for ways to season our proteins.   Over time, I've found that these seasonings below have become our favorites.  The best aspect is that they are all salt-free and sugar-free.  In my opinion, we get almost as much daily sodium as we need in hidden ways.  If I am to add any sweetness to my daily culinary routine, it's in the form of low glycemic versions mostly found in the desserts I prepare.  I use date paste.
WHAT IS THE NUTRITIONAL VALUE OF KETO LOW-CARB ULTIMATE STEAK RUB?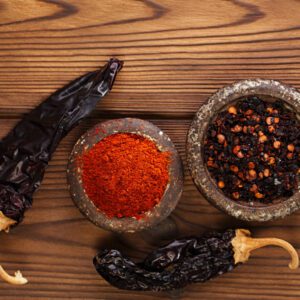 Keto Low-Carb Ultimate Steak Rub has some nutritional value.  What we often don't take into consideration is that many seasonings have nutritional value as well as good taste.  We are familiar with the health benefits of certain seasonings like cayenne.  But there are others found in this rub.  Here are a few:
Smoked Paprika: Paprika contains antioxidants that kill free radicals in the body linked to cancer and heart disease. 
Ground Ancho chile pepper: Ancho chili peppers have some capsaicin, considered anti-inflammatory.  Incorporating this seasoning into your dishes may help fight inflammatory disorders like arthritis, shingles, psoriasis and diabetic neuropathy
Ground black pepper: High in antioxidants, black pepper helps to kill free radicals that cause damage to your Cells.  This spice has anti-inflammatory benefits, along with lowering bad cholesterol, fighting cancer, and helping to stabilize sugar levels
Ground mustard: This seasoning is high in vitamins, such as A, C, and K, thus contributing toward the good eye and heart health..
WHAT IS THE TASTE PROFILE OF KETO LOW-CARB ULTIMATE STEAK RUB?
The predominant taste sensation of the Keto Low-Carb Ultimate Steak Rub comes from the ingredients using this rub, not the rub itself.  The rub provides a smoky and deep melded flavour that enhances chicken, beef, vegetables, fish.  I sprinkle this seasoning on air-fried Brussels sprouts.  Lots of flavour with subtle heat and spice.
WHAT WINE HARMONIZES WITH FOODS COOKED WITH KETO LOW-CARB ULTIMATE STEAK RUB?
With the predominant taste sensation of the Keto Low-Carb Ultimate Steak Rub being fattiness from the beef, go with a big, red wine.  You can choose a smooth red rather than an austere one.  The reason is that this rub is salt-free.  A smooth, fruity red will taste delicious against the deep smokiness of the rub on the steak.   Zinfandel, Merlot, Shiraz, Carménère are examples of tasty, smooth reds.
*Wine Tips: To support your Keto diet or low-carb lifestyle, choose low-carb, low-sugar, and low-alcohol wines that are free of additives and artificial coloring.  Include your wine carb macros as part of your meal.  Remember, your liver will process alcohol before nutrients, pausing ketone creation and slowing the ketosis process. Your body will also metabolize alcohol as fuel before using food. This can slow fat burning and may cause your body to store carbs, fat, and protein as excess body fat.  Alcohol consumption also stimulates the appetite.  So, drink low-sugar, low-carb, and low alcohol wines in moderation.
WHAT OTHER KETO LOW-CARB CONDIMENT RECIPES CAN I ENJOY?
Keto Low-Carb Caesar Dressing (Heart Healthy)
Keto Low-Carb Ranch Buttermilk Dressing (Heart Healthy)
Keto Low-Carb Roast Beef Spice Rub (Heart Healthy)
Keto Low-Carb Beef Bone Broth (Heart Heathy)
WHAT IS SHARI MAC'S PRODUCT RECOMMENDATION FOR YOUR KETO LOW-CARB DIET?
I wanted to share with you the BEST thing you can do for yourself to support your Keto Low-Carb diet.  Invest in a Vitamix Blender!  I stand behind this product 100%.  This Vitamix is a long-term investment worth every dollar! I use this Vitamix for almost daily all of my Keto diet needs – smoothies, ice cream blends, hot soups (made right in the Vitamix), sauces, and more!  Every other blender I purchased before my Vitamix failed within a couple of years.  This blender is a work horse. My best-friend has had her Vitamix for over 20 years with NO issues!  I just got my Vitamix this past year and LOVE IT!
HOW IS KETO LOW-CARB STEAK RUB PREPARED?
Print
KETO LOW-CARB ULTIMATE STEAK RUB
---
Description
Keto Low-Carb Ultimate Steak Rub can be used on a whole variety of foods, besides steak. Try this seasoning on pork and chicken, as well.  The recipe uses smoked paprika, ancho chilli pepper, dried thyme, black pepper, garlic powder, onion powder, ground mustard, and cumin. If you are hunting for a dry-rub recipe to use on proteins and to pair with wine, check out this recipe!
---
2 tablespoons smoked paprika
2 tablespoons ground ancho chili pepper
1 tablespoon dried Thyme
1 tablespoon ground black pepper
1 tablespoon onion powder
1 tablespoon garlic powder
1 teaspoon ground mustard
1 teaspoon ground cumin
---
Instructions
Place all ingredients in a bowl and mix together.  Transfer to a sterilized glass jar, seal, and use as needed.
Notes
The recipe is based on the keto version and is approximate only.  One serving has 0 grams of net carbs.
(Note: The nutritional information provided is a courtesy and is approximate only.  We cannot guarantee the nutritional accuracy of any recipe on this site.  We cannot now what brands you use or how accurately you follow the recipe or what you like to add creatively to the dish. Use the information as a general guideline only.  Net carbs are the total carbs minus the fibre.)
Prep Time:

5

Category:

KETO LOW-CARB

Method:

MIXING

Cuisine:

LUNCH, BRUNCH, DINNER
Nutrition
Serving Size:

1

Calories:

39

Sugar:

1.1

Sodium:

6

Fat:

1.1

Saturated Fat:

0.1

Carbohydrates:

7.5

Fiber:

2.9

Protein:

1.7

Cholesterol:

0
Keywords: keto spices, keto seasonings, keto steak seasoning, keto steak seasoning recipe, keto-recipes, ketogenic-diet, ketogenic-recipes, low-carb, low-carb-recipes, lazy-keto, sugar-free, sugar-free-recipes, keto-and-wine, gluten-free, gluten-free-recipes, gluten-free-with-wine, grain-free, grain-free-diet, grain-free-recipes, grain-free-recipes-with-wine, anti-inflammatory-diet, anti-inflammatory-recipes, dairy-free-diet, dairy-free-recipes, dairy-free-recipes-with-wine,
FREE e-cookbook called OODLES OF LOW CARB NOODLES
Join our family to get your FREE e-cookbook OODKES OF LOW CARB NOODLES + new recipes in your inbox.
Latest posts by Shari MAC
(see all)