KETO RANCH BUTTERMILK DRESSING (HEART HEALTHY)
As an Amazon Associate I earn from qualifying purchases.
I'm excited to share with you my Keto Ranch Buttermilk Dressing!  
When I first met my husband, I shared with Shawn my love of gourmet cuisine. I took Shawn to one of the coolest pizza joints in my city. Upon ordering a delicious pizza with Keto crust, Shawn stated, "Do they have ranch dressing or sauce? On another occasion, we bought aged steaks from my favorite butcher and barbecued them. Shawn asked, "Do you have any ranch dressing for the steaks?" I soon discovered his love of ranch dressing. Shawn enjoys ranch dressing on spaghetti, with tuna casserole, and with all his desirable proteins — salmon, tuna, chicken, turkey, steak, pork, and eggs. Suffice to say, "ranch" is Shawn's beloved seasoning.
In this household, we also watch our sugar and salt intake. For this reason, I decided to prepare a salt-free sugar-free ranch seasoning that I can use regularly as a seasoning and also in sauces and dressings.   
The key to this seasoning is buttermilk flavoring. To make ranch sauce, add the seasoning to milk or coconut milk. For your salad dressing, add sugar-free yogurt.  
WHAT IS THE NUTRITIONAL VALUE OF KETO RANCH BUTTERMILK DRESSING?
This Keto Ranch Buttermilk Dressing uses low-carb plain Greek yogurt.  Greek yogurt is the basis of this dressing. Yummy. Greek yogurt has many healthy benefits, such as:
Improving bone health
Reducing appetite and hunger
Boosting metabolism
Improving gut health
Encouraging good mental health
Building muscle mass
Lowering blood pressure
Reducing the risk of type 2 diabetes
WHAT OTHER KETO DRESSINGS CAN YOU PREPARE WITH PLAIN GREEK YOGURT?
My Keto Ranch Buttermilk Dressing is not the only dressing you can prepare for salads and sauces for proteins like chicken. Plain Greek yogurt is a great base for creamy dressings that are keto-friendly. Here are a few options:
Classic Ranch Dressing: In a bowl, mix together 1/2 cup of plain, low-carb (no sugar added) Greek yogurt, 1/4 cup of heavy cream (or cashew cream for Keto Heart Healthy), 1 tablespoon of chopped chives, 1 tablespoon of chopped parsley, 1 teaspoon of dried dill, 1/2 teaspoon of garlic powder, and salt and pepper to taste. Thin the dressing with a little water if it's too thick.
Caesar Dressing: In a blender, combine 1/2 cup of plain, low-carb (no sugar added) Greek yogurt, 1/4 cup of grated Parmesan cheese, 1 tablespoon of lemon juice, 1 tablespoon of Dijon mustard, 1 clove of garlic, and salt and pepper to taste. Blend until smooth, then slowly drizzle in 1/4 cup of olive oil while the blender is running.
Blue Cheese Dressing*: In a bowl, mash 1/4 cup of blue cheese with a fork until it's crumbly. Add 1/2 cup of plain Greek yogurt, 1/4 cup of sour cream, 1 tablespoon of lemon juice, and salt and pepper to taste. Mix well.
All of these dressings can be stored in the refrigerator for up to a week. Enjoy!
WHAT BLUE CHEESES ARE HEART HEALTHY?
As suggest above you can prepare a blue cheese dressing using plain, low-carb (no sugar added) Greek yogurt.  But keep in mind that not all blue cheese varieties are healthy.  Roquefort is one example of a heart-healthy blue cheese. Roquefort is a French cheese made from sheep's milk. Roquefort is rich in a compound called spermidine, which has been shown to have protective effects on the cardiovascular system by reducing the risk of heart disease and improving overall heart health. Another heart-healthy blue cheese is Gorgonzola, an Italian cheese made from cow's milk. Gorgonzola is a good source of calcium, which is important for maintaining strong and healthy bones. It also contains probiotics, which can help to improve gut health and boost the immune system. It is important to note that while some types of blue cheese can be good for your heart health, they are still high in fat and calories. Therefore, it is best to enjoy them in moderation and as part of a balanced diet that includes plenty of fruits, vegetables, whole grains, and lean proteins.
IS THE TASTE PROFILE OF KETO RANCH BUTTERMILK DRESSING?
The Keto Low-Carb Ranch Buttermilk Dressing predominant taste sensations are tanginess from the buttermilk (or substitute buttermilk) and yogurt.
WHAT WINE HARMONIZES WITH KETO RANCH BUTTERMILK DRESSING?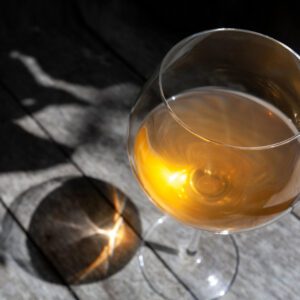 Keto Ranch Buttermilk Dressing can work with wine.  When pairing salad with wine, consider the dressing above the vegetable flavours.  This is especially true when preparing a salad with Keti veggies — cucumber, radish, spinach, cabbage, tomatoes, etc. With tanginess as the predominant taste sensation of this dressing, choose a crisp, dry white wine to match.  Let the wine's acidity complement. the tanginess of the dressing.  Examples include Pinot Grigio, Pinot Gris, Sauvignon Blanc, Chenin Blanc, Vinho Verde, and dry Riesling. 
*Wine Tips: To support your Keto diet or low-carb lifestyle, choose low-carb, low-sugar, and low-alcohol wines that are free of additives and artificial coloring.  Include your wine carb macros as part of your meal.  Remember, your liver will process alcohol before nutrients, pausing ketone creation and slowing the ketosis process. Your body will also metabolize alcohol as fuel before using food. This can slow fat burning and may cause your body to store carbs, fat, and protein as excess body fat.  Alcohol consumption also stimulates the appetite.  So, drink low-sugar, low-carb, and low alcohol wines in moderation.
WHAT OTHER KETO LOW-CARB (HEART HEALTHY) RECIPES CAN I ENJOY?
Keto Low-Carb Montreal Strip Loin (Healthy Heart)
Keto Low-Carb Steak Marinade (Heart Healthy)
Keto Low-Carb Crock-Pot Beef (Heart Healthy)
Keto Low-Carb Bacon-Covered Meatloaf (Heart Healthy)
Keto Low-Carb Roast Beef Spice Rub (Heart Healthy)
Keto Low-Carb Beef Bone Broth (Heart Heathy)
Keto Low-Carb Mama Meatloaf (Heart Healthy)
Keto Low-Carb Ultimate Steak Rub (Heart Healthy)
WHAT IS SHARI MAC'S PRODUCT RECOMMENDATION FOR YOUR KETO LOW-CARB DIET?
I wanted to share with you the BEST thing you can do for yourself to support your Keto Low-Carb diet.  Invest in a Vitamix Blender!  I stand behind this product 100%.  This Vitamix is a long-term investment worth every dollar! I use this Vitamix for almost daily all of my Keto diet needs – smoothies, ice cream blends, hot soups (made right in the Vitamix), sauces, and more!  Every other blender I purchased before my Vitamix failed within a couple of years.  This blender is a work horse. My best-friend has had her Vitamix for over 20 years with NO issues!  I just got my Vitamix this past year and LOVE IT!
HOW DO YOU PREPARE KETO RANCH BUTTERMILK DRESSING?
Preparing this Keto Ranch Buttermilk Dressing is easy.  Here are the instructions:
Print
KETO RANCH BUTTERMILK SALAD DRESSING
---
Description
Keto Ranch Buttermilk Dressing can be served over salad or proteins like chicken, fish, turkey, and even pork.  The ingredients include seasonings like dried parsley, dried dill, garlic powder, dried onion flakes, black pepper, dried chives and dried buttermilk powder.  Just add this seasoning to a cup of homemade plain yoghurt.   If you are hunting for a filling and satisfying Keto Low-Carb salad recipe paired with wine, check out this recipe!
---
Ranch Seasoning:
1/4 cup dried parsley
1 tablespoon dried dill
1 to 2 tablespoons garlic powder
1 tablespoon onion powder
2 tablespoons dried onion flakes
1 tablespoon ground black pepper
1 tablespoon dried chives
1 cup buttermilk powder (available in most bulk food stores)
Ranch Yogurt Salad Dressing:
1/2 cup Keto ranch seasoning* (see above)
1 cup no sugar added Greek yogurt
---
Instructions
To make ranch seasoning, in a bowl combine all ingredients.  Transfer to a sterilized jar and store it until needed. 
To make salad dressing, in a blender combine yogurt with ranch seasoning.  Purée until smooth.  Makes a thick dressing.  Add more yogurt to thin the dressing to desired consistency. 
Notes
The recipe is based on the keto version and is approximate only.  One serving has 0 grams of sugar.   
(The nutritional information provided is approximate, based on the low-carb version and is a courtesy only. We cannot guarantee the nutritional accuracy of any recipe. Consult your physician before beginning any new lifestyle or diet.)
Prep Time:

10

Category:

KETO LOW-CARB

Method:

MIXING

Cuisine:

BREAKFAST, LUNCH, BRUNCH, DINNER
Nutrition
Serving Size:

1 (one ounce)

Calories:

71

Sugar:

0.7

Sodium:

9

Fat:

1

Saturated Fat:

0.1

Carbohydrates:

4.8

Fiber:

0.4

Protein:

2.3

Cholesterol:

1
Keywords: keto, keto ranch dressing, keto ranch dressing recipe, keto-recipes, ketogenic-diet, ketogenic-recipes, low-carb, low-carb-recipes, lazy-keto, sugar-free, sugar-free-recipes, keto-and-wine, paleo, paleo-diet, grain-free, grain-free-diet, grain-free-recipes, grain-free-recipes-with-wine, anti-inflammatory-diet, anti-inflammatory-recipes, dairy-free-diet, dairy-free-recipes, dairy-free-recipes-with-wine,
FREE e-cookbook called OODLES OF LOW CARB NOODLES
Join our family to get your FREE e-cookbook OODKES OF LOW CARB NOODLES + new recipes in your inbox.
Latest posts by Shari MAC
(see all)