KETO BACON-COVERED MEATLOAF (HEART HEALTHY)
As an Amazon Associate I earn from qualifying purchases.
My Keto Bacon-Covered Meatloaf, is my husband's favorite comfort food.  I always know he will be pleased with the results.  For this reason, I try to switch things up and do various types and styles of meatloaf.  Meatloaf is easy and fast to prepare and hits that comfort food spot every time. 
After the invention of the meat grinder which was an ordinary kitchen tool and during the Great Depression meatloaf was a well known and appreciated dish.  Meatloaf was an inexpensive type of protein that went a long way in feeding families.  During World War II meatloaf was also a cheap way to feed families.  For this reason in earned the name 'Vitality Loaf.' 
Once an inexpensive culinary necessity for families, meatloaf is today a mainstay in diners and even gourmet restaurants.  It all depends on how the meatloaf is made and the quality of the beef. 
Jamie Oliver adds cumin, coriander, oregano, rosemary, Dijon mustard, cream crackers, smoked bacon and beef in his celebrated meatloaf.  The loaf is smothered in a sauce made with garlic, red chili, paprika, chickpeas, Worcestershire sauce, tomatoes and balsamic vinegar.  An interesting combination of ingredients and flavors. 
Martha Stewart combines fresh white bread, garlic, onion, celery stalk, carrot, flat-leaf parsley, ground chuck and ground pork.
Some chefs use a combination of beef, pork, and venison and add gravy rather than a sauce.  You can also make meatloaf with any meat that can be ground, such as duck, turkey, bison, elk, etc. 
In my version you can add whatever herbs and spices you like.  Take this basic Paleo Whole30 compliant version and create something outstanding for family and friends.
WHAT IS THE NUTRITIONAL VALUE OF KETO BACON-COVERED MEATLOAF?
Ground beef is an excellent source of protein. Ground beef can be a great source of essential nutrients. A 3-ounce serving of 90% lean ground beef contains approximately 180 calories, 22 grams of protein, and 10 grams of fat. It is also a good source of several vitamins and minerals, including vitamin B12, iron, and zinc. However, ground beef can also be high in saturated fat and cholesterol, so it is important to consume it in moderation and choose leaner cuts when possible. It is also important to handle and cook ground beef properly to reduce the risk of food borne illness.
WHAT IS THE TASTE PROFILE OF KETO BACON-COVERED MEATLOAF? 
The predominant taste sensations of Keto Bacon-Covered Meatloaf are fattiness due to the beef, tanginess and umami from the compliant tomato sauce and umami and saltiness from the bacon.
WHAT WINE HARMONIZES WITH KETO BACON-COVERED MEATLOAF?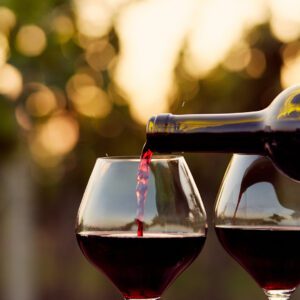 With the predominant taste sensations of Keto Low-Carb Bacon-Covered Meatloaf being fattiness, umami, a little tanginess and saltiness, choose a big austere red wine. These reds offer lots of earthy character, along with pleasant bitterness and astringency. The wine's tannin (bitterness and astringency) will nicely offset the fattiness and saltiness of bacon.  Think Zinfandel, Shiraz, Cabernet Sauvignon, Cabernet Franc
*Wine Tips: support your Keto diet or low-carb lifestyle, choose low-carb, low-sugar, and low-alcohol wines that are free of additives and artificial coloring.  Include your wine carb macros as part of your meal.  Remember, your liver will process alcohol before nutrients, pausing ketone creation and slowing the ketosis process. Your body will also metabolize alcohol as fuel before using food. This can slow fat burning and may cause your body to store carbs, fat, and protein as excess body fat.  Alcohol consumption also stimulates the appetite.  So, drink low-sugar, low-carb, and low alcohol wines in moderation.
WHAT KETO LOW-CARB DINNER RECIPES CAN YOU ENJOY?
Keto Low-Carb Korean Short Ribs
Keto Low-Carb Coconut Coasted Drumsticks
Keto Low-Carb Tuna Cheddar Casserole
Keto Low-Carb Parmesan Crusted Chicken Wings
Keto Low-Carb Bacon-Wrapped Chorizo
WHAT IS SHARI MAC'S PRODUCT RECOMMENDATION FOR YOUR KETO LOW-CARB DIET?
OMG, the Ninja NC301 CREAMi Ice Cream Maker is the BEST appliance I've bought for myself to support my Keto diet. I stand behind this product 100%. I eat healthy high protein, sugar-free ice cream every night. I experiment with different ingredient combinations all the time. I purchased 5 additional containers so that I can make a week's worth of ice cream at one time. I've made ice cream with cottage cheese and almond milk with protein powder; tofu with almond milk and protein powder; fat-free plain yogurt with almond milk and sugar-free jello and more! The machine shaves frozen pints perfectly with its one-touch programs.. You can prepare ice cream, sorbet, gelato, milkshake, smoothie bowl, lite ice cream and more.  Prep your base, freeze overnight, process, and enjoy!
Sometimes it takes more than one spin to get your desired texture. Select the re-spin function if, after processing, you want your processed treat softer and creamier. This unit is ONLY compatible with the Ninja CREAMi NC299 and NC300 pint accessories. It will NOT fit the NC100, NC200 or NC500 Series pints.
With the Ninja Creami you can enjoy healthy treats that taste just as good as regular ice cream loaded in bad saturated fat, sugar, and preservatives.
HOW DO YOU PREPARE THIS MEATLOAF?
Print
KETO BACON-COVERED MEATLOAF
---
Description
This Keto Bacon-Covered Meatloaf can be enjoyed all year long. It is perfect for lunch in a low-carb sandwich or as an entree for dinner. The recipe uses ground beef, onion, garlic, olive oil, eggs and Keto Low-Carb bread crumbs. Only 9.3 net carbs per serving. Delicious! Check out the recipe.
---
1 onion, finely chopped
4 cloves garlic, minced
1 tablespoon olive oil
1.5 pounds ground beef (grass-fed for Heart Healthy)
3 eggs
2 cups Keto Low-Carb bread crumbs*
1 teaspoon black pepper
½ sugar-free ketchup
10 slices sugar-free bacon (turkey bacon for Heart Healthy)
---
Instructions
Preheat oven to 350 F. In a food processor or blender add onion, garlic, and olive oil.  Pulsate until finely chopped.  Measure all other ingredients and place in mixing bowl with onion/garlic mixture.  Mix all ingredients together, except for ketchup.  Spray a baking dish with avocado non-stick cooking spray.  Place meatloaf mixture into the baking dish.  Coat meatloaf with ketchup.  Lay and overlap strips of bacon over meatloaf mixture.  Trim ends of bacon to make meatloaf neat and tidy.   

Bake until an instant-read thermometer registers 160 degrees F, about 45 to 55 minutes. Let meatloaf rest for about 10 minutes before slicing and serving.  Serve with mashed cauliflower with plant-based butter.
Notes
The recipe is based on the keto version and is approximate only.  One serving has 9.3 grams of net carbs.
(Note: The nutritional information provided is a courtesy and is approximate only.  We cannot guarantee the nutritional accuracy of any recipe on this site.  We cannot know what brands you use or how accurately you follow the recipe or what you like to add creatively to the dish. Use the information as a general guideline only.) 
Prep Time:

15

Cook Time:

55

Category:

KETO LOW-CARB

Method:

BAKING

Cuisine:

DINNER
Nutrition
Serving Size:

1

Calories:

821

Sugar:

0

Sodium:

747

Fat:

45.7

Saturated Fat:

20.1

Carbohydrates:

9.3

Fiber:

0

Protein:

84.4

Cholesterol:

316
Keywords: keto, keto meatloaf, keto meatloaf recipe, keto meatloaf with bacon recipe, keto-recipes, ketogenic-diet, ketogenic-recipes, low-carb, low-carb-recipes, lazy-keto, sugar-free, sugar-free-recipes, keto-and-wine, paleo, paleo-diet, paleo-recipes, lazy-paleo, , paleo-and-wine, primal-diet, primal-diet-recipes, caveman-diet, caveman-diet-recipes, gluten-free, gluten-free-recipes, gluten-free-with-wine, grain-free, grain-free-diet, grain-free-recipes, grain-free-recipes-with-wine, anti-inflammatory-diet, anti-inflammatory-recipes, dairy-free-diet, dairy-free-recipes, dairy-free-recipes-with-wine,
FREE e-cookbook called OODLES OF LOW CARB NOODLES
Join our family to get your FREE e-cookbook OODKES OF LOW CARB NOODLES + new recipes in your inbox.
Latest posts by Shari MAC
(see all)