KETO LOW-CARB COCONUT-COATED DRUMSTICKS
As an Amazon Associate I earn from qualifying purchases.
This evening I wanted to prepare Keto Low-carb Coconut-Coated Drumsticks for dinner. I took out the ingredients to make a recipe I've done before. Suddenly, and true to my indecisive food nature, I suddenly felt like coconut shrimp. Such a weird out-of-the-blue craving. But my drumsticks were already thawed and ready to be transformed into something delicious. I decided at that moment to make Crispy Coconut Curry Coated Drumsticks!  
The shredded unsweetened coconut was too bulky, so I ground it down to a powder in the Magic Bullet. To the coconut, I added ground ginger, curry, turmeric, black pepper, paprika, and cayenne for heat to offset the soft sweetness from the unsweetened coconut.
HOW TO BAKE KETO LOW-CARB COCONUT-COATED DRUMSTICKS TO PERFECTION:
I do a couple of preparations to these Keto Low-carb Coconut-Coated Drumsticks that makes a world of difference with crispiness.  Pat them dry so that the oil sticks to the skins. Place a baking rack over the baking tray so air circulates around the drumsticks.  I also use parchment in the bottom of the baking pan to make cleaning up easier. Cook on high heat to add crispiness to the skins.  Air-frying is better and takes half the time.
HOW DO YOU PREPARE KETO LOW-CARB COCONUT-COATED DRUMSTICKS?
You want the coating and seasonings to stick to the Keto Low-carb Coconut-Coated Drumsticks.  After patting the drumsticks dry with a paper towel, coat them in a layer of coconut oil. Coconut oil has a high content of saturated fat lauric acid. This helps make up around 40% of its total fat content. For this reason, coconut oil is highly resistant to oxidation at high heat. It is suitable for high-heat cooking methods like baking and frying.
HOW LONG DO YOU BAKE KETO LOW-CARB COCONUT-COATED DRUMSTICKS?
On 350F to 400F bake the Keto Low-carb Coconut-Coated Drumsticks about 40 to 45 minutes. About halfway through baking, flip the drumsticks over, so all sides are crispy.
WHAT IS THE NUTRITIONAL VALUE OF KETO LOW-CARB COCONUT-COATED DRUMSTICKS?
The seasonings in this Keto Low-carb Coconut-Coated Drumsticks recipe are packed with nutritional benefits. The curry and turmeric and paprika powders are super healthy, possessing the abilities to:
Reduce inflammation

Fight cancer

Help to battle Alzheimer's, multiple sclerosis, and Parkinson's disease

Repair bone health

Aid indigestion

Contribute to heart health

Fight bacteria
This recipe also contains ground ginger, another super food. Ground ginger can contribute to: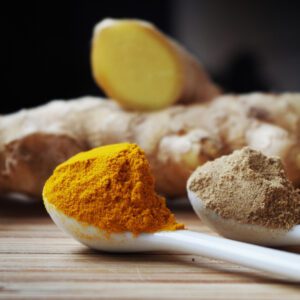 Lower blood sugar

Improve heart health by lowering the risk of heart disease

Treat nausea

Help weight loss

Help with osteoarthritis Help with chronic indigestion

Lower bad cholesterol

It May help to prevent cancer
WHAT IS THE TASTE PROFILE OF KETO LOW-CARB COCONUT-COATED DRUMSTICKS?
The predominant taste sensations in these Keto Low-carb Coconut-Coated Drumsticks are sweetness from the unsweetened coconut, fattiness from the chicken skin and coconut oil, spiciness from the seasonings, and heat from the cayenne.  The coconut crust keeps the inside juicy. The drumsticks are super juicy.
WHAT WINE HARMONIZES WITH KETO LOW-CARB COCONUT-COATED DRUMSTICKS?
With the predominant taste sensations in these Keto Low-carb Coconut-Coated Drumsticks being sweetness, fattiness, and heat and spice, you need a white wine with sweetness to match. But on this Keto Low-carb journey you want to refrain from sugar.  So you have a couple of choices.  In following a Keto diet or in living a low-carb lifestyle, we don't want to use up your carbs on a glass of wine.  Why add the extra carbs to your meal when you can find zero carb wines!  You have a couple of options:
Drink whatever wine you like (as long as it's bone dry) and don't worry about pairing the wine to dish. Enjoy your wine the way you like it. 
If you like to create harmony between the wine and the food, you'll need some sweetness in the wine to offset the heat and spice.  Add a pinch of stevia or monk fruit sweetener to your glass of wine.  Choose whites like Riesling or Gewurztraminer or a pink rose. These varieties taste great when bone dry or sweet.  So they taste great with the added sweetener.  The wine's sweetness will nicely offset the heat and spice.
*Wine Tips: To maintain your Keto diet or low-carb lifestyle, choose low-carb, low-sugar, and low-alcohol wines that are free of additives and artificial coloring.  Include your wine carb macros as part of your meal.  Remember, your liver will process alcohol before nutrients, pausing ketone creation and slowing the ketosis process. Your body will also metabolize alcohol as fuel before using food. This can slow fat burning and may cause your body to store carbs, fat, and protein as excess body fat.  Alcohol consumption also stimulates the appetite.  So, drink low-sugar, low-carb, and low alcohol wines in moderation.
WHAT OTHER KETO LOW-CARB RECIPES CAN YOU ENJOY?
Keto Low-Carb Tuna Cheddar Pasta Casserole
Keto Low-Carb Zoodle Caprese Salad
Keto Low-Carb Japanese Crab Noodle Salad
Keto Low-Carb Korean Short Ribs
WHAT IS SHARI MAC'S PRODUCT RECOMMENDATION FOR YOUR KETO LOW-CARB DIET?
OMG, the Ninja NC301 CREAMi Ice Cream Maker is the BEST appliance I've bought for myself to support my Keto diet. I stand behind this product 100%. I eat healthy high protein, sugar-free ice cream every night. I experiment with different ingredient combinations all the time. I purchased 5 additional containers so that I can make a week's worth of ice cream at one time. I've made ice cream with cottage cheese and almond milk with protein powder; tofu with almond milk and protein powder; fat-free plain yogurt with almond milk and sugar-free jello and more! The machine shaves frozen pints perfectly with its one-touch programs.. You can prepare ice cream, sorbet, gelato, milkshake, smoothie bowl, lite ice cream and more.  Prep your base, freeze overnight, process, and enjoy!
Sometimes it takes more than one spin to get your desired texture. Select the re-spin function if, after processing, you want your processed treat softer and creamier. This unit is ONLY compatible with the Ninja CREAMi NC299 and NC300 pint accessories. It will NOT fit the NC100, NC200 or NC500 Series pints.
With the Ninja Creami you can enjoy healthy treats that taste just as good as regular ice cream loaded in bad saturated fat, sugar, and preservatives.
HOW DO YOU PREPARE KETO LOW-CARB COCONUT-COATED DRUMSTICKS?
Print
KETO LOW-CARB COCONUT-COATED DRUMSTICKS
---
Description
If you enjoy Coconut Shrimp you are going to love these Keto Low-carb Coconut-Coated Drumsticks. The coating on these babies is healthier than the shrimp because the chicken is baked, not deep fried.  You can enjoy this treat during any season of the year.  In the winter partner the drumsticks with a tropical coleslaw.  In the summer enjoy the drumsticks with a green salad toss with some nuts.  Hell enjoy the drumsticks with a salad any season of the year.  The recipe ingredients are unsweetened coconut powder, curry powder, paprika, ginger, turmeric, black pepper, ½ cup of coconut oil and drumsticks with skin on.  Check out the recipe!
---
1 cup unsweetened coconut flakes, powdered*
1 tablespoon curry powder
1 tablespoon smoked paprika
1 tablespoon powdered ginger
1 tablespoon ground turmeric
1 tablespoon freshly ground black pepper
1/4 to 1/2 teaspoon cayenne pepper
1/2 cup coconut oil (or avocado oil)
12 drumsticks, skin on
---
Instructions
*Grind coconut in coffee grinder to become powdered.
Preheat oven to 350F.  In a bowl mix unsweetened coconut and all spices.  Mix well.  In another bowl add coconut oil and liquefy in microwave.  Place rack over cookie tray lined with parchment paper.  Drip drumstick in oil and then dredge in coconut seasonings.  Set on rack.  Repeat for all drumsticks.  Bake for 40 to 45 minutes or until internal temp reaches 155F. Remove from oven.  Let rest.
Notes
The recipe is based on the Keto version and is approximate only.  One serving has 4.1 grams of net carbs per drumstick.
(Note: The nutritional information provided is a courtesy and is approximate only.  We cannot guarantee the nutritional accuracy of any recipe on this site.  We cannot know what brands you use or how accurately you follow the recipe or what you like to add creatively to the dish. Use the information as a general guideline only).
Prep Time:

15

Cook Time:

45

Category:

KETO LOW-CARB

Method:

BAKING

Cuisine:

DINNER
Nutrition
Serving Size:

1 DRUMSTICK

Calories:

564

Sugar:

1.6

Sodium:

118

Fat:

42.6

Saturated Fat:

31.8

Carbohydrates:

8.1

Fiber:

4

Protein:

39.5

Cholesterol:

121
Keywords: keto, keto chicken, keto chicken recipes, keto drumsticks, keto chicken drumsticks recipe, keto-recipes, ketogenic-diet, ketogenic-recipes, low-carb, low-carb-recipes, lazy-keto, sugar-free, sugar-free-recipes, keto-and-wine, gluten-free, gluten-free-recipes, gluten-free-with-wine, grain-free, grain-free-diet, grain-free-recipes, grain-free-recipes-with-wine, anti-inflammatory-diet, anti-inflammatory-recipes,
FREE e-cookbook called OODLES OF LOW CARB NOODLES
Join our family to get your FREE e-cookbook OODKES OF LOW CARB NOODLES + new recipes in your inbox.
Latest posts by Shari MAC
(see all)