HEALTHY (PALEO) ORANGE-ALMOND CAKE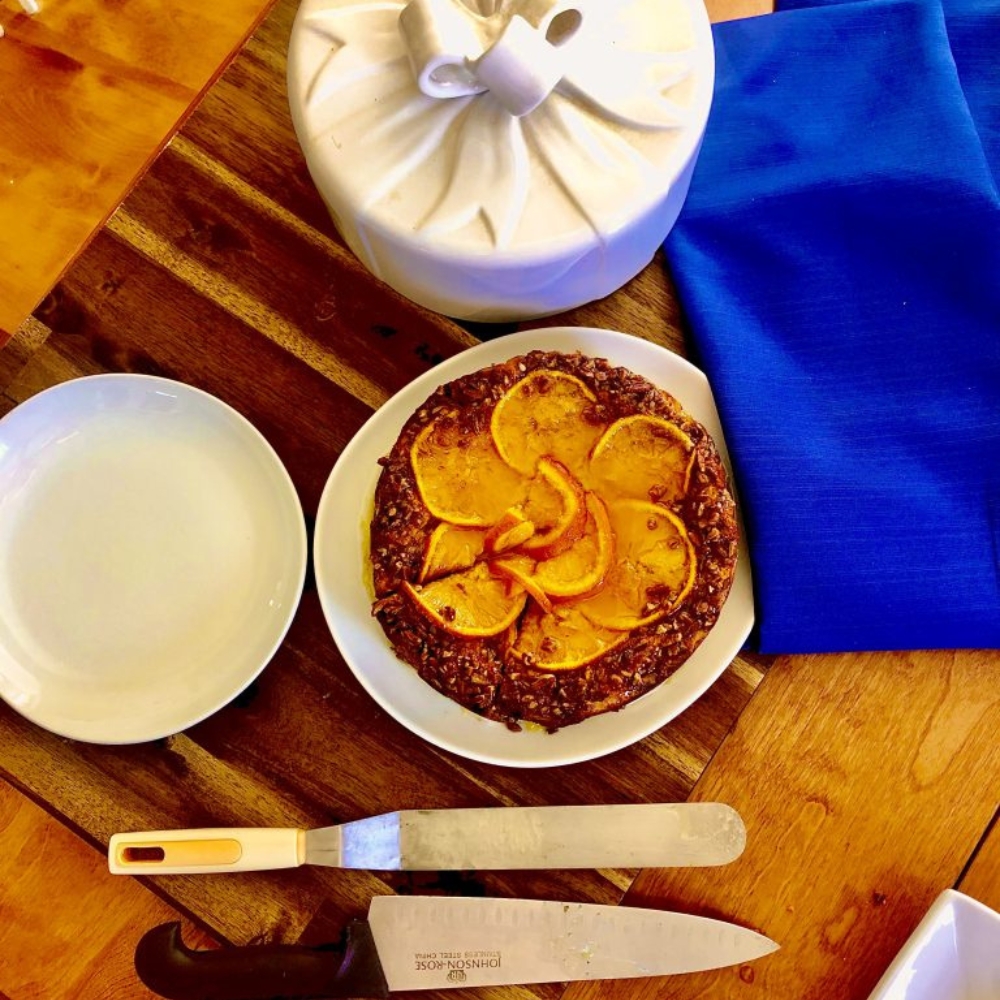 As an Amazon Associate I earn from qualifying purchases.
This is a simple Healthy (Paleo) Orange-Almond Cake to prepare.
While surfing YouTube for interesting Paleo recipes, I found several videos on orange almond cake.  The recipes were not Healthy Paleo.  The cakes included sugar and sometimes flour.  I decided to prepared my own version.
The results proved highly successful.  Shawn and I ate a couple of pieces.  I took 2 pieces of cake to my parents to enjoy and the remainder over to my friend Cora.  Cora has a very large family with kids and many grandchildren, so my dishes are always welcome.  She loves my food and she likes to serve it to her family, friends, and guests.  Cora and her guests also loved this cake.
WHAT IS THE NUTRITIONAL VALUE OF HEALTHY (PALEO) ORANGE-ALMOND CAKE?
The Healthy (Paleo) Orange-Almond Cake is prepared with 2 boiled and then puréed oranges, including the peels. The orange peels are rich in fiber, vitamin C, folate, vitamin B6, calcium and other essential nutrients.  The rind is also a valuable source of polyphenols that help to protect you against several diseases. Peels have anti-cancerous properties, due to the presence of limonene, a naturally occurring chemical.  The cake is made with almond and tapioca flours.  Almond flour is high in protein, while tapioca flour (starch) is a carbohydrate. it does not spike blood sugar levels. 
WHAT IS THE TASTE PROFILE OF HEALTHY (PALEO) ORANGE-ALMOND CAKE?
The predominant taste sensations of Healthy (Paleo) Orange-Almond Cake are sweetness (raw honey) and pleasant bitterness (from oranges).  The flavors are extraordinary – flavors of orange, honey, and cinnamon. 
WHAT WINE HARMONIZES WITH HEALTHY (PALEO) ORANGE-ALMOND CAKE?
The predominant taste sensations of Healthy (Paleo) Orange-Almond Cake are sweetness and pleasant bitterness.  This desert calls for a wine with plenty of sweetness to match.  Think Sauternes or Vidal or Riesling Icewine.  Remember the wine must be sweeter than the desert.  Otherwise, the wine wlll possess an offensive acidity on the aftertaste.  
WHAT OTHER HEALTHY (PALEO) RECIPES CAN I ENJOY?
Healthy (Paleo) Wet-Bottom Apple Cake
Healthy (Paleo) Pumpkin Muffins
Healthy (Paleo) Mom's Carrot Cake
WHAT IS SHARI MAC'S PRODUCT RECOMMENDATION FOR YOUR KETO LOW-CARB DIET?
I wanted to share with you the BEST thing you can do for yourself to support your Keto Low-Carb diet.  Invest in a Vitamix Blender!  I stand behind this product 100%.  This Vitamix is a long-term investment worth every dollar! I use this Vitamix for almost daily all of my Keto diet needs – smoothies, ice cream blends, hot soups (made right in the Vitamix), sauces, and more!  Every other blender I purchased before my Vitamix failed within a couple of years.  This blender is a work horse. My best-friend has had her Vitamix for over 20 years with NO issues!  I just got my Vitamix this past year and LOVE IT!
HOW DO YOU PREPARE HEALTHY (PALEO) ORANGE-ALMOND CAKE?
Print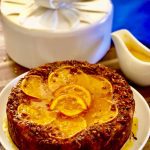 HEALTHY (PALEO) ORANGE-ALMOND CAKE
---
Description
This delicious Paleo Orange-Almond Cake will hit that comfort food spot!  I promise.  It's hard to believe you can boil oranges, peel on, and flavour a cake.  So nutritious.  Serve this cake with afternoon tea or after dinner.  Ideal for that pot luck gathering, too!  The recipe includes butter, allulose, eggs, coconut cream, vanilla extract, almond flour, GF baking powder, oranges, raw honey, eggs, cinnamon, and pecans.  Check out the recipe!
---
4 oranges (leave peel on)
Cake:
6 tablespoons unsalted butter, softened
3/4 cup allulose
3 large eggs
1/4 cup full fat coconut cream
1/2 tsp vanilla extract
3 cups almond flour
2 teaspoons of GF baking powder
Pinch salt
2 oranges boiled
1 cup plus 1/2 cup of raw honey
6 eggs
1 teaspoon cinnamon
Sauce:
Juice from 1 orange
1/2 cup honey
Garnish:
1 boiled orange, sliced
1/2 cup pecan pieces
---
Instructions
Preheat oven to 350 F.  Prepare spring form pan with parchment.  Set aside.  Boil 2 of the 4 oranges for 60 minutes.  Let cool.  Quarter oranges and purée in food processor or blender.  Pour puréed oranges into cleaned mixer.

Add to the blender the cake ingredients and puréed oranges.   Mix well.   Transfer contents to spring form pan.  Decorate with pecan pieces around the perimeter of the top of the cake and orange slices around the center.  Or decorate in any style you prefer.  Bake for about 60 minutes.  Check cake with toothpick.  Prick cake.  If toothpick is clean cake is done.

 

Remove from oven and let cool. 

To make sauce, transfer ½ cup of raw honey and freshly squeezed orange juice to pot.  Boil for 10 minutes to reduce sauce.  Transfer sauce to bowl and refrigerate for at least an hour to thicken sauce.
Pour sauce over the cake and serve.
Notes
The recipe baking temperature and time is an estimate.  Follow your own oven's temperature and cooking time. It takes a gas oven 10-15 minutes to reach the desired temperature. Electric ovens can take 10 minutes longer than that.  The age of your oven will also determine the temperature, time for roasting or baking, and where you want to place your dish in the oven.  The bottom of your oven may be hotter than the top, depending on its condition.  This also includes where to set your dish under the broiler.  So use your own best judgment based on the type, condition, and age of your oven.  Prep times will also vary depending on how slow or quickly you like to work.
Prep Time:

10

Cook Time:

60

Category:

HEALTHY

Method:

BAKING

Cuisine:

DESSERT
Keywords: paleo, paleo recipes, paleo dinner, Whole30, Whole30r recipes, whole30dinner, gluten free, gluten free recipes, gluten free dinner, gluten free recipes for dinner, anti-inflammatory diet, anti-inflammatory recipes, grain free, grain free diet, grain free recipes, grain free dinner, paleo and wine, gluten free and wine, dairy free diet, dairy free recipes, dairy free dinner,
FREE e-cookbook called OODLES OF LOW CARB NOODLES
Join our family to get your FREE e-cookbook OODKES OF LOW CARB NOODLES + new recipes in your inbox.
Latest posts by Shari MAC
(see all)