HEALTHY (PALEO) PUMPKIN MUFFINS
As an Amazon Associate I earn from qualifying purchases.
Yes you can certainly enjoy Healthy (Paleo) Pumpkin Muffins on your journey.
During the fall and winter pumpkin is an integral part of my lifestyle.  I use pumpkin in pies, muffins, and as a side dish for dinner, topped with a dollop of plant-based butter and toasted sunflower seeds.  I find that canned unsweetened pumpkin is far tastier than fresh pumpkin.  It's also easier to prepare!   While surfing the net I found this delicious-looking pumpkin muffin recipe.  I decided to make this recipe, transform it to be Paleo and here it is!
WHAT IS THE NUTRITIONAL VALUE OF HEALTHY (PALEO) PUMPKIN MUFFINS?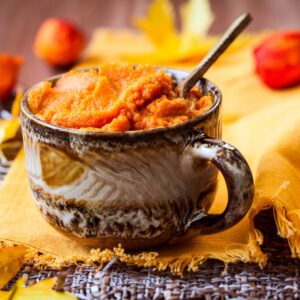 Obviously I'm using pumpkin in these Healthy (Paleo) Pumpkin Muffins! Pumpkins are a great source of nutrition. They are low in calories, fat, and sodium, and high in fiber, vitamins, and minerals. One cup of cooked pumpkin contains only 49 calories, less than 1 gram of fat, and 2.7 grams of fiber. It is also rich in vitamin A, providing over 200% of the recommended daily intake. Additionally, pumpkin is a good source of vitamin C, potassium, and iron. The seeds of the pumpkin are also nutritious, containing protein, healthy fats, and minerals such as magnesium, zinc, and potassium. Overall, incorporating pumpkin into your diet can be a great way to boost your nutritional intake while keeping your calorie intake low.
WHAT IS THE TASTE PROFILE OF HEALTHY (PALEO) PUMPKIN MUFFINS?
The predominant taste sensation in this  Healthy (Paleo) Pumpkin Muffins is sweetness.  The date paste gives the muffins a real brown sugary taste.  The raisins have a hint of tanginess, while the toasted pecans add toastiness and crunch.  Delicious.
WHAT WINE HARMONIZES WITH HEALTHY (PALEO) PUMPKIN MUFFINS?
Can we serve wine with these Healthy (Paleo) Pumpkin Muffins?  Whenever a dish or food has sweetness, a wine with more sweetness is required.  An ounce or two of Tawny Port is ideal!
WHAT OTHER HEALTHY (PALEO) SWEET RECIPES CAN YOU ENJOY?
Healthy (Paleo) Moms Carrot Cake
Healthy (Paleo) Apple Bundt Cakes
Healthy (Paleo) Wet-Bottom Apple Cake
WHAT IS SHARI MAC'S PRODUCT RECOMMENDATION FOR YOUR PALEO DIET?
I'm a huge fan of the Ninja products. In the past, I've gone through a counter-top convection oven every couple of years. This Ninja 1800-watt oven is a work horse! It is a must for me to support my diet. Since buying this Ninja I have not turned on my oven in months! Amazing in the summer! No heat in the kitchen from the traditional oven. I use the air-fryer for all our proteins every day. All my air-fried favorites have less bad saturated fat and therefore fewer calories. I cut chicken breasts in half, horizontally, and air-fry them for 20 minutes. You can set the temperature and timer for all sorts of foods and walk away from the kitchen. The machine will shut off automatically at the right time. My proteins are crispy on the outside and super juicy
HOW DO YOU PREPARE HEALTHY (PALEO) PUMPKIN MUFFINS?
These Healthy (Paleo) Pumpkin Muffins also include a delicious Pecan Streusel on top.  So yummy.  Get ingredients measured for pecan streusel. Mix all ingredients together for streusel.
Set in refrigerator until needed. Place all muffin ingredients in the bowl of a mixer and mix into a smooth batter. Using a tablespoon, spoon batter into a 12 cup muffin tin sprayed with avocado nonstick cooking spray. Place about 1 teaspoon of streusel on each muffin. Bake at 350 F for 40 minutes until took pick comes out clean. Let rest.
Print
HEALTHY (PALEO) PUMPKIN MUFFINS
---
Description
Healthy (Paleo) Pumpkin Muffins are rich, delicious, and healthy.  Enjoy for breakfast or as a treat or as dessert.  The recipe uses almond flour batter.  The streusel is sweet and crunchy.  Ingredients include almond flour, tapiocoa flour, butter, date paste, pecans, cinnamon, and more.  Healthy. If you are hunting for a delicious muffin mix, check out this recipe!
---
Muffins:
1.5 cups almond flour (170 g)
1.5 cups tapioca flour (228 grams)
1 teaspoon sea salt (6 grams)
1 teaspoon Guar Gum (2 grams)
2 eggs
1 tablespoon gluten-free baking powder
1 teaspoon baking soda
3 teaspoons pumpkin spice
1–1/2 sticks (3/4 cup) unsalted plant-based butter or Ghee, softened
2 cups date paste*
1 (15-ounce) can 100% pure pumpkin (I use Libby's)
1 cup raisins
Streusel Topping:
½ cup dough mix (set aside)
½ cup plant-based butter or Ghee, melted
½ cup date paste*
1 cup chopped toasted pecan pieces
1/4 teaspoon cinnamon
---
Instructions
Preheat the oven to 

350 °F

. 

To make muffins in the bowl of a mixer combine almond flour, tapioca flour, sea salt, guar gum.  Mix together.  Remove a ½ cup of mixture and set aside to use in the streusel.  Add to the mixing bowl the eggs, baking powder, baking soda, pumpkin spice, butter, date paste, and pumpkin.  Mix together.  Fold in raisins.  Set aside. 

Spray a standard muffin pan with non-stick cooking spray. Set aside.

To make the streusel, in another bowl combine the ½ cup of muffin mixture, butter, date paste, chopped pecans and cinnamon. The mixture will be quite wet. Set aside.
Using a tablespoon, transfer the muffin batter to the prepared muffin pan, filling each cup completely full. Using your fingers, divide the streusel evenly over the batter. If you are using a 12 cup muffin tin, you'll have about 2 to 3 muffins to make for a second baking.  Bake for 35 to 40 minutes, or until a cake tester or toothpick comes out clean.

  Let the muffins cool in the pan for 10 minutes, then turn out onto a rack to cool completely.
Notes
Freezer-Friendly Instructions:

 The muffins can be frozen in an airtight container or sealable plastic bag for up to 3 months. Thaw for 3 – 4 hours on the countertop before serving.  To reheat, wrap individual muffins in aluminum foil and place in a preheated 

350°F

oven until warm.
The recipe baking temperature and time is an estimate.  Follow your own oven's temperature and cooking time. It takes a gas oven 10-15 minutes to reach the desired temperature. Electric ovens can take 10 minutes longer than that.  The age of your oven will also determine the temperature, time for roasting or baking, and where you want to place your dish in the oven.  The bottom of your oven may be hotter than the top, depending on its condition.  This also includes where to set your dish under the broiler.  So use your own best judgment based on the type, condition, and age of your oven.  Prep times will also vary depending on how slow or quickly you like to work.
Prep Time:

30

Cook Time:

40

Category:

HEALTHY

Method:

BAKING

Cuisine:

BREAKFAST, BRUNCH, DESSERT
Keywords: paleo, paleo muffins, paleo muffins recipe, paleo recipes, paleo dinner, Whole30,#Whole30r recipes, whole30dinner, gluten free, gluten free recipes, gluten free dinner, gluten free recipes for dinner, anti-inflammatory diet, anti-inflammatory recipes, grain free, grain free diet, grain free recipes, grain free dinner, paleo and wine, gluten free and wine, dairy free diet, dairy free recipes, dairy free dinner,
FREE e-cookbook called OODLES OF LOW CARB NOODLES
Join our family to get your FREE e-cookbook OODKES OF LOW CARB NOODLES + new recipes in your inbox.
Latest posts by Shari MAC
(see all)