KETO "HONEY" (HEART HEALTHY)
Keto Honey is prepare with the flavor of honey but without the sugar!  In this recipe we use bee pollen.
Bee pollen is available in most health food stores.  It comes as little granules that are water-soluble.  The pollen is low in sugar.  One tablespoon of pollen has 7 grams of natural sugar.  One cup of Keto honey (240 grams) requires 2 tablespoons of pollen, 14 grams of sugar.  Therefore, one tablespoon of Keto "honey" possesses about .05 grams of sugar.
Use Keto "honey" as you would classic honey, such as:
·      to sweeten dressings or marinades
·      in coffee, tea, iced-tea, iced-coffee
·      on toast, waffles or pancakes
·      in coconut or dairy yogurt
·      to sweeten baked goods and desserts
·      as a glaze on compliant ham, ribs, chicken or fish
WHAT ARE THE NUTRITIONAL BENEFITS OF KETO HONEY?
This Keto Honey has nutritional benefits and health benefits.  If you are allergic to bees or pregnant refrain from eating or preparing goods using bee pollen.  However, for everyone else bee pollen is beneficial. Bee pollen is often referred to as nature's super food due to its impressive nutritional content. It is a mixture of plant pollen, nectar, enzymes, honey, wax and bee secretions. Bee pollen is rich in protein, vitamins, minerals, enzymes, and antioxidants. It is an excellent source of B vitamins, including riboflavin, niacin, thiamine, and folic acid. It also contains vitamins A, C, and E, as well as minerals such as calcium, iron, zinc, and selenium.
Moreover, bee pollen contains flavonoids, carotenoids, and phenolic acids, which are powerful antioxidants that help protect the body against free radicals and oxidative stress. It has been shown to have anti-inflammatory and immune-boosting properties, and may also aid in digestion, improve skin health, and increase energy levels.
It's important to note that bee pollen can cause allergic reactions in some individuals, particularly those with pollen allergies or asthma. If you are considering taking bee pollen as a supplement, it's best to start with a small amount and monitor any potential reactions.
Overall, bee pollen is a highly nutritious food that can provide many health benefits when consumed in moderation.  Some of these health benefits include: 
·      Stimulating our metabolism
·      Increasing our sex drive
·      Relieving our body of inflammation
·      Providing antioxidants
·      Boosting our liver health
·      Strengthening our immune system
·      Working as a dietary supplement
·      Easing menopausal symptoms
·      Reducing stress
·      Speeding the healing process
WHAT IS THE TASTE PROFILE OF KETO HONEY? 
The predominant taste profile of Keto Honey is that of real honey, deriving from bee pollen.  The texture of this Keto "honey" is creaminess and silkiness.  It is not thick and sticky like real honey but can be used as a replacement in recipes.
WHAT WINE HARMONIZES WITH KETO HONEY?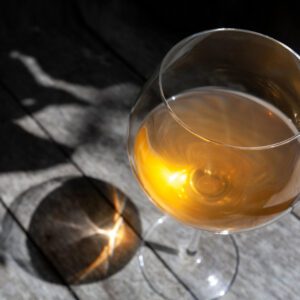 Keto Honey can be used as a flavoring agent in a variety of dishes.  So to pair a wine with this condiment, you need to consider all the flavors in the dish.  If the predominant taste sensation is sweetness, you will need a sweet wine. In following a Keto diet or in living a low-carb lifestyle, we don't want to use up carbs on a glass of wine, especially when we can enjoy zero carb wine!  So you have a couple of options. 
Drink whatever you like and don't worry about pairing the wine to the dish.  Enjoy your wine the way you like it. 
If you like to create harmony between the wine and the food, you'll need some sweetness in the wine to match the sweetness in the dish.  Add a pinch of stevia or monk fruit sweetener to your glass of wine.  Choose a white like Riesling or Gewurztraminer or a pink rose. These varieties taste great when bone dry or sweet.  So they taste great with the added sweetener.  The wine's sweetness will nicely harmonize with the honey.
*Wine Tips: To support your Keto diet or low-carb lifestyle, choose low-carb, low-sugar, and low-alcohol wines that are free of additives and artificial coloring.  Include your wine carb macros as part of your meal.  Remember, your liver will process alcohol before nutrients, pausing ketone creation and slowing the ketosis process. Your body will also metabolize alcohol as fuel before using food. This can slow fat burning and may cause your body to store carbs, fat, and protein as excess body fat.  Alcohol consumption also stimulates the appetite.  So, drink low-sugar, low-carb, and low alcohol wines in moderation.
WHAT OTHER KETO LOW-CARB CONDIMENT RECIPES CAN I ENJOY?
Keto Low-Carb Caesar Dressing (Heart Healthy)
Keto Low-Carb Ranch Buttermilk Dressing (Heart Healthy)
Keto Low-Carb Roast Beef Spice Rub (Heart Healthy)
Keto Low-Carb Beef Bone Broth (Heart Heathy)
WHAT IS SHARI MAC'S PRODUCT RECOMMENDATION FOR YOUR KETO LOW-CARB DIET?
I wanted to share with you the BEST thing you can do for yourself to support your Keto Low-Carb diet.  Invest in a Vitamix Blender!  I stand behind this product 100%.  This Vitamix is a long-term investment worth every dollar! I use this Vitamix for almost daily all of my Keto diet needs – smoothies, ice cream blends, hot soups (made right in the Vitamix), sauces, and more!  Every other blender I purchased before my Vitamix failed within a couple of years.  This blender is a work horse. My best-friend has had her Vitamix for over 20 years with NO issues!  I just got my Vitamix this past year and LOVE IT!
HOW DO YOU PREPARE KETO LOW-CARB HONEY?
Print
KETO HONEY
---
Description
This Keto Honey tastes exactly like the real deal without the sugar! The recipe uses bee pollen, water, monk fruit sweetener and xanthan gum. Check out this recipe!
---
2 tablespoons bee pollen plus 2 tablespoons water
1/2 cup water
1/2 cup Monk Fruit sweetener, or choose an amount according to your own taste
1/8th teaspoon xanthan gum (optional)
---
Instructions
In a small bowl add bee pollen and 2 tablespoon water.  Let sit for about 10 minutes to dissolve bee pollen.
Meanwhile, make the simple syrup.  In a pot add water and  Monk Fruit sweetener.  Bring mixture to a boil.  Reduce heat to simmer and stir constantly, dissolving sweetener.  Keep stirring constantly.  If you want the "honey" to be thicker, sprinkle xanthan gum or guar gum over the syrup, stirring constantly.  Don't worry if it clumps a little, as the clumping will disappear in the blending.  Remove simple syrup from the heat.  Let cool to room temperature.  In a blender or Magic Bullet add cooled simple syrup and dissolved bee pollen.  Blend until smooth.  Transfer to sterilized jars and refrigerate. 
Notes
Use whatever sweetener and thickener you prefer.  And add thickener according to the texture you like.  If you don't add the thickener the honey will be liquid form, like a thicker water.  Or you can add thickener to make it more like a syrup.
The recipe is based on the keto version and is approximate only.  One serving has 0 grams of net carbs.
(Note: The nutritional information provided is a courtesy and is approximate only.  We cannot guarantee the nutritional accuracy of any recipe on this site.  We cannot now what brands you use or how accurately you follow the recipe or what you like to add creatively to the dish. Use the information as a general guideline only.  Net carbs are the total carbs minus the fibre.)
Prep Time:

20

Category:

KETO LOW-CARB

Method:

SIMMERING

Cuisine:

BREAKFAST, LUNCH, BRUNCH, DINNER
Nutrition
Serving Size:

1 tablespoon

Calories:

2

Sugar:

0

Sodium:

61

Fat:

0

Saturated Fat:

0

Unsaturated Fat:

0

Carbohydrates:

1.9

Fiber:

1.8

Protein:

0.2

Cholesterol:

0
Keywords: keto, keto honey, keto honey recipe, keto-recipes, ketogenic-diet, ketogenic-recipes, low-carb, low-carb-recipes, lazy-keto, sugar-free, sugar-free-recipes, keto-and-wine, paleo, paleo-diet, paleo-recipes, lazy-paleo, , paleo-and-wine, primal-diet, primal-diet-recipes, caveman-diet, caveman-diet-recipes, gluten-free, gluten-free-recipes, gluten-free-with-wine, grain-free, grain-free-diet, grain-free-recipes, grain-free-recipes-with-wine, anti-inflammatory-diet, anti-inflammatory-recipes, dairy-free-diet, dairy-free-recipes, dairy-free-recipes-with-wine,
FREE e-cookbook called OODLES OF LOW CARB NOODLES
Join our family to get your FREE e-cookbook OODKES OF LOW CARB NOODLES + new recipes in your inbox.
Latest posts by Shari MAC
(see all)