KETO LOW-CARB SALMON AND BRUSSELS SPROUTS (HEART HEALTHY)
As an Amazon Associate I earn from qualifying purchases.
I love this dish.  It's actually Keto Low-Carb Salmon & Brussels Sprouts. Before I decided to focus on my Keto Low-Carb path, I wrote about wine and food and the partnership between them for 30 years.  I often shared about the exquisite partnerships that could be created by keeping things simple.   Sometimes the simplest ingredient combinations can be delicious.  (When you add a glass of harmonizing wine…well that's another story, more heavenly, and only for those maintaining a low-carb lifestyle.)
Last night I decided to keep things super simple and added nothing more than a drizzle of olive oil, heavy garlic, Brussels sprouts, salt, and pepper to my salmon dish.   What a wonderful combination of simple flavors.  I thinly sliced the Brussels sprouts because I'm not a huge fan of this vegetable.  But I eat it anyway, aware of its nutritional value and fiber.  I'm not a huge fan of cabbage either! By slicing the BS thinly, it added some lighter flavour and crunchy texture to the creamy salmon.  A lovely contrast of textures.
WHAT IS THE NUTRITIONAL VALUE OF KETO LOW-CARB SALMON AND BRUSSELS SPROUTS?
In this Keto Low-Carb Salmon and Brussels Sprouts, the sprouts play a significan role.  Brussels sprouts are high in fiber and low in fat and so are a great vegetable to incorporate into your diet, especially if you're interested in losing weight.  This leafy vegetable is high in vitamin C and other cancer-fighting nutrients.  Some experts say it is a super food.
Two meals per week of fatty fish, such as salmon, can reduce your risk of fatal heart disease by 40%. A 3-ounce serving of salmon provides 1.9 grams of Omega-3 fatty acids.   Salmon is one of the best sources of the long-chain omega-3 fatty acids EPA and DHA.  It's also a great source of protein (3.5 ounces = 22 to 25 grams), vitamin B, potassium, and selenium.  Salmon contains the antioxidants that help to reduce high blood pressure, improve heart health, help to prevent diabetes, and aid in decreasing the risk of brain damage due to a stroke. 
WHAT IS THE TASTE PROFILE OF KETO LOW-CARB SALMON AND BRUSSELS SPROUTS?
The predominant taste sensation of this Keto Low-Carb Salmon and Brussels Sprouts is fattiness from the salmon, and pleasant bitterness from the heavy garlic. 
WHAT WINE HARMONIZES WITH KETO LOW-CARB SALMON AND BRUSSELS SPROUTS?
With the predominant taste sensation of Keto Low-Carb Salmon and Brussels Sprouts being fattiness from this oily fish, this dish demands a white wine with loads of viscosity to match. Viscosity is thickness.   Hunt for a buttery Chardonnay or Viognier.   The wine's creaminess will harmonize with the oily texture of salmon.
*Wine Tips: To support your Keto diet or low-carb lifestyle, choose low-carb, low-sugar, and low-alcohol wines that are free of additives and artificial coloring.  Include your wine carb macros as part of your meal.  Remember, your liver will process alcohol before nutrients, pausing ketone creation and slowing the ketosis process. Your body will also metabolize alcohol as fuel before using food. This can slow fat burning and may cause your body to store carbs, fat, and protein as excess body fat.  Alcohol consumption also stimulates the appetite.  So, drink low-sugar, low-carb, and low alcohol wines in moderation.
WHAT KETO LOW-CARB RECIPES CAN I ENJOY?
Keto Low-Carb Turkey Burgers (Heart Healthy)
Keto Low-Carb Bakes Feta (Heart Healthy)
Keto Low-Carb Protein Waffles (Heart Healthy)
Keto Low-Carb Maple Lemon Salmon (Heart Healthy)
Keto Low-Carb Zoodle Caprese Salad
WHAT IS SHARI MAC'S PRODUCT RECOMMENDATION FOR YOUR KETO LOW-CARB DIET?
I'm a huge fan of the Ninja products. In the past, I've gone through a counter-top convection oven every couple of years. This Ninja 1800-watt oven is a work horse! It is a must for me to support my Keto diet. Since buying this Ninja I have not turned on my oven in months! Amazing in the summer! No heat in the kitchen from the traditional oven. I use the air-fryer for all our proteins every day. All my air-fried favorites have less bad saturated fat and therefore fewer calories. I cut chicken breasts in half, horizontally, and air-fry them for 20 minutes. You can set the temperature and timer for all sorts of foods and walk away from the kitchen. The machine will shut off automatically at the right time. My proteins are crispy on the outside and super juicy
WHAT ARE 9 SUPER FOODS? AND DOES THIS INCLUDE BRUSSELS SPROUTS?
HOW IS KETO LOW-CARB SALMON AND BRUSSELS SPROUTS PREPARED?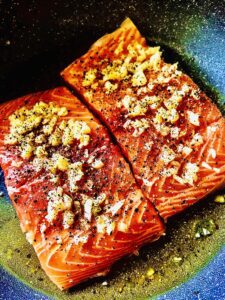 Print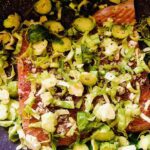 KETO LOW-CARB SALMON AND BRUSSEL SPROUTS
---
Description
Keto Low-Carb Salmon and Brussel Sprouts is a tasty way to get both your protein and a veggie. The recipe uses salmon, garlic, Brussel sprouts, and black pepper.  If you are hunting for a filling and satisfying Keto Low-Carb protein/veggie combo paired with wine, check out this recipe!
---
4 cloves garlic, finely chopped
4 wild Atlantic or Pacific salmon fillets (6 to 8 oz/1-inch thick)
1 tablespoon olive oil (to coat salmon)
1 tablespoon olive oil (for Brussel sprouts)
8 Brussel sprouts, thinly sliced
Freshly ground black pepper to taste
---
Instructions
Preheat oven to 350F.  Meanwhile, chop garlic cloves. Spray an ovenproof skillet with avocado non-stick cooking spray. Lay salmon fillets in skillet, skin side down. Drizzle olive oil on fillets. Add garlic. Season with pepper.  Set sliced Brussels sprouts in a bowl. Drizzle Brussels sprouts with olive oil.  Season with pepper.  Toss well.  Sprinkle salmon with Brussels sprouts.  Bake for 10 to 12 minutes, or until salmon is desired doneness.  Serve hot.
Notes
The nutritional value of this recipe is based on the Keto version and is approximate.  One serving has 3 grams of net carbs (based on a recipe for 4 and one salmon filet per person). 
(Note: The nutritional information provided is a courtesy and is approximate only.  We cannot guarantee the nutritional accuracy of any recipe on this site.  We cannot know what brands you use or how accurately you follow the recipe or what you like to add creatively to the dish. Use the information as a general guideline only.) 

The recipe baking temperature and time is an estimate.  Follow your own oven's temperature and cooking time. It takes a gas oven 10-15 minutes to reach the desired temperature. Electric ovens can take 10 minutes longer than that.  The age of your oven will also determine the temperature, time for roasting or baking, and where you want to place your dish in the oven.  The bottom of your oven may be hotter than the top, depending on its condition.  This also includes where to set your dish under the broiler.  So use your own best judgment based on the type, condition, and age of your oven.  Prep times will also vary depending on how slow or quickly you like to work.
Prep Time:

10

Cook Time:

12

Category:

KETO LOW-CARB

Method:

BAKING

Cuisine:

DINNER
Nutrition
Serving Size:

1

Calories:

319

Sugar:

0.9

Sodium:

85

Fat:

17.6

Saturated Fat:

2.7

Unsaturated Fat:

NA

Trans Fat:

NA

Carbohydrates:

4.5

Fiber:

1.5

Protein:

35.2

Cholesterol:

94
Keywords: keto, keto salmon, keto salmon recipe, keto baked salmon recipe, keto-recipes, ketogenic-diet, ketogenic-recipes, low-carb, low-carb-recipes, lazy-keto, sugar-free, sugar-free-recipes, keto-and-wine, paleo, paleo-diet, paleo-recipes, lazy-paleo, , paleo-and-wine, primal-diet, primal-diet-recipes, caveman-diet, caveman-diet-recipes, gluten-free, gluten-free-recipes, gluten-free-with-wine, grain-free, grain-free-diet, grain-free-recipes, grain-free-recipes-with-wine, anti-inflammatory-diet, anti-inflammatory-recipes, dairy-free-diet, dairy-free-recipes, dairy-free-recipes-with-wine,
FREE e-cookbook called OODLES OF LOW CARB NOODLES
Join our family to get your FREE e-cookbook OODKES OF LOW CARB NOODLES + new recipes in your inbox.
Latest posts by Shari MAC
(see all)