KETO LOW-CARB LEMON MAPLE SALMON (HEART HEALTHY)
Keto Low-Carb Lemon Maple Salmon is a super simple way to enjoy this fatty fish. I decided to make this dish using sugar-free maple syrup. This tasty syrup can add amazing complexity and dimension to Keto Low-Carb hors d'oeuvres, dressings, soups, entrées, and, of course, dessert.  Just a few of the many classic partnerships include maple and bacon, maple and chipotle, maple and sage, maple carrot, maple apple, maple cranberry, and maple syrup and lemon, to name but a few.
W

HAT IS THE NUTRITIONAL VALUE OF KETO LOW-CARB LEMON MAPLE SALMON

?
Keto Low-Carb Lemon Maple Salmon has some health benefits.  I've written a lot about the health benefits of salmon.  So I thought I would take the opportunity to talk about maple syrup.  Despite its sweetness, maple syrup is now considered a new super food, according to many new scientific studies.
According to an article on Diabetes Health, "Researchers from the University of Rhode Island have discovered that the syrup produced in the northeastern United States and Canada–contains numerous compounds with real health benefits. In our laboratory research, we found that several of these compounds possess anti-oxidant and anti-inflammatory properties, which have been shown to fight cancer, diabetes, and bacterial illnesses," said Navindra Seeram, an assistant professor of pharmacognosy (the study of medicines derived from natural sources) at the university and the study's lead author. Substances called polyphenols contained in the syrup might help control blood sugar levels, Seeram said. But that's not all. More than 50 beneficial compounds were found in maple syrup by researchers. Five of those compounds hadn't even been seen in nature before."
In a Toronto Star article dated March 12, 2013, Navindra Seeram explained that "the newly-discovered compounds found in maple syrup are types of lignans, also found in flaxseed and whole wheat, a stilbene.."  Stilbene is in the same chemical class as resveratrol and flavonoids, considered anti-inflammatory, anti-cancer preventatives and antioxidant properties.  Like wine. So is maple syrup as healthy and as good for us as red wine?  Some scientists believe that tapping causes the blood of the tree to secrete phenolics as a defense mechanism when wounded.
WHAT IS THE RECIPE TASTE PROFILE OF KETO LOW-CARB LEMON MAPLE SALMON?
The predominant taste sensations of Keto Low-Carb Lemon Maple Salmon are fattiness (from the salmon itself), tanginess from the lemon juice and sweetness from the sugar-free maple syrup.
WHAT WINE HARMONIZES WITH KETO LOW-CARB LEMON MAPLE SALMON?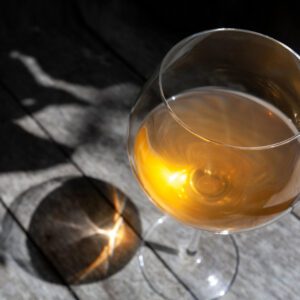 Wine harmonizes with Keto Low-Carb Lemon Maple Salmon.  When it comes to sugar-free maple syrup or authentic maple syrup, sweetness is the predominant taste sensation and always prevails. This taste sensation must be considered first in the food and wine partnership. In following a Keto diet or in living a low-carb lifestyle, we don't want to use up your carbs on a glass of wine.  Why add the extra carbs to your meal when you can find zero carb wines!  You have a couple of options:
Drink whatever wine you like (as long as it's bone dry) and don't worry about pairing the wine to dish. Enjoy your wine the way you like it.
If you like to create harmony between the wine and the food, you'll need some sweetness in the wine to match the sweetness in the dish.  Add a pinch of stevia or monk fruit sweetener to your glass of wine.  Choose a white like Riesling or Gewurztraminer or a pink rose. These varieties taste great when bone dry or sweet.  So they taste great with the added sweetener.  The wine's sweetness will nicely harmonize with the Maple sweetness.
Rather than using sugar-free maple syrup, use maple extract.  Add about a half teaspoon to the lemon juice.  This will add the maple flavor without the sweetness.  And in this case you can pair this dish with a light, fruity wine with good acidity.  The wine's acidity will harmonize with the tanginess of lemon.  Think Sauvignon Blanc, Pinot Gris, dry Riesling, Vinho Verde.
*Wine Tips: To support your Keto diet or low-carb lifestyle, choose low-carb, low-sugar, and low-alcohol wines that are free of additives and artificial coloring.  Include your wine carb macros as part of your meal.  Remember, your liver will process alcohol before nutrients, pausing ketone creation and slowing the ketosis process. Your body will also metabolize alcohol as fuel before using food. This can slow fat burning and may cause your body to store carbs, fat, and protein as excess body fat.  Alcohol consumption also stimulates the appetite.  So, drink low-sugar, low-carb, and low alcohol wines in moderation.
WHAT OTHER KETO LOW-CARB RECIPES CAN I ENJOY?
Keto Low-Carb Zucchini Tapas (Heart Healthy)
Keto Low-Carb Cold Pasta Salad (Heart Healthy)
Keto Low-Carb Smoked Salmon Rolls (Heart Healthy)
Keto Low-Carb Pulled Pork (Heart Healthy)
Keto Low-Carb Mayonnaise (Heart Healthy)
WHAT IS SHARI MAC'S PRODUCT RECOMMENDATION FOR YOUR KETO LOW-CARB DIET?
I wanted to share with you the BEST thing you can do for yourself to support your Keto Low-Carb diet.  Invest in a Vitamix Blender!  I stand behind this product 100%.  This Vitamix is a long-term investment worth every dollar! I use this Vitamix for almost daily all of my Keto diet needs – smoothies, ice cream blends, hot soups (made right in the Vitamix), sauces, and more!  Every other blender I purchased before my Vitamix failed within a couple of years.  This blender is a work horse. My best-friend has had her Vitamix for over 20 years with NO issues!  I just got my Vitamix this past year and LOVE IT!
WHAT ARE THE HEALTH BENEFITS OF SALMON?
Salmon is considered to be one of the healthiest foods on the planet. It is a rich source of high-quality protein, omega-3 fatty acids, and essential vitamins and minerals.
One of the primary health benefits of salmon is its ability to improve heart health. The omega-3 fatty acids in salmon have been shown to reduce inflammation, lower blood pressure, and decrease the risk of heart disease. Additionally, the protein found in salmon can help to lower cholesterol levels and improve overall cardiovascular health.
Salmon is also an excellent source of vitamin D, which is essential for bone health and immune function. Eating salmon regularly can help to prevent vitamin D deficiency, which is common in many people, especially those who live in areas with limited sunlight.
Other health benefits of salmon include its ability to improve brain function and reduce the risk of depression, as well as its anti-inflammatory properties that can help to alleviate joint pain and other inflammatory conditions.
Overall, incorporating salmon into your diet can provide a wide range of health benefits and help to improve your overall well-being.
HOW DO YOU PREPARE KETO LOW-CARB LEMON MAPLE SALMON?
Print
KETO LOW-CARB LEMON MAPLE SALMON (HEART HEALTHY)
---
Author:

Shari MAC

Total Time:

20

Yield:

2

1

x

Diet:

Gluten Free
Description
Keto Low-Carb Lemon Maple Salmon gives you all that nutrition and flavor. Serve for lunch, brunch, or dinner. The recipe uses salmon, sugar-free maple syrup, fresh lemon juice, lemon rind, garlic, and black pepper.
---
2 salmon fillets (8 ounces each)
Sugar-free maple syrup*
1/2 cup freshly squeezed lemon juice
Lemon rind from 1 lemon
1 bulb of garlic (about 10 cloves), finely chopped
Freshly ground black pepper to taste
---
Instructions
Preheat oven to 350 F.  Place salmon in a greased baking pan.   Set aside.  In a small bowl mix together maple syrup and lemon juice.  Spoon mixture over fillets.  Sprinkle garlic over fish.  Season with pepper.  Bake for about 10 to 12 minutes until cooked to desired doneness.  Set under the broiler if you want the garlic golden.  Serve hot.
Notes
The recipe is based on the keto version and is approximate only.  One serving has 7.2 grams of net carbs.
(Note: The nutritional information provided is a courtesy and is approximate only.  We cannot guarantee the nutritional accuracy of any recipe on this site.  We cannot now what brands you use or how accurately you follow the recipe or what you like to add creatively to the dish. Use the information as a general guideline only.  Net carbs are the total carbs minus the fiber.)
Prep Time:

10

Cook Time:

10

Category:

KETO LOW-CARB

Method:

BAKING

Cuisine:

DINNER
Nutrition
Serving Size:

1

Calories:

277

Sugar:

1,5

Sodium:

94

Fat:

11,6

Saturated Fat:

2,.1

Unsaturated Fat:

NA

Trans Fat:

NA

Carbohydrates:

7.3

Fiber:

0

Protein:

36.2

Cholesterol:

78
Keywords: keto salmon, keto salmon-lemon-maple, salmon, baked salmon, keto, keto-recipes, ketogenic-diet, ketogenic-recipes, low-carb, low-carb-recipes, lazy-keto, sugar-free, sugar-free-recipes, keto-and-wine, paleo, paleo-diet, paleo-recipes, lazy-paleo, , paleo-and-wine, primal-diet, primal-diet-recipes, caveman-diet, caveman-diet-recipes, gluten-free, gluten-free-recipes, gluten-free-with-wine, grain-free, grain-free-diet, grain-free-recipes, grain-free-recipes-with-wine, anti-inflammatory-diet, anti-inflammatory-recipes, dairy-free-diet, dairy-free-recipes, dairy-free-recipes-with-wine,
FREE e-cookbook called OODLES OF LOW CARB NOODLES
Join our family to get your FREE e-cookbook OODKES OF LOW CARB NOODLES + new recipes in your inbox.
Latest posts by Shari MAC
(see all)