KETO LOW-CARB MOUSSELINE SAUCE
As an Amazon Associate I earn from qualifying purchases.
Keto Low-Carb Mousseline Sauce is my rendition of one of the 5 French mother sauces.   In the 19th century, Marie-Antoine Carême anointed Béchamel, Velouté, Espagnole, and tomato sauce as the building blocks for all other sauces in his work L'Art de la Cuisine Francaise au Dix-NeuviemeSiecle. (French chef Marie Antoine Carême was one of the first to celebrate the high art of French cooking revered by royalty and the nouveau riche of Paris.)
WHAT ARE THE 5 FRENCH MOTHER SAUCES?
The 5 French mother sauces are a set of fundamental sauces that form the basis of many other sauces. They are:
Béchamel Sauce: A creamy white sauce made with milk, butter, flour, and nutmeg. It is commonly used in dishes such as macaroni and cheese and lasagna.
Velouté Sauce: A light sauce made with chicken, fish, or veal stock and a blond roux. It can be served on its own or used as a base for other sauces.
Espagnole Sauce: A rich brown sauce made with browned beef or veal bones, mirepoix (a combination of diced carrots, onions, and celery), and tomato paste. It is often used in beef dishes.
Hollandaise Sauce: An emulsified sauce made with egg yolks, butter, lemon juice, and white wine vinegar. It is commonly served with eggs Benedict or asparagus.
Tomato Sauce: A classic sauce made with tomatoes, onions, garlic, and olive oil. It is used in many Italian dishes such as pasta and pizza.
These sauces can be used as a base for many other sauces by adding additional ingredients and flavors to create new and delicious combinations.
WHAT IS MOUSELLINE SAUCE?
Mousseline sauce is a classic French sauce, also known as hollandaise mousseline. It is a lighter version of the hollandaise sauce, which is a warm emulsion of egg yolks, butter, lemon juice and often a pinch of cayenne pepper. The mousseline sauce is made by folding in whipped cream to the hollandaise sauce, giving it a light and airy texture. The whipped cream is added to the hollandaise sauce once it has been prepared and cooled slightly. This sauce is often served with fish, seafood, or vegetables, and it can be a delicious and elegant addition to any dish. The lightness of the sauce makes it a perfect complement to delicate flavors and textures. Salmon Mousseline is a dish that comes right from the Titanic's menu. 
MOUSELLINE DERIVATIVES:
Shawn and I love this Keto Low-Carb Mousseline Sauce. I do my variation by adding more Dijon and horseradish to serve with BBQ grass-fed steak. Other variations include:
Avocado (vegetables)
Dill Mousseline (salmon and seafood)
Rosemary and sea salt (Chicken, Fish, Lamb, Pork, Potatoes, Stews)
Rosemary and garlic (beef)
Ranch (chicken, duck)
Turmeric, cayenne, lemon (chicken, fish, seafood)
White wine, garlic, garlic (chicken)
WHAT IS THE NUTRITIONAL VALUE OF KETO LOW-CARB MOUSSELINE SAUCE?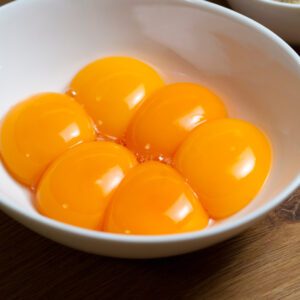 Like hollandaise sauce, Keto Low-Carb Mousseline Sauce is made from the most nutritious part of the egg – the yolks!  If you can afford it, go for pasture-raised eggs. Pasture-raised egg yolks are known to be a great source of nutrition and are higher in certain nutrients compared to conventional eggs. They are rich in vitamins A, D, E, and K2, as well as omega-3 fatty acids, which are essential for brain function and heart health. In fact, pasture-raised egg yolks contain up to six times more vitamin D than conventional eggs. Vitamin D helps regulate calcium and phosphorus levels in the body, which are important for bone health. Additionally, pasture-raised egg yolks are rich in choline, which is important for brain and nervous system function, and also helps reduce inflammation. Overall, pasture-raised egg yolks are a great source of essential nutrients and can be a healthy addition to your diet.
WHAT IS THE TASTE PROFILE OF KETO LOW-CARB MOUSSELINE SAUCE?
Like hollandaise, Keto Low-Carb Mousseline Sauce is a rich, fatty white cream sauce. Decadent is the best way to describe it.
WHAT WINE HARMONIZES WITH KETO LOW-CARB MOUSSELINE SAUCE?
This fatty and rich Keto Low-Carb Mousseline Sauce can partner with both white and red wines, depending on the entirety of the dish. Poached salmon, seafood, or even vegetables like asparagus with mousseline work nicely with a buttery white wine, such as Chardonnay.  However, if you're serving this sauce with beef, choose a rich red. The fattiness in the sauce will also complement a red wine with weight. Think Cabernet Sauvignon or Cabernet Franc.
*Wine Tips: To support your Keto diet or low-carb lifestyle, choose low-carb, low-sugar, and low-alcohol wines that are free of additives and artificial coloring.  Include your wine carb macros as part of your meal.  Remember, your liver will process alcohol before nutrients, pausing ketone creation and slowing the ketosis process. Your body will also metabolize alcohol as fuel before using food. This can slow fat burning and may cause your body to store carbs, fat, and protein as excess body fat.  Alcohol consumption also stimulates the appetite.  So, drink low-sugar, low-carb, and low alcohol wines in moderation.
WHAT OTHER KETO LOW-CARB CONDIMENT RECIPES CAN YOU ENJOY?
Keto Low-Carb Caesar Dressing (Heart Healthy)
Keto Low-Carb Ranch Buttermilk Dressing (Heart Healthy)
Keto Low-Carb Roast Beef Spice Rub (Heart Healthy)
Keto Low-Carb Beef Bone Broth (Heart Heathy)
WHAT IS SHARI MAC'S PRODUCT RECOMMENDATION FOR YOUR KETO LOW-CARB DIET?
I wanted to share with you the BEST thing you can do for yourself to support your Keto Low-Carb diet.  Invest in a Vitamix Blender!  I stand behind this product 100%.  This Vitamix is a long-term investment worth every dollar! I use this Vitamix for almost daily all of my Keto diet needs – smoothies, ice cream blends, hot soups (made right in the Vitamix), sauces, and more!  Every other blender I purchased before my Vitamix failed within a couple of years.  This blender is a work horse. My best-friend has had her Vitamix for over 20 years with NO issues!  I just got my Vitamix this past year and LOVE IT!
HOW DO YOU PREPARE KETO LOW-CARB MOUSSELINE SAUCE?
Print
KETO LOW-CARB MOUSSELINE SAUCE
---
Description
You can serve this Keto Low-Carb Mousseline sauce over steak, chicken, or fish.  It adds a creamy rich flavour.  You can enjoy this classic French sauce on foods during any season of the year.   The recipe includes egg yolks, lemon juice, Dijon mustard, butter, cayenne and salt.  Delicious.  Gourmet.  Check out this recipe!
---
4 egg yolks (room temperature)
1 tablespoon freshly squeezed lemon juice
1 teaspoon Dijon mustard
1/2 cup unsalted grass-fed butter
1/2 cup whipping cream
Pinch cayenne
Pinch salt (optional)
---
Instructions
Place a wet cloth on the counter to keep your mason jar from slipping.  Pour hot water into a mason jar to warm it up.  Discard the water.  Add the egg yolks, lemon juice, and Dijon mustard to the mason jar.  Using a hand-held emersion blender, blend the yolks, increasing its volume.  Heat the butter in the microwave.  Slowly add the butter to the mason jar, about 1 tablespoon at a time, all the while blending with the emersion blender.  Keep blending slowly adding all the butter.  Add whipping cream and continue to blend until fluffy.  Set the jar in a bowl of warm water to keep it warm until ready to use.  
Notes
The recipe is based on the keto version and is approximate only.  One serving has 4.2 grams of net carbs.
(Note: The nutritional information provided is a courtesy and is approximate only.  We cannot guarantee the nutritional accuracy of any recipe on this site.  We cannot know what brands you use or how accurately you follow the recipe or what you like to add creatively to the dish. Use the information as a general guideline only.) 
Prep Time:

10

Category:

KETO LOW-CARB

Method:

MIXING

Cuisine:

BREAKFAST, LUNCH, BRUNCH, DINNER
Nutrition
Serving Size:

1 Ounce

Calories:

76

Sugar:

0

Sodium:

48

Fat:

8.1

Saturated Fat:

4.8

Carbohydrates:

0

Fiber:

0

Protein:

0

Cholesterol:

72
Keywords: keto, keto mousseline recipe, keto recipes, paleo, paleo recipes, paleo dinner, Whole30, Whole30 recipes, whole30dinner, gluten free, gluten free recipes, gluten free dinner, gluten free recipes for dinner, anti-inflammatory diet, anti-inflammatory recipes, grain free, grain free diet, grain free recipes, grain free dinner, paleo and wine, gluten free and wine, dairy free diet, dairy free recipes, dairy free dinner,
FREE e-cookbook called OODLES OF LOW CARB NOODLES
Join our family to get your FREE e-cookbook OODKES OF LOW CARB NOODLES + new recipes in your inbox.
Latest posts by Shari MAC
(see all)