KETO LOW-CARB BUTTER-BASTED STEAK (HEART HEALTHY)
As an Amazon Associate I earn from qualifying purchases.
Keto Low-Carb Butter-Basted Steak is a staple in my home.  Through legacy news and social media, we hear a great deal about the heart health benefits of eating grass-fed beef.  This recipe uses grass-fed steak.  In the USA and according to the CDC, a person dies of heart disease every 33 seconds.  In 2021, approximately 695,000 people died from heart disease. Given these statistics, I wanted to learn more about grass-fed beef.  Beef is high in saturated fat which can cause cholesterol to build up in our arteries (blood vessels). Saturated fats will also raise our LDL (bad) cholesterol. High LDL cholesterol increases our risk for heart disease and strokes.
IS GRASS-FED STEAK HEALTHIER?
Is this Keto Low-Carb Butter-Based Steak healthier because the cows were grass-fed? I wanted to know, given my heart disease genetics, if I could enjoy grass-fed beef as an alternative. I decided to do a deep dive into this subject. Is grass-fed beef worth its higher cost?  Is grass-fed beef a healthy alternative?
IN THE USA: In the United States, people use the term grass-fed beef to describe beef from cattle that ate grass and forage. In this context, the term grass-fed implies that the cattle have only been fed grass, hay, and forage during their lifetime, without grain, corn, or other supplements. Grass-fed beef is often promoted for being healthier and more nutritious than grain-fed beef. Grass-fed beef is more environmentally sustainable as it needs fewer resources to produce and helps maintain healthy soil and grassland ecosystems. However, I should note that breed, farming practices, and animal care are factors that can affect the quality and nutritional content of grass-fed beef, as not all grass-fed beef is created equal.
IN CANADA: In Canada the term grass-fed is supposed to refer to cattle fed a grass-fed diet until the end of their lives.  But this is not always the case.  It can be confusing. The reason for the confusion is that all cattle are grass-fed.  After weaning off milk, all cattle graze in the pasture and/or feed in the barn on grass, forage (grasses, legumes, and shrubs), silage (fermented cut grass crops) and/or hay in winter. But here is the difference.  Conventional cattle at age 6 months to one year are then moved from the pasture to the feedlot to be fed a grain diet (grain, soy and/or corn) for the last 150 to 180 days of their lives.  This end of life grain-fed diet increases the cattle's fat content and weight and speeds up their growth.  Conventional cattle are grain-finished.  This increases the cattle's value and speed to market.  When ready for the market, the cattle weigh about 1350 pounds. Grass-fed cattle graze in the pasture on grass, dried hay, alfalfa, and clover until the end of their lives.  No grain diet. The cattle live longer and remain leaner with less fat, weighting about 1200 pounds at the time of going to market. This is the reason why grass-fed and grass-finished beef is more expensive. Here is the confusion.  Some brands may state that their beef is grass-fed…even though it is grain-finished.  Technically, the cattle are grass-fed, but are finished on grain.  A lie by omission, in my opinion. So, as consumers we are left to do our own research on companies claiming to sell grass-fed beef.  Ask your local grass-fed cattle farmer, butcher, or supermarket meat expert about whether their grass-fed beef is finished on grass. Is grass-finished beef healthier for our hearts than conventional beef?
WHAT IS THE NUTRITIONAL VALUE OF GRASS-FED BEEF? 

 
This Keto Low-Carb Butter-Basted Steak recipe uses grass-fed beef for heart health.  There are several studies in the USA speaking to the many health benefits of grass-fed and grass-finished beef. "Many studies have found that grass fed beef has higher amounts of omega-3 fatty acids, which have important roles in heart and brain health.  Additionally, research has shown that grass fed beef contains higher amounts of very-long chain fatty acids, which are associated with decreased risk of heart disease. Grass-fed animals also had lower levels of homocysteine, triglycerides, and advanced glycation and products, all of which are associated with improved cardiovascular health, both for the animal and humans."  You will find this statement on the Understanding AG website. (Understading AG is a regenerative agricultural consulting company made up of farmers and ranchers.) Both grain and grass-finished cattle may or may not be antibiotic and hormone free. Again, be sure to research beef brands, if this matters to you. To find local grass-finished beef just google the term "grass-finished beef near me." This search should provide a list of local farmers and butchers who sell produce and/or sell grass-finished beef in your area. Gourmet grocery stores usually offer grass-finished beef. What I have learned that in general beef, due to its saturated fat, should be consumed in moderation.  Now I only eat grass-fed beef once per month.  I now enjoy one A&W lettuce-wrapped double burger. A&W beef is grass-finished and free of antibiotics and hormones.  If not a burger, I'll eat one grass-finished steak basted in grass-finished butter.
WHY DO YOU BUTTER-BASTE STEAK?
Butter basting is a cooking technique used to enhance the flavor and texture of steak. When you butter baste a steak, you melt butter in a pan and then use a spoon to pour the butter over the steak as it cooks. This method creates a flavorful crust on the surface of the steak, while also basting it with the rich buttery flavor. Butter basting also helps to keep the steak moist and tender. As the butter melts, it seeps into the meat, adding moisture and helping to prevent it from drying out. This results in a juicy steak that is bursting with flavor. So butter basting is a simple yet effective technique that can take your steak to the next level. So next time you're cooking a steak, consider trying this method to see the difference it can make!
WHY DO YOU ADD FRESH HERBS TO YOUR KETO LOW-CARB BUTTER-BASTED STEAK?
FRESH ROSEMARY: Add fresh rosemary to your pan of Keto Low-Carb Butter-Basted Steak.  Fresh rosemary is a classic herb that pairs incredibly well with steak. When added to butter, it infuses the fat with its woodsy, pine-like aroma and subtle flavor. As the butter is basted over the steak, those delicious rosemary flavors are transferred onto the meat, enhancing its flavor profile and adding depth to every bite. Also, rosemary has natural oils that can help tenderize the meat, making it even more succulent and juicy. So not only does adding fresh rosemary to butter-basted steak enhance its flavor, but it also helps to make the steak more tender and delicious.
THYME: Adding fresh thyme to Keto Low-Carb Butter-Basted Steak is a delicious and healthy way to elevate the flavor of the dish while also providing some added health benefits.
WHAT IS THE TASTE PROFILE OF KETO LOW-CARB BUTTER-BASTED STEAK?
The Keto Low-Carb Butter-Basted Steak is incredibly juicy, tender, and full of rich flavor.  The predominant taste sensation of fattiness comes from the steak and the butter.  The butter adds a luxurious richness, while the garlic and fresh rosemary infuses it with savory, aromatic notes. This dish is a decadent and flavorful way to enjoy a classic steak dinner.
WHAT WINE HARMONIZES WITH BUTTER-BASTED STEAK?
The predominant taste sensation of fattiness (richness) of Keto Low-Carb Butter-Basted Steak demands a big red wine to match.  Good choices include Tempranillo, Cabernet Sauvignon, Zinfandel, Cabernet Franc.
*Wine Tips: To support your Keto diet or low-carb lifestyle, choose low-carb, low-sugar, and low-alcohol wines that are free of additives and artificial coloring.  Include your wine carb macros as part of your meal.  Remember, your liver will process alcohol before nutrients, pausing ketone creation and slowing the ketosis process. Your body will also metabolize alcohol as fuel before using food. This can slow fat burning and may cause your body to store carbs, fat, and protein as excess body fat.  Alcohol consumption also stimulates the appetite.  So, drink low-sugar, low-carb, and low alcohol wines in moderation.
WHAT ARE OTHER KETO LOW-CARB RECIPES THAT YOU CAN ENJOY?
Keto Low-Carb Korean Short Ribs
Keto Low-Carb Coconut Coasted Drumsticks
Keto Low-Carb Tuna Cheddar Casserole
Keto Low-Carb Parmesan Crusted Chicken Wings
Keto Low-Carb Bacon-Wrapped Chorizo
WHAT IS SHARI MAC'S PRODUCT RECOMMENDATION FOR YOUR KETO LOW-CARB DIET?
OMG, the Ninja NC301 CREAMi Ice Cream Maker is the BEST appliance I've bought for myself to support my Keto diet. I stand behind this product 100%. I eat healthy high protein, sugar-free ice cream every night. I experiment with different ingredient combinations all the time. I purchased 5 additional containers so that I can make a week's worth of ice cream at one time. I've made ice cream with cottage cheese and almond milk with protein powder; tofu with almond milk and protein powder; fat-free plain yogurt with almond milk and sugar-free jello and more! The machine shaves frozen pints perfectly with its one-touch programs.. You can prepare ice cream, sorbet, gelato, milkshake, smoothie bowl, lite ice cream and more.  Prep your base, freeze overnight, process, and enjoy!
Sometimes it takes more than one spin to get your desired texture. Select the re-spin function if, after processing, you want your processed treat softer and creamier. This unit is ONLY compatible with the Ninja CREAMi NC299 and NC300 pint accessories. It will NOT fit the NC100, NC200 or NC500 Series pints.
With the Ninja Creami you can enjoy healthy treats that taste just as good as regular ice cream loaded in bad saturated fat, sugar, and preservatives.
HOW DO YOU PREPARE KETO LOW-CARB BUTTER-BASTED STEAK?
Print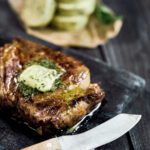 KETO LOW-CARB BUTTER-BASTED STEAK
---
Author:

Shari MAC

Total Time:

18 Mins

Yield:

4

1

x

Diet:

Gluten Free
Description
Keto Low-Carb Butter-Basted Steak offers all that protein flavour with heart benefits.  The recipe uses grass-fed steaks, grass-fed butter, Himalayan salt, freshly ground black pepper, and olive oil.
---
4 (8 oz strip loin) grass-finished (or your favorite cut)
1/2 teaspoon Himalayan salt to taste
Freshly ground black pepper to taste
2 tablespoons olive oil
1/4 cup unsalted grass-finished butter
2 sprigs rosemary
3 cloves fresh garlic, finely chopped
---
Instructions
Season your steaks with salt. Let the steaks dry marinate at room temperature for at least an hour.  When ready to pan-sear, rinse the steak under water and pat dry.  Season the steak with pepper.  Heat a wrought iron skillet over medium-high. Add the oil.  When the oil just begins to smoke, add the steaks.  Cook the steaks until a brown crust forms, about 2 minutes per side.  Continue to slip the steak until its internal temperature is just below 120 to 125 degrees (for medium rare), about 8 to 10 minutes total. Now add the butter, rosemary, and garlic to skillet.  Tilt the skillet toward you so that butter pools on one side.  Use a spoon to continually baste the steaks. When the garlic slices are golden, flip them over and continue to cook.  Continue basting the steak with the butter until it is no longer bubbling and smells wonderfully nutty.  The butter should just begin to turn brown. Remove the garlic slices and rosemary before they are too brown.  Remove them from the skillet. Transfer your steak to a cutting board and let it rest, covered with foil, for 10 minutes.  Slice steak against the grain, about one-inch thick. Spoon some of the infused brown butter over the steak.  Sprinkle with just a little salt.
Notes
The recipe is based on the Keto version and is approximate only.  One serving has 2.2 grams of net carbs which come from the fresh garlic.
(Note: The nutritional information provided is a courtesy and is approximate only.  We cannot guarantee the nutritional accuracy of any recipe on this site.  We cannot know what brands you use or how accurately you follow the recipe or what you like to add creatively to the dish. Use the information as a general guideline only.)
Prep Time:

6

Cook Time:

12

Category:

KETO LOW-CARB

Method:

FRYING

Cuisine:

DINNER
Nutrition
Serving Size:

1

Calories:

1126

Sugar:

0

Sodium:

832

Fat:

36.9

Saturated Fat:

11.7

Carbohydrates:

2.2

Fiber:

0

Protein:

234.3

Cholesterol:

546
Keywords: Keto steak, keto butter-basted steak, keto grass-fed steak, keto beef, keto, keto-recipes, ketogenic-diet, ketogenic-recipes, low-carb, low-carb-recipes, lazy-keto, sugar-free, sugar-free-recipes, keto-and-wine, paleo, paleo-diet, paleo-recipes, lazy-paleo, , paleo-and-wine, primal-diet, primal-diet-recipes, caveman-diet, caveman-diet-recipes, gluten-free, gluten-free-recipes, gluten-free-with-wine, grain-free, grain-free-diet, grain-free-recipes, grain-free-recipes-with-wine, anti-inflammatory-diet, anti-inflammatory-recipes, dairy-free-diet, dairy-free-recipes, dairy-free-recipes-with-wine,
FREE e-cookbook called OODLES OF LOW CARB NOODLES
Join our family to get your FREE e-cookbook OODKES OF LOW CARB NOODLES + new recipes in your inbox.
Latest posts by Shari MAC
(see all)