KETO LAZY TOM YUM SOUP
As an Amazon Associate I earn from qualifying purchases.
Keto Lazy Tom Yum Soup (also called Tom Yam) is one of my favorites.
While shopping the other day I noticed that many soup companies offer Tom Yum broth, found in the soup section.  The Keto Lazy Tom Yum Soup is often inexpensive, low in sodium, low in fat, low in sugar.  Campbell's offers Chicken Thai broth that also works.  Buying a prepared version is cheaper than buying all the ingredients to make Tom Yum soup unless you plan on eating it more regularly.   Just make sure the broth is KETO, meaning free of wheat/grain-based ingredients.
Keto Lazy Tom Yum Soup is a type of hot and sour soup, most often cooked with shrimp or chicken.  It possesses 3 distinctive flavors — sweet, spicy, and sour. While originally from Thailand, this soup is also made today in Chinese and Vietnamese restaurants and homes.  The words "tom yam" come from two Thai words with tom meaning boiling and yam referring to a Thai spicy and sour salad.  If you add coconut milk to the broth for a creamier version, it's called Tom Ka Gai.  I like both, depending on my mood and appetite.
WHAT IS THE TASTE PROFILE FOR KETO LAZY TOM YUM SOUP?
The flavour of this Keto Lazy Tom Yum Soup is both sour and spicy.  It is usually made with a soup base, a paste called nam prik pao, made from spicy chilies.  Nowadays, name prik pao is not used as often.  Water and herbs like lemongrass, galangal, garlic, shrimp paste, and kaffir lime leaves are added to the broth.  A form of protein like shrimp or chicken is added and sometimes with vegetables like bok choy and rice noodles.
ARE THE HEALTH BENEFITS OF LEMON GRASS?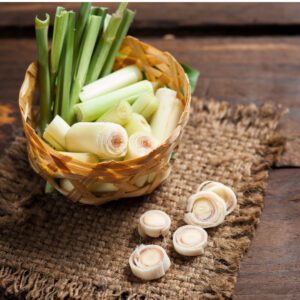 This Keto Lazy Tom Yum Soup calls for lemon grass. Is lemon grass healthy?  Lemongrass is a popular herb that is widely used in Asian cuisine. Not only is it delicious, but it also boasts a range of health benefits. One of the main benefits of lemongrass is that it contains antioxidants, which can help to neutralize free radicals in the body that can cause damage to cells and contribute to the development of diseases like cancer. Additionally, lemongrass has anti-inflammatory properties, which can help to reduce inflammation in the body and alleviate pain and discomfort.
Lemongrass is also known to have antibacterial and antifungal properties, which means it can be effective in fighting off infections. It may also help to lower cholesterol levels and regulate blood sugar levels, making it a great choice for those with diabetes or at risk of heart disease.
Furthermore, lemongrass is a natural diuretic, which means it can help to flush toxins from the body and improve kidney function. It may also help to improve digestion and relieve symptoms of bloating, constipation, and indigestion.
Overall, the multitude of health benefits that lemongrass provides makes it an excellent addition to any diet. Whether you use it in cooking or enjoy it as a tea, incorporating lemongrass into your daily routine can have a positive impact on your health and well-being.
WHAT WINE HARMONIZES WITH KETO LAZY TOM YUM SOUP?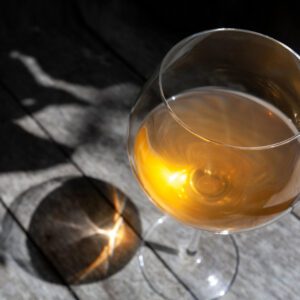 With the predominant flavors of this Keto Lazy Tom Yum Soup being tanginess and spiciness, you are best to choose a wine with a hint of sweetness.  The wine's sweetness will offset that tanginess and the heat and spice creating a bridge between the wine and food. But in following a Keto diet or in living a low-carb lifestyle, we don't want to use up carbs on a glass of wine.  Why add the extra carbs when you can find zero carb wines!  You have a couple of options:
Drink whatever wine you like (as long as it's bone dry) and don't worry about pairing the wine to dish. Enjoy your wine the way you like it. 
If you like to create harmony between the wine and the food, you'll need some sweetness in the wine to offset the heat and spice.  Add a pinch of stevia or monk fruit to your glass of white wine.  Choose a white like Riesling or Gewurztraminer or a pink rose. These varieties taste great when bone dry or sweet.  So they will take well to the added sweetener.  The wine's sweetness will nicely offset the heat and spice.
*Wine Tips: To support your Keto diet or low-carb lifestyle, choose low-carb, low-sugar, and low-alcohol wines that are free of additives and artificial coloring.  Include your wine carb macros as part of your meal.  Remember, your liver will process alcohol before nutrients, pausing ketone creation and slowing the ketosis process. Your body will also metabolize alcohol as fuel before using food. This can slow fat burning and may cause your body to store carbs, fat, and protein as excess body fat.  Alcohol consumption also stimulates the appetite.  So, drink low-sugar, low-carb, and low alcohol wines in moderation.
WHAT OTHER KETO LAZY RECIPES CAN I ENJOY?
Keto Lazy Sunflower Seed Risotto
WHAT IS SHARI MAC'S PRODUCT RECOMMENDATION FOR YOUR KETO LOW-CARB DIET?
I wanted to share with you the BEST thing you can do for yourself to support your Keto Low-Carb diet.  Invest in a Vitamix Blender!  I stand behind this product 100%.  This Vitamix is a long-term investment worth every dollar! I use this Vitamix for almost daily all of my Keto diet needs – smoothies, ice cream blends, hot soups (made right in the Vitamix), sauces, and more!  Every other blender I purchased before my Vitamix failed within a couple of years.  This blender is a work horse. My best-friend has had her Vitamix for over 20 years with NO issues!  I just got my Vitamix this past year and LOVE IT!
CAN YOU ADD NOODLES TO THIS DISH?
You can substitute the rice noodles for Keto almond flour based noodles in your Keto Lazy Tom Yum Soup. 
HOW DO YOU PREPARE KETO LAZY PASTA AND NOODLES?
The Keto Lazy Tom Yum Soup recipe does not call for noodles. However, you may desire some. The best Keto pasta noodles are made from the ingredients of almond flour, xanthan gum, psyllium husks, and eggs. These noodles are far more nutritious and healthy than the 2 ingredient Keto noodles made from mozzarella cheese and egg yolks.
Here is a video to show you how easy it is to make these noodles:
Keto Lazy Tom Yum Soup is also low in fat, low in sugar, high in protein, and is nutritious.  Lemongrass adds a lemon-like quality to the soup and is readily available in Asian supermarkets.  If making from scratch be sure to use the white part only and chop finely.  Simmer the soup with the green stems, but be sure to remove them before serving.  Like galangal, lemongrass is antibacterial, anti-microbial, and is an antioxidant.  It can also be used in the making of ginger and lemongrass tea.  Kaffir lime leaves are believed to have a positive effect on the mind and the body.
Print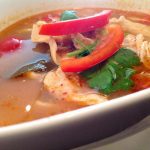 KETO LAZY TOM YUM SOUP
---
Description
Keto Lazy Tom Yum Soup is a yummy dish to enjoy in every season. for lunch, brunch, or dinner. The recipe uses chicken, garlic, mushrooms, bell pepper, coconut milk, and fresh coriander. If you are hunting for a rich but easy Keto Low-Carb tom yum soup recipe paired with wine, check out this recipe!
---
Tom Yum Paste:
1 teaspoon tamarind juice (from the soaked tamarind paste)
10 – 15 dried red chilies (soaked, sliced, seeds removed)
3 fresh red chilies (sliced into 1/4-inch pieces)
3 stalks lemongrass (white portion, thinly sliced)
5 small shallots
1-inch galangal (grated)
5 kaffir lime leaves (stems removed, julienned)
2 tablespoons monk fruit sweetener (to taste)
2 tablespoons coconut oil
1 tablespoon dried shrimp (optional)
1 cup fresh cilantro leaves
Tom Yum Soup Base Recipe:
4 cups chicken stock
1 tablespoon Tom Yum paste* (recipe below)
1 stalk lemongrass (lower 1/3 part finely minced), plus upper parts of the stalk
4 cloves garlic, minced
3 kaffir lime leaves, chopped (available at Asian food stores)
Juice from 1/2 lime juice
1 tablespoon monk fruit sweetener (to taste)
Tom Yum Soup
4 cups Tom Yum soup base*
lb skinless chicken breasts, diced
1/2 teaspoon dried crushed chilies
4 cloves garlic, minced
1/2 cup sliced fresh shiitake mushrooms, sliced thinly
1 red bell pepper, sliced
1 cup unsweetened coconut milk (add more or less to taste)
1 teaspoon monk fruit sweetener
Juice from one lime
1/3 cup fresh coriander, roughly chopped
---
Instructions
*To make tom yum paste, place all ingredients in a blender or food processor and puree until smooth.  Transfer paste to a sterilized glass jar.  Store in the refrigerator.
To make soup stock, in a large stockpot, add chicken stock and Tom Yum paste and heat on medium-high.  Pour lemongrass, including the upper parts of the stalk that you didn't mince. Boil 5 to 6 minutes or until fragrant.  Reduce heat to low and let simmer. Add garlic, lime leaves, lime juice, and sweetener.  Simmer for another 5 minutes. (remove lemongrass stalks before serving.)
To make soup, in a large stockpot, add soup and heat on medium-high. Reduce heat to low. Add chicken, chilies, garlic, mushrooms, and peppers. Let simmer.   Add coconut milk. Taste test, adding fish sauce as desired. Add honey and lime juice. (Add more coconut milk if you want your soup creamier.)  Add stevia to taste.  Simmer for a minute.  Transfer to serving bowls.   Garnish each bowl with fresh coriander. 
Notes
The recipe baking temperature and time is an estimate.  Follow your own oven's temperature and cooking time. It takes a gas oven 10-15 minutes to reach the desired temperature. Electric ovens can take 10 minutes longer than that.  The age of your oven will also determine the temperature, time for roasting or baking, and where you want to place your dish in the oven.  The bottom of your oven may be hotter than the top, depending on its condition.  This also includes where to set your dish under the broiler.  So use your own best judgment based on the type, condition, and age of your oven.  Prep times will also vary depending on how slow or quickly you like to work. 
Prep Time:

15

Cook Time:

15

Category:

KETO LAZY

Method:

SIMMERING

Cuisine:

LUNCH, BRUNCH, DINNER
Keywords: keto, keto tom yum soup, keto tom yum soup recipe, ket soup, keto Thai soup, keto-recipes, ketogenic-diet, ketogenic-recipes, low-carb, low-carb-recipes, lazy-keto, sugar-free, sugar-free-recipes, keto-and-wine, paleo, paleo-diet, paleo-recipes, lazy-paleo, , paleo-and-wine, primal-diet, primal-diet-recipes, caveman-diet, caveman-diet-recipes, gluten-free, gluten-free-recipes, gluten-free-with-wine, grain-free, grain-free-diet, grain-free-recipes, grain-free-recipes-with-wine, anti-inflammatory-diet, anti-inflammatory-recipes, dairy-free-diet, dairy-free-recipes, dairy-free-recipes-with-wine,
FREE e-cookbook called OODLES OF LOW CARB NOODLES
Join our family to get your FREE e-cookbook OODKES OF LOW CARB NOODLES + new recipes in your inbox.
Latest posts by Shari MAC
(see all)