KETO LOW-CARB CHINESE 5 SPICE (HEART HEALTHY)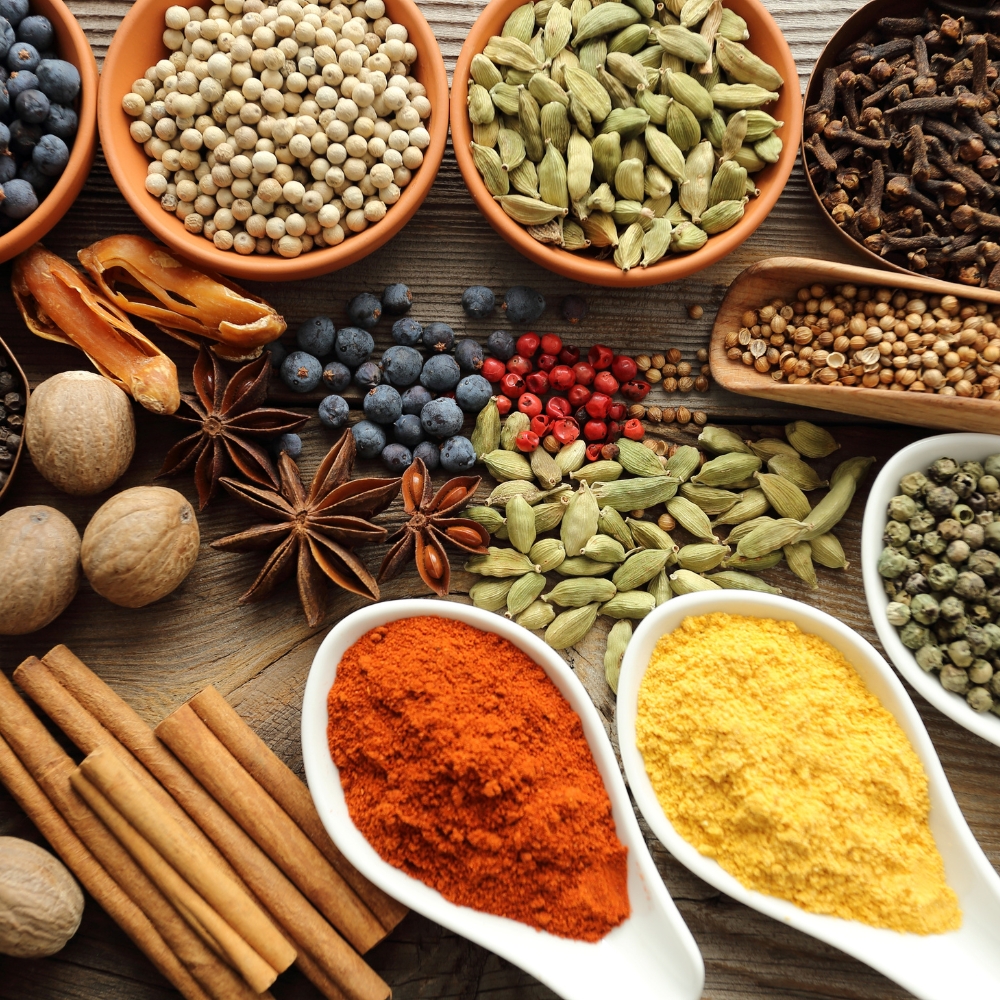 I love this Keto Low-Carb Chinese 5 spice!  In Canada, we used to be able to buy this spice blend already prepared in supermarkets.  Now it's more difficult to find, and so I prepared the blend from scratch for Shawn and me.  The classic North American version of this spice blend combines cinnamon, ground cloves, ground Star Anise, ground fennel seeds, and Szechwan or ground black peppercorns. Some mixes also include ginger, nutmeg, and licorice.  However, adding these additional 3 ingredients change it to a different spice blend because there are more than 5 ingredients as represented in the title.
This spice mix can be used in stir-fries, with roasted meats like chicken and pork, as well as with duck, ham, cakes, and other desserts. Chinese 5 spice tastes delicious with sweetness.  For this reason, I usually make about a cup of the blend and then mix it with a cup of Swerve Brown Sugar.  This allows the combination of spice and sweetness to work nicely in all your recipes.  Use a coffee grinder or magic bullet to grind the spices like fennel seeds and star anise and also to turn the unsweetened shredded coconut or xylitol into powder.
WHAT IS THE NUTRITIONAL VALUE OF KETO LOW-CARB CHINESE 5 SPICE?
What is the nutritional value of Keto Low-Carb Chinese 5 Spice? 
Fennel Seeds: Like Star Anise, Fennel seeds have a licorice-like flavour.  This seed is also highly nutritious.  It is high in vitamin C, manganese to stimulate your metabolism, is high in antioxidants and so is anti-inflammatory, and contains limonene which combats free radicals.
WHAT IS THE TASTE PROFILE OF KETO LOW-CARB CHINESE 5 SPICE?
This Keto Low-Carb Chinese 5 Spice blend adds warmth, complexity, and spiciness to a dish. Due to 2 of the 5 ingredients offering a licorice flavor, the spice blend works incredibly well with the sweetness.
WHAT WINE HARMONIZES WITH KETO LOW-CARB CHINESE 5 SPICE?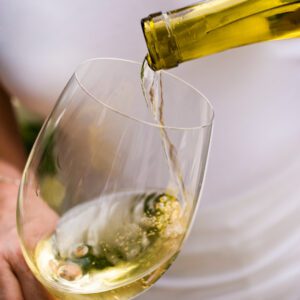 Due to the predominant spiciness and licorice flavors, this Keto Low-Carb Chinese Spice blend works extremely well on dishes to be partnered with wines offering some sweetness.  The wine's sweetness will complement the sweetness in the spice blend, as well as nicely offset the heat and spice.  In following a Keto diet or in living a low-carb lifestyle, we don't want to use up your carbs on a glass of wine.  Why add the extra carbs to your meal when you can find zero carb wines!  You have a couple of options:
Drink whatever wine you like (as long as it's bone dry) and don't worry about pairing the wine to dish. Enjoy your wine the way you like it. 
If you like to create harmony between the wine and the food, you'll need some sweetness in the wine to offset the heat and spice.  Add a pinch of stevia or monk fruit sweetener to your glass of wine.  Choose a white like Riesling or Gewurztraminer or a pink rose. These varieties taste great when bone dry or sweet.  So they taste great with the added sweetener.  The wine's sweetness will harmonize with the spice blend, all the while nicely offsetting the heat and spice.
*Wine Tips: To support your Keto diet or low-carb lifestyle, choose low-carb, low-sugar, and low-alcohol wines that are free of additives and artificial coloring.  Include your wine carb macros as part of your meal.  Remember, your liver will process alcohol before nutrients, pausing ketone creation and slowing the ketosis process. Your body will also metabolize alcohol as fuel before using food. This can slow fat burning and may cause your body to store carbs, fat, and protein as excess body fat.  Alcohol consumption also stimulates the appetite.  So, drink low-sugar, low-carb, and low alcohol wines in moderation.
WHAT OTHER KETO LOW-CARB CONDIMENT RECIPES CAN I ENJOY?
Keto Low-Carb Caesar Dressing (Heart Healthy)
Keto Low-Carb Roast Beef Spice Rub (Heart Healthy)
Keto Low-Carb Beef Bone Broth (Heart Heathy)
Keto Low-Carb Ranch Buttermilk Dressing (Heart Healthy)
Keto Low-Carb Cajun Spice Mix (Heart Healthy)
WHAT IS SHARI MAC'S PRODUCT RECOMMENDATION FOR YOUR KETO LOW-CARB DIET?
I'm a huge fan of the Ninja products. In the past, I've gone through a counter-top convection oven every couple of years. This Ninja 1800-watt oven is a work horse! It is a must for me to support my Keto diet. Since buying this Ninja I have not turned on my oven in months! Amazing in the summer! No heat in the kitchen from the traditional oven. I use the air-fryer for all our proteins every day. All my air-fried favorites have less bad saturated fat and therefore fewer calories. I cut chicken breasts in half, horizontally, and air-fry them for 20 minutes. You can set the temperature and timer for all sorts of foods and walk away from the kitchen. The machine will shut off automatically at the right time. My proteins are crispy on the outside and super juicy
Print
KETO LOW-CARB CHINESE 5 SPICE
---
Description
Keto Low-Carb Chinese 5 Spice is salt-free and sugar-free.  It's ideal on a variety of proteins, such as pork, chicken, turkey, beef, and even fish.  The spices include fennel, star-anise Szechuan peppercorns (or black pepper), cinnamon, and cloves. If you want to add a delicious and healthy Asian flavour to your dishes, choose this seasoning and pair it with wine!  Check out this recipe!
---
2 tablespoons ground fennel seed
2 tablespoons ground star-anise
2 tablespoons ground Szechwan peppercorns*
2 tablespoons cinnamon
2 tablespoons ground cloves
---
Instructions
*Use black peppercorns if Szechwan peppercorns not available.
In a coffee grinder or magic bullet, grind the fennel seeds, the star-anise and lastly the peppercorns.  Measure the spices and add to a sterilized jar.  Mix together with a spoon. 
Store and use as needed.
Prep Time:

5

Category:

KETO LOW-CARB

Method:

MIXING

Cuisine:

LUNCH, BRUNCH, DINNER
Keywords: keto, keto Chinese 5 spice, keto Chinese 5 spice recipe, keto-recipes, ketogenic-diet, ketogenic-recipes, low-carb, low-carb-recipes, lazy-keto, sugar-free, sugar-free-recipes, keto-and-wine, paleo, paleo-diet, paleo-recipes, lazy-paleo, , paleo-and-wine, primal-diet, primal-diet-recipes, caveman-diet, caveman-diet-recipes, gluten-free, gluten-free-recipes, gluten-free-with-wine, grain-free, grain-free-diet, grain-free-recipes, grain-free-recipes-with-wine, anti-inflammatory-diet, anti-inflammatory-recipes, dairy-free-diet, dairy-free-recipes, dairy-free-recipes-with-wine,
FREE e-cookbook called OODLES OF LOW CARB NOODLES
Join our family to get your FREE e-cookbook OODKES OF LOW CARB NOODLES + new recipes in your inbox.
Latest posts by Shari MAC
(see all)